5 Best Secure Messaging Apps for Android and iPhone
5 Best Secure Messaging Apps for Android and iPhone
If you're looking for a way to keep your messenger conversations private - whether you're texting or calling - it's important to choose a messaging app carefully. The most secure messaging apps for Android and iPhone are those that include end-to-end encryption by default, don't store user data or share it with third parties, and are developed on an open source basis.
Modern end-to-end encryption protocols keep your messages and calls private. The data is encrypted when sent and then decrypted at the delivery. At no point in this path can anyone access the data, not even the service itself, through which the message is transmitted or the call is made. This means that no one but you and your interlocutor will be able to read or listen to them.
To make it easier for you to choose a secure messaging app for your communication, we have selected the 5 most secure apps. So let's take a look at them:
---

Signal is the favorite instant messenger of Elon Musk and Edward Snowden. Largely due to its "focus on privacy". In the app, you can share text, voice messages, photos, videos and even encrypted stickers. There is also a function of group chats, international voice and video calls.
Signal has been named the world's most secure messaging app multiple times. And here's why:
End-to-end encryption of all messages and calls (including group ones);
Open-source protocol;
Minimal data storage;
PIN access;
Self-destructing messages;
No ads or trackers;
Spam detection and disruption;
Message request - accept or block;
Encrypted stickers.
Signal is absolutely free. The developers claim that they do not depend on any large commercial companies, and all financial support comes from grants and donations.
Availability: Mobile (iOS, Android), Desktop (macOS, Windows, Linux).
Price: Completely free.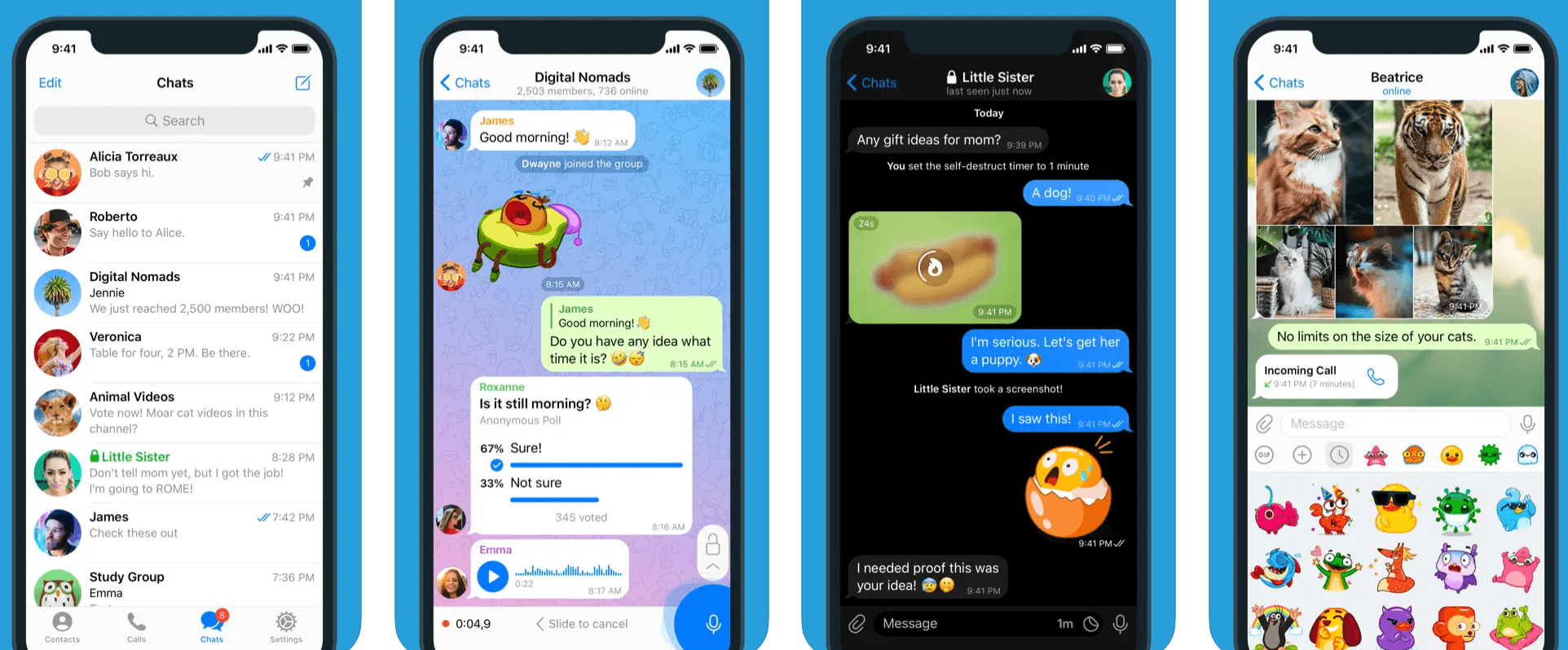 Telegram is the 5th most downloaded app in the world with over 700 million active users. The app is designed to communicate in private and group chats for up to 200,000 users, quickly share media, files, stickers and GIFs, make voice and video calls, and subscribe to public groups and channels.
An interesting feature is sending self-destructing messages, which disappear after a specific period of time. And that's how it deals with security things:
End-to-end encryption;
Two-step verification (2FA);
Open-source code;
Protection against hacker attacks;
Hidden phone numbers;
Remote logout;
Passcode lock;
Account self-destruct;
Self-destructing messages;
Secret Chats feature.
Telegram is initially a completely free service. But recently, it launched a paid Telegram Premium subscription with additional features. You can read more about it in this article.
Availability: Mobile (iOS, Android), Desktop (macOS, Windows, Linux), Web client.
Price: Free and Premium (€5.49 / $4.99 / £4.99).

Viber is another popular instant messenger for Android and iOS with over a billion users worldwide. The company states their mission as "to protect your privacy so that you never have to think twice about what you can or can't share when you're using Viber".
The messenger lets users send texts, photos, videos, files, stickers and GIFs, record quick-sending voice and instant video messages, make voice and video calls, use private or group communications. There are also Viber communities that one can join.
And this is how Viber secures you:
End-to-end encryption of messages, calls, and group chats;
Own encryption protocol;
No data storage;
Disappearing messages;
Hidden chats protected by a PIN;
Hidden-number chats;
Verification of the interlocutor identity with secret keys;
Ability to delete seen messages.
Viber is free with the exception of the Viber Out option, which allows you to call people around the world who do not use Viber.
Availability: Mobile (iOS, Android), Desktop (macOS, Windows).
Price: Free (except Viber Out calls).

Line is the largest Japanese messenger. It currently boasts 178 million active monthly users. It offers individual and group text messages with stickers and emoji, international voice and video calls, OpenChat option to find like-minded people, and even its own in-app LINE Pay digital wallet.
As for security, that's what the service offers:
Letter Sealing end-to-end encryption technology (applies to text messages, location pins, 1-on-1 voice and video calls);
Inner Privacy Impact Assessment procedure and Data Protection Officers to respect privacy and offer users a secure experience;
Antivirus add-on.
The app is also free to download but includes in-app purchases for stickers and other add-ons.
Availability: Mobile (iOS, Android), Desktop (macOS, Windows).
Price: Free (with in-app purchases).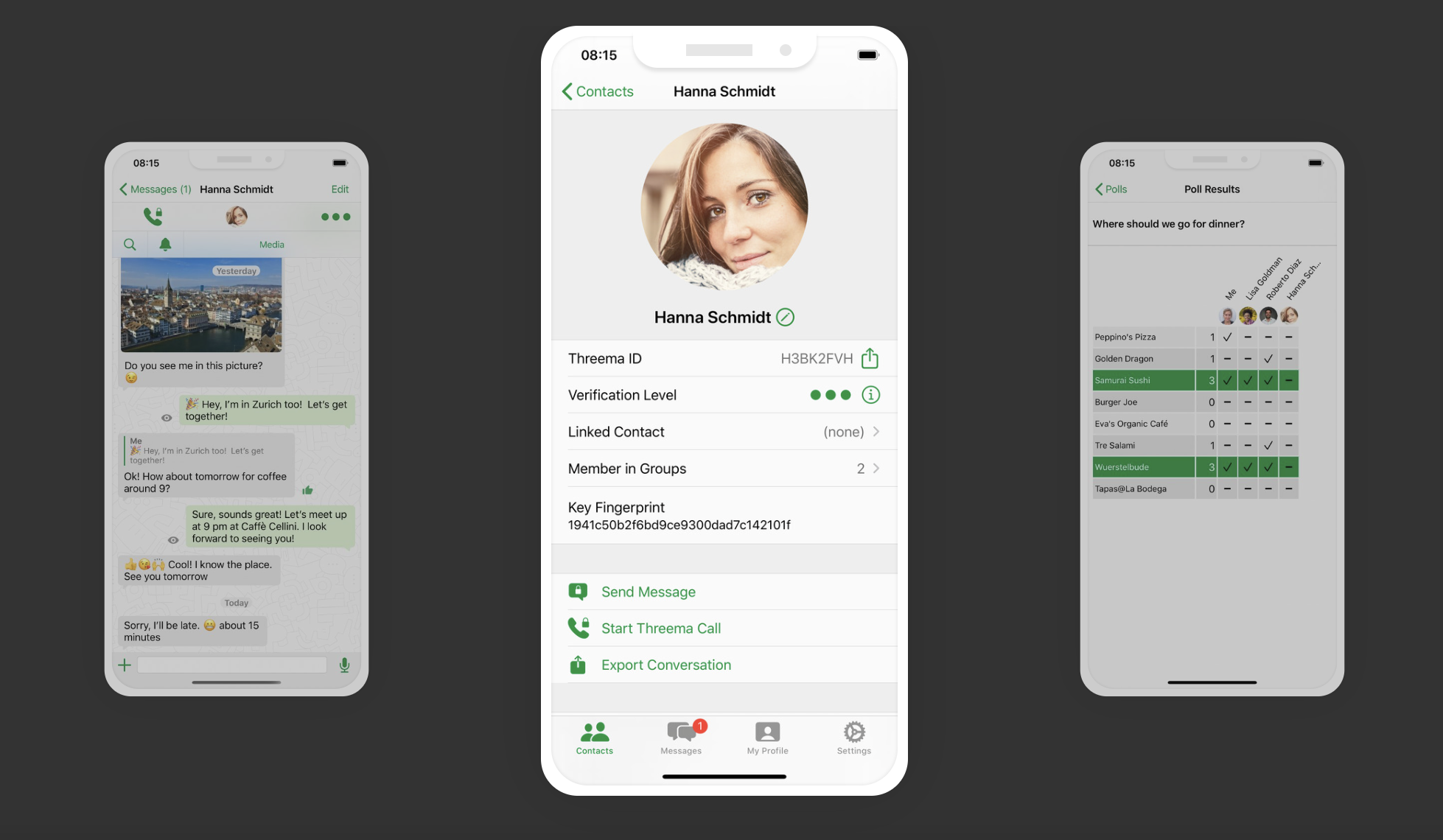 Threema is a Swiss service positioned as "the messenger that puts security and privacy first". It allows users to send text and voice messages, share files, media, and locations, make voice and video calls, and create polls.
But the main feature is that the app does not require a phone number or email when registering. Here is what else Threema offers regarding security:
End-to-end encryption of communication;
No phone number or email address required to sign up;
A random character string (Threema ID) to identify users;
No collection of user data;
Own server;
No storage of chat messages on the server;
No address-book access required;
Open source;
Anonymous chats;
Private chats protected by a PIN;
No ads;
GDPR-compliance.
The service is not free, but the payment is not that big and is made only once. That is, by purchasing a license, you get access to the app forever without monthly payments and additional fees. The company explains its position this way: "If you don't pay with money for a service, you pay with your data instead."
Availability: Mobile (iOS, Android), Desktop (MacOS, Windows, Linux), Web client.
Price: One-time €4,99 / $4.99 / CHF 4.99 payment.
---
Your privacy is also highly important to us, so you will find all the apps listed above as Notify.Events recipients. Just choose one of these 5 or the other 50+ recipients from the list and get notifications in a convenient way.