Best WordPress eCommerce Themes (5 Star Rating)
Best WordPress eCommerce Themes (5 Star Rating)
There are more than 10,000 free WordPress themes found in the official Theme Store. And 1,800+ of them are marked as E-Commerce themes.
Still, it's rather hard to understand which one is really good for your business. The Store itself does not allow sorting by rating or the number of downloads. So making a choice based on the opinions of other users is also problematic.
That is why we have prepared a list of highly rated WordPress themes for online stores. You can definitely trust these WordPress shop themes. Dozens or even hundreds of users have already tried them on their stores and deservedly rated their experience with 5 stars.
5 Star Rated WordPress eCommerce Themes
There are not so many themes with an impeccable rating. But we could find and handpick the best eCommerce WordPress themes. They not only managed to collect a large number of users, but also got real fans who appreciated the entire interface and features. Here they are:
A beautiful theme with half a million active users. It can boast a super handy block-based theme builder and 90 ready-made website layouts for every taste in the Premium version. GeneratePress is fully responsive, compatible with other plugins, and shows great performance.
Active Installations: 500,000+
Rating: 5 out of 5 stars and 1,300+ 5-star reviews
Price: Free / Premium starts at $59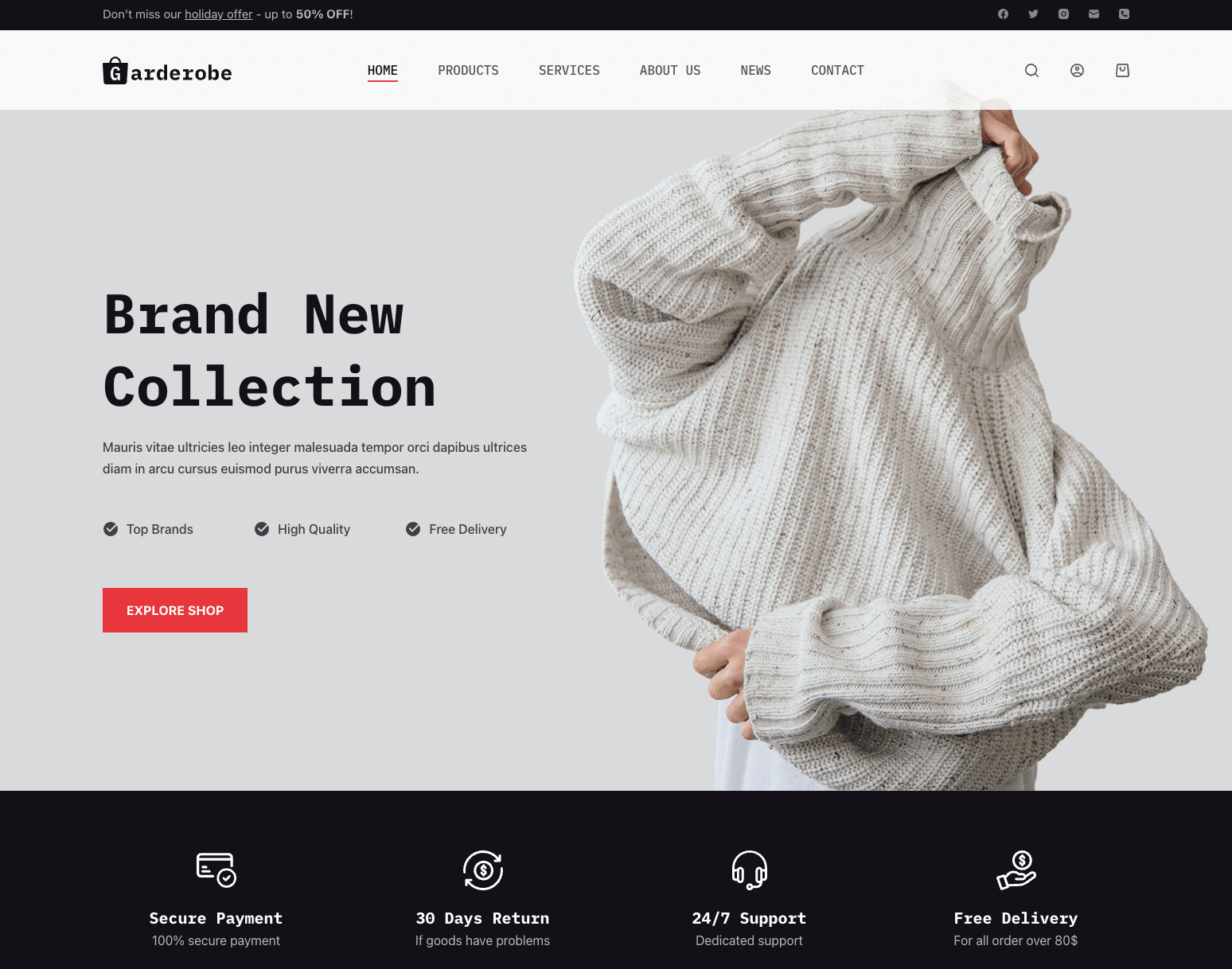 Another perfect theme which offers full responsiveness and customization from headers and fonts to layouts blocks and design. Over 20 eCommerce starter sites for selling gadgets, home decor, clothing, pet products and more await you at Blocksy.
Active Installations: 90 000+
Rating: 5 out of 5 stars and 600+ 5-star reviews
Price: Free / Pro starts at $49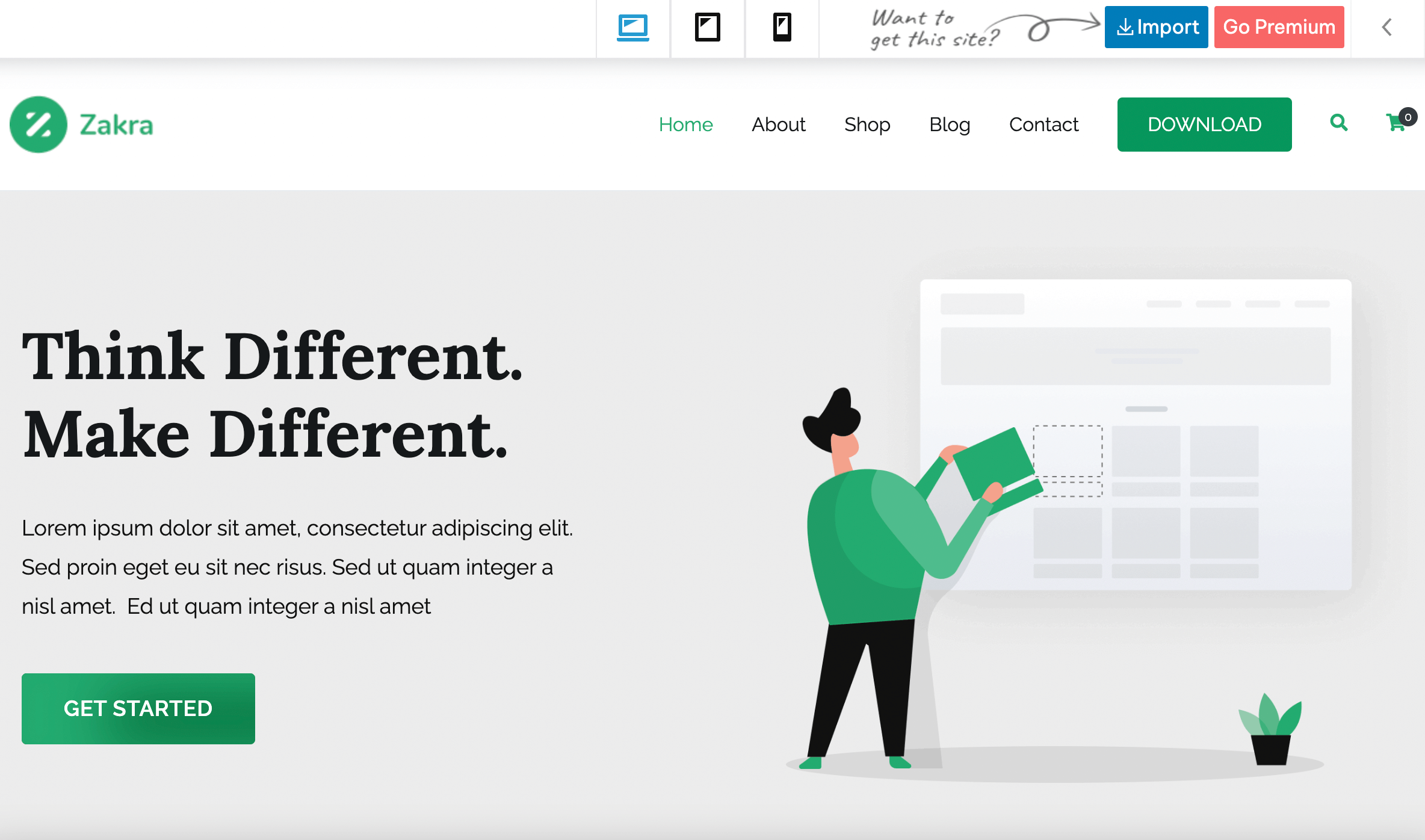 Zakra is currently a little behind in terms of user numbers, but the ratings and reviews speak for themselves. Especially often users note "many options to modify", light weight, "great flexibility even with the free version", and excellent support. The number of ready-made site templates now reaches 83.
Active Installations: 60 000+
Rating: 5 out of 5 stars and 500+ 5-star reviews
Price: Free / Premium starts at $48.30

4.9 Star Rated WordPress eCommerce Themes
5-star themes are awesome but that's not all. We also included in the list some trustworthy themes that are very close to perfection. Their rating is slightly less than 5. Still, this does not mean that the options are worse. They are just as great for eCommerce sites and can even have many more installs. We highly recommend giving them a chance. After all, there will always be someone dissatisfied, right?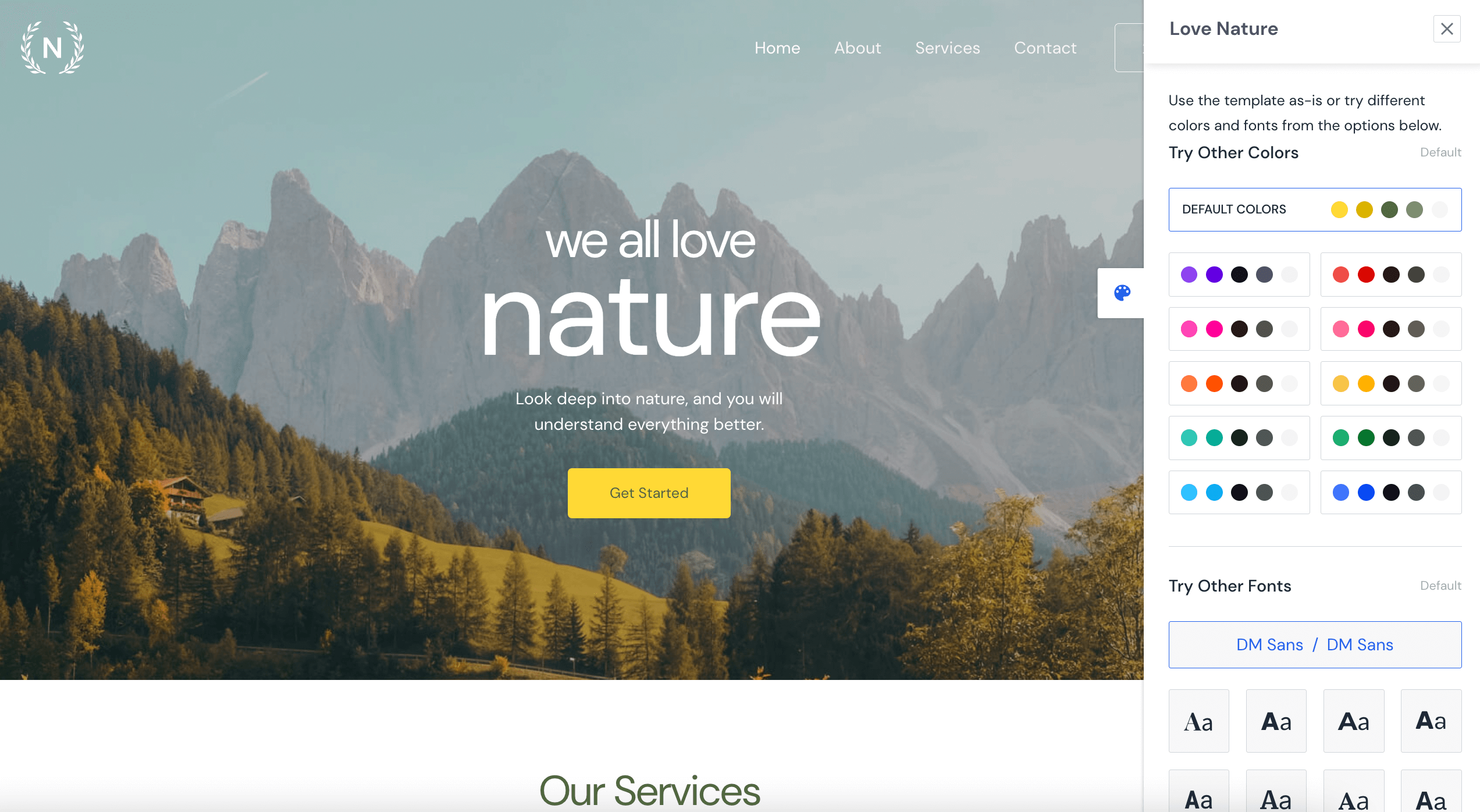 Astra Theme starter template example. Source -
WPAstra.com
The theme is really popular and loved by WordPress users. Over a million installations and more than 5,000 testimonials confirm this. This is what Astra got them hooked with: 230+ (!) pre-built templates, customization of almost everything, adaptability for different devices, integration with popular WordPress tools, SEO friendliness, high speed and performance. The list goes on. Well, it's better to see once.
Active Installations: 1+ million
Rating: 4,9 stars and almost 5,000 5-star reviews
Price: Free / Pro starts at $47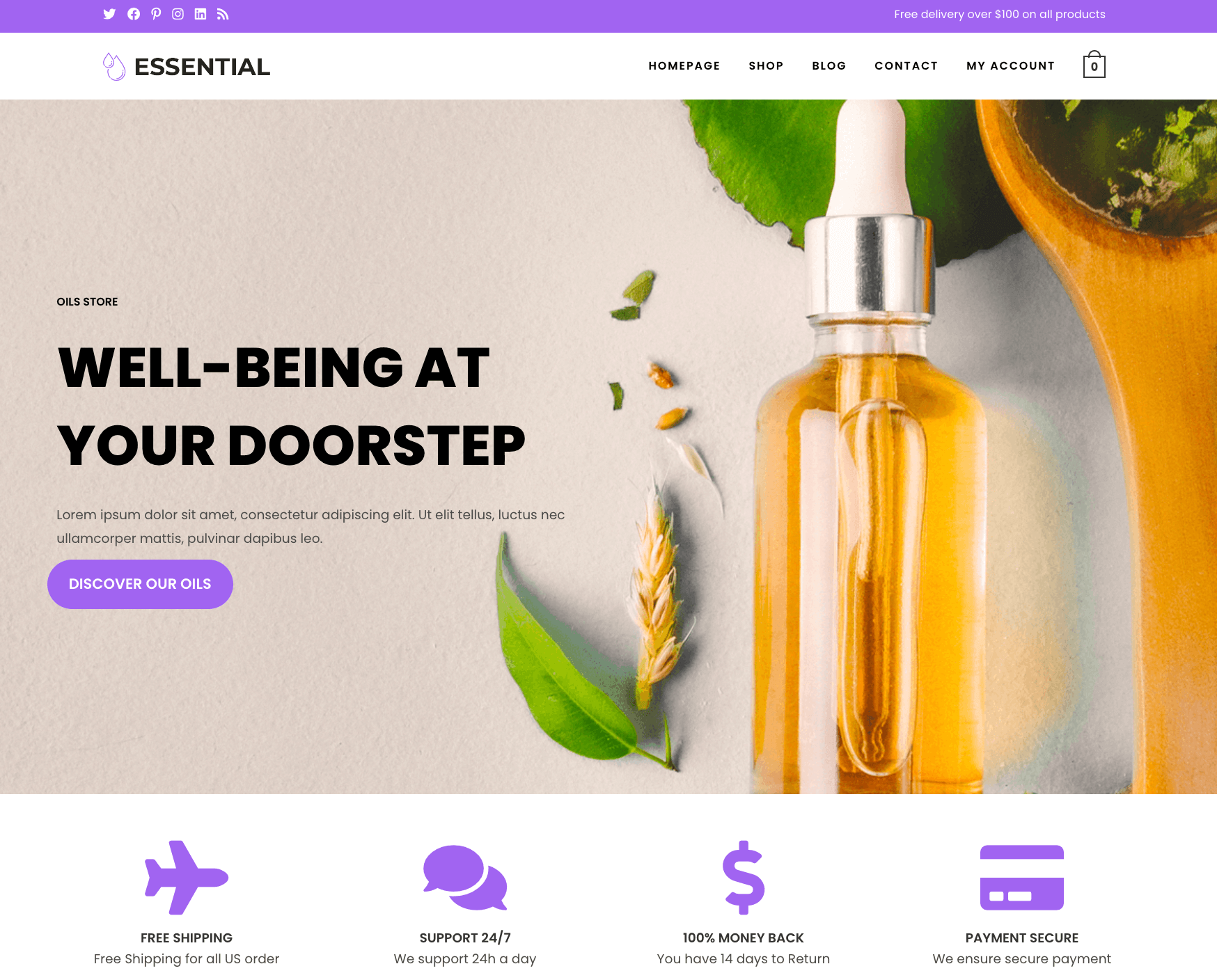 OceanWP Theme template demo example. Source -
OceanWP.org
The OceanWP theme may well catch up and even overtake Astra in the near future. Over 700,000 active users and 5,300+ reviews is a great indicator. Moreover, the two themes are similar in many ways. OceanWP is also one of those free WP eCommerce themes that focuses on flexibility, high performance and minimalism. Over 220 pre-built templates with custom page layouts and sections let you get exactly what you need. The only negative is that most of them only work with the Pro version. But the good news is that the service offers a 100% money-back guarantee.
Active Installations: 700,000+
Rating: 4.9 out of 5 stars and 5,000+ 5-star reviews
Price: Free / Pro starts at $27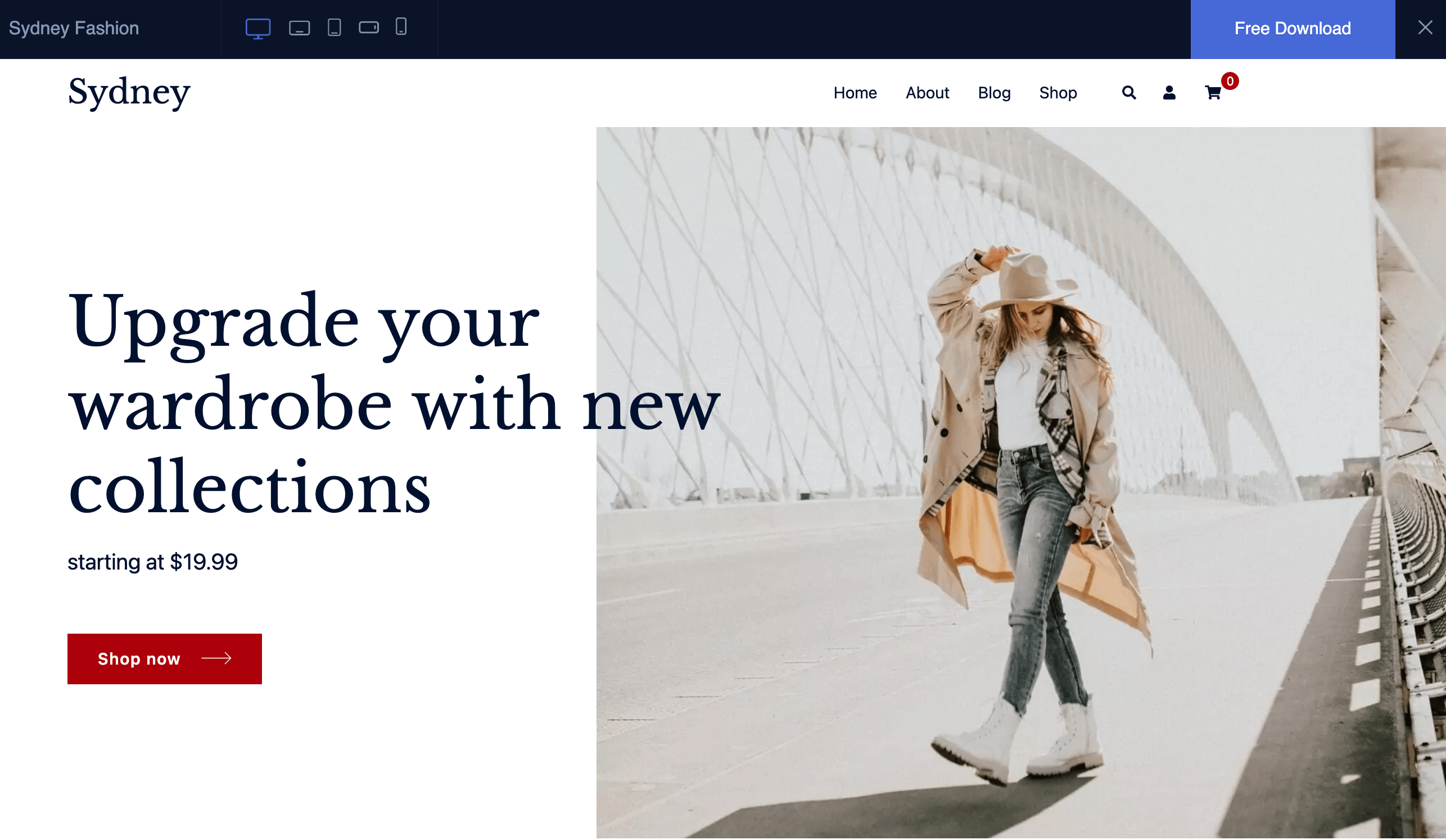 Sydney Theme starter site example. Source -
aThemes.com
They say Sydney is ideal for business. It's true. With built-in eCommerce support and advanced WooCommerce features, you have every chance of creating a store that your customers will love and that will convert a ton of sales. In fact, there aren't many e-Commerce templates out there, but they all look classy. Also, this theme offers a default preview of 5 responsive design options, including landscape for mobile and tablets.
Active Installations: 100 000+
Rating: 4.9 out of 5 stars and almost 600 5-star reviews.
Price: Free / Pro starts at $69

How to choose a WordPress Theme for eCommerce?
Above, we have shown you themes that, in our opinion, and according to many WordPress users, not only look beautiful visually, but are also easy to set up and use.
However, if you still want to choose a theme for your store yourself, then you should know what key features to look for in addition to design:
eCommerce site templates. Too many starter sites are not always good. This can only slow down the selection process. The main thing is that the theme has at least a few templates designed specifically for e-commerce - with product cards, a shopping cart, checkout, etc. That's what will really save your time.
Full customization. Not all themes and templates allow changing fonts or swap blocks. While this can be crucial for your store. Ones that include customization options will be a better choice.
High performance. Slow page loading often negatively affects sales - nobody likes waiting. To prevent this, choose themes that weigh less.
Responsive design. A good WordPress theme must be fully responsive. This will make your online store accessible and easy to use on any device: desktop, tablet and mobile.
Compatibility with plugins. It's also a good idea to make sure the theme you choose will work with your main eCommerce plugin, such as WooCommerce. As well as with other plugins you use.
SEO friendliness. Developers of any outstanding WordPress theme remember to consider best SEO practices. This will help your store rank higher on search engines. As a result, you will get more visitors to the site.
---
All in all, a well-chosen eCommerce WordPress theme can make your store user friendly and significantly increase its efficiency by bringing more buyers. And here's another way to keep customers satisfied with the buying process - Notify.Events plugin for WordPress and WooCommerce.
This free notification tool helps your team get instant messages about important events in your store. Such as new orders, payments received, comments, submitted contact forms, and others. 50+ ways to receive alerts, including private and group messages in Slack, Telegram, Viber, and Microsoft Teams, push, SMS and voice calls.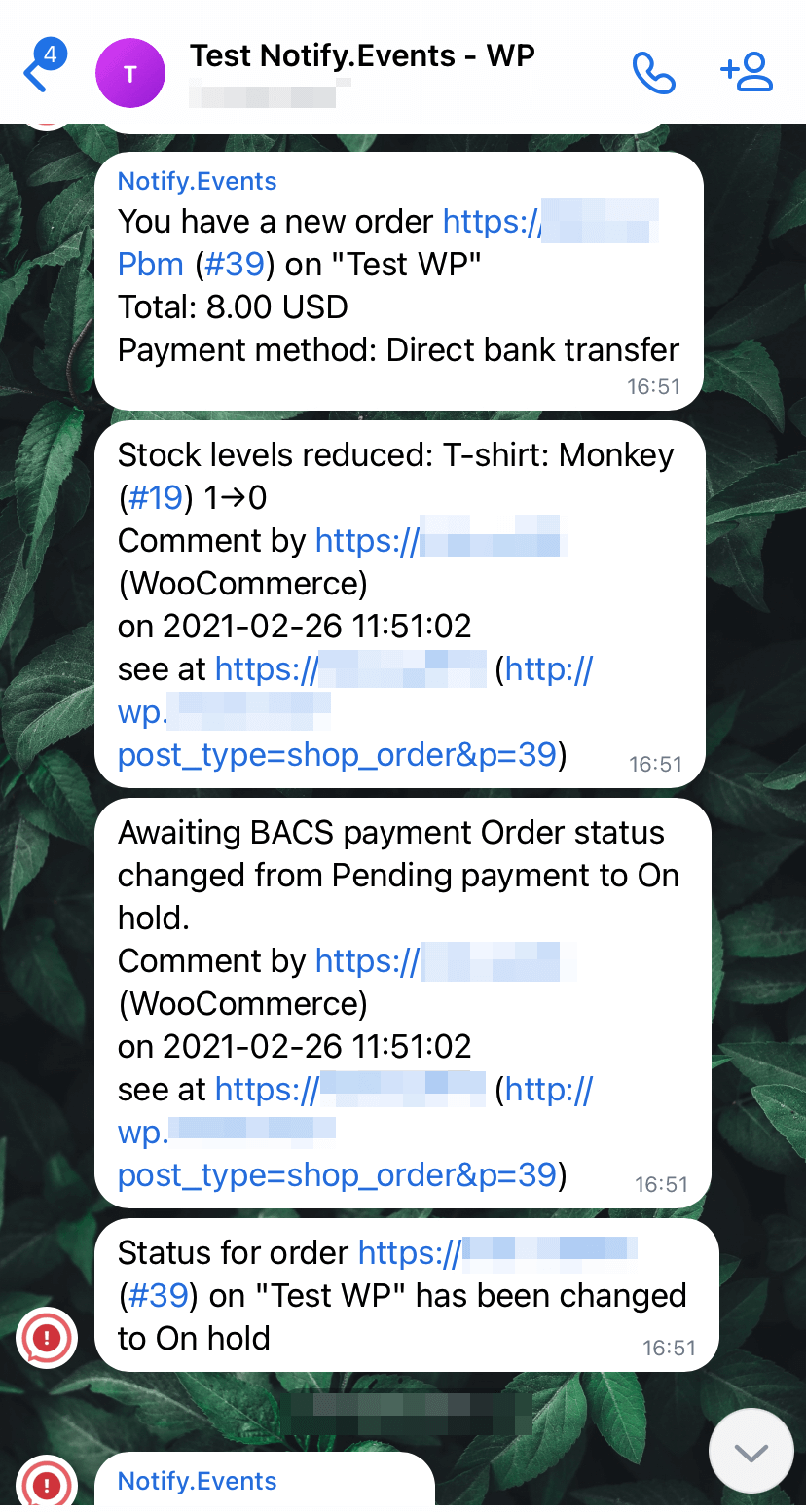 Not a single important event will be left unnoticed. Your team will start processing applications at the speed of light. And customers can count on faster feedback and delivery of goods.