Home Assistant Voice Control - Try It Now (With Setup Instructions)
Home Assistant Voice Control - Try It Now (With Setup Instructions)
In the first release of 2023, Home Assistant introduced a new feature called Assist. So, what is it?
In this article:
What Is Home Assistant's Assist?
Assist is Home Assistant's voice assistant (yeah, there's clearly an excess of "assist" here). It means that now you can finally talk to the smart home system and get a clear response.
Smart home voice control is not new to the world. Many smart home systems offer their own voice assistants. For example Amazon Alexa, Google Assistant (Hey Google) and Apple's Siri. Even Home Assistant itself has repeatedly attempted to release the feature, but to no avail. Until now.
The service has declared 2023 the "Year of the Voice". So, get ready to speak.
How Assist Works?
Assist allows you to control your smart home with live speech. Moreover, the developers have made their goal to enable as many users as possible to communicate with the system in their native language. At the launch stage, Assist supports more than 20 languages. And this list will definitely grow in the future./p>
The tool runs on the Home Assistant Intent Language (HassIL) parser. For a long time, the project team, together with the community members, collected users' "intentions", i.e. requests, in different languages, so that the assistant can then recognize them and respond not only with text, but also with the launch of the necessary events.
Briefly and simply put, Home Assistant's voice assistant works like this:
You speak or type a request to Assist;
Assist processes your request and performs the desired action;
Assist informs you about the result.
What Commands Are Supported?
Now you can also contribute and add your own sentences to trigger any action via Home Assistant. Or just use the default sentences collected by users and customize them to control entities and areas. This way, you can turn entities on and off, open and close covers, set the brightness and color of lights, and more. Here's how the commands may look:
"Turn on lights in the dining room"
"Close the bathroom door"
"Set lights in the kitchen to blue"
How to Run Assist?
Home Assistant App
In the Home Assistant app, Assist is enabled by default. To run the feature, tap the icon at the top right of your dashboard.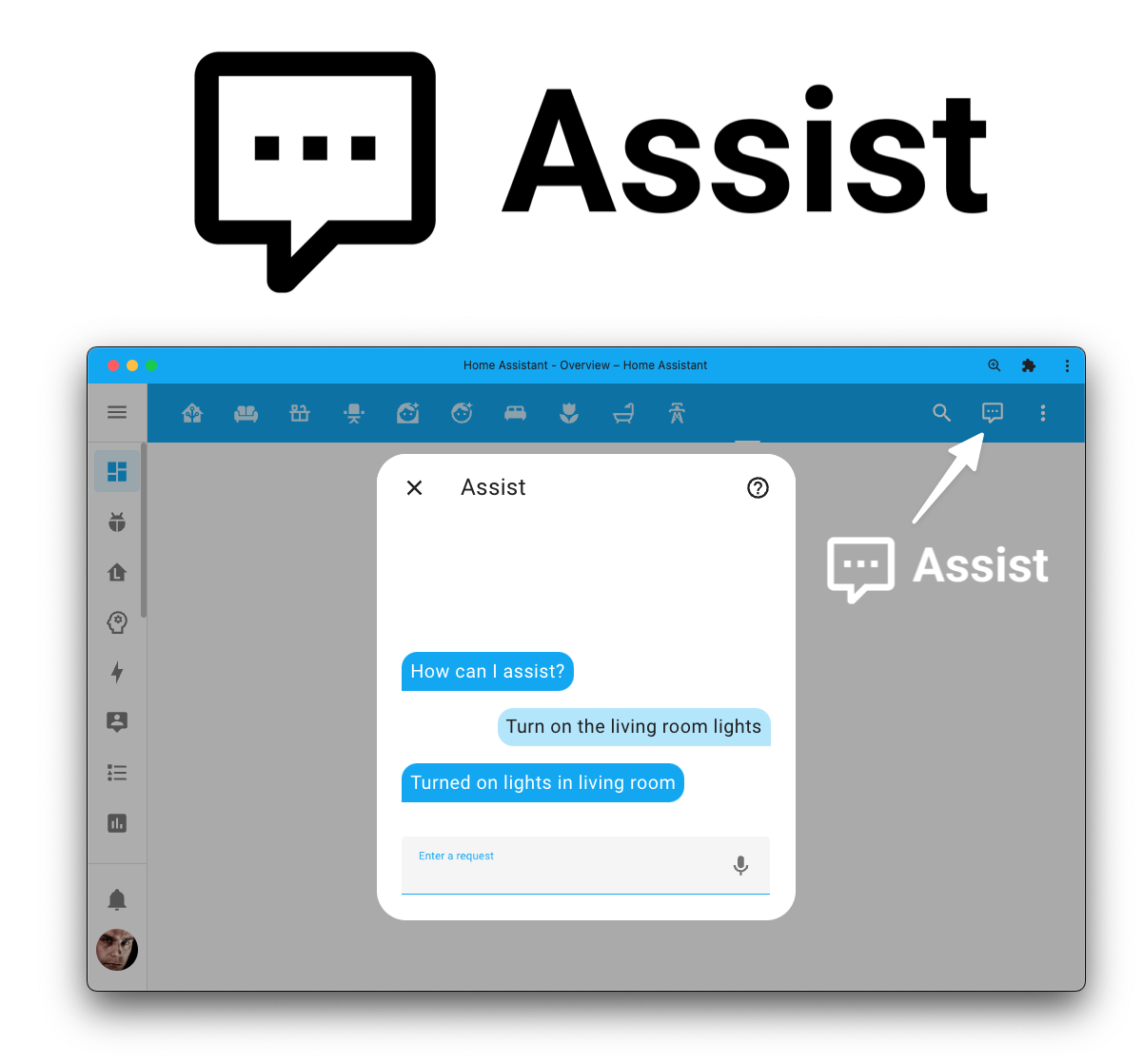 The native app is not the only way to use the feature. Here's how else you can talk to Home Assistant.
Apple devices
On Apple devices Assist works through the Shortcuts app. To activate, first install two shortcuts: Assist shortcut and Assist Button shortcut. Then you can trigger the assistant either via Shortcuts or via Siri by saying "Hey Siri, Assist".
In addition, it can be added to and launched from:
iPhone home screen,
Apple Watch complication,
Mac taskbar or a keyboard shortcut.
Don't forget to check you have the latest Home Assistant Companion app version.
Android Watch
To use Assist on Android Watch, you should also have the latest version of Home Assistant Companion App installed. Then you will find the "Assist" tile in the Android WatchOS app and can add it to the main Tiles area. To launch Assist, tap the icon and send your voice command.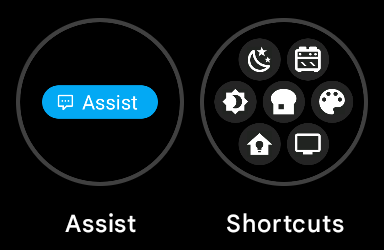 ---
Home Assistant developers say this is just the beginning and "Chapter 1" of their global plan to implement voice control. Well, we're waiting for more!
---
By the way, Notify.Events offers a great solution to get instant notifications from smart devices to your smartphone (both Android and iOS). The service offers a ready-made out-of-the-box integration with Home Assistant.
Just set up a bundle and stay up to date with what is happening in your home. A leak in the bathroom, high CO levels, or suspicious movement in the backyard - you'll be the first to know about it and be able to react quickly.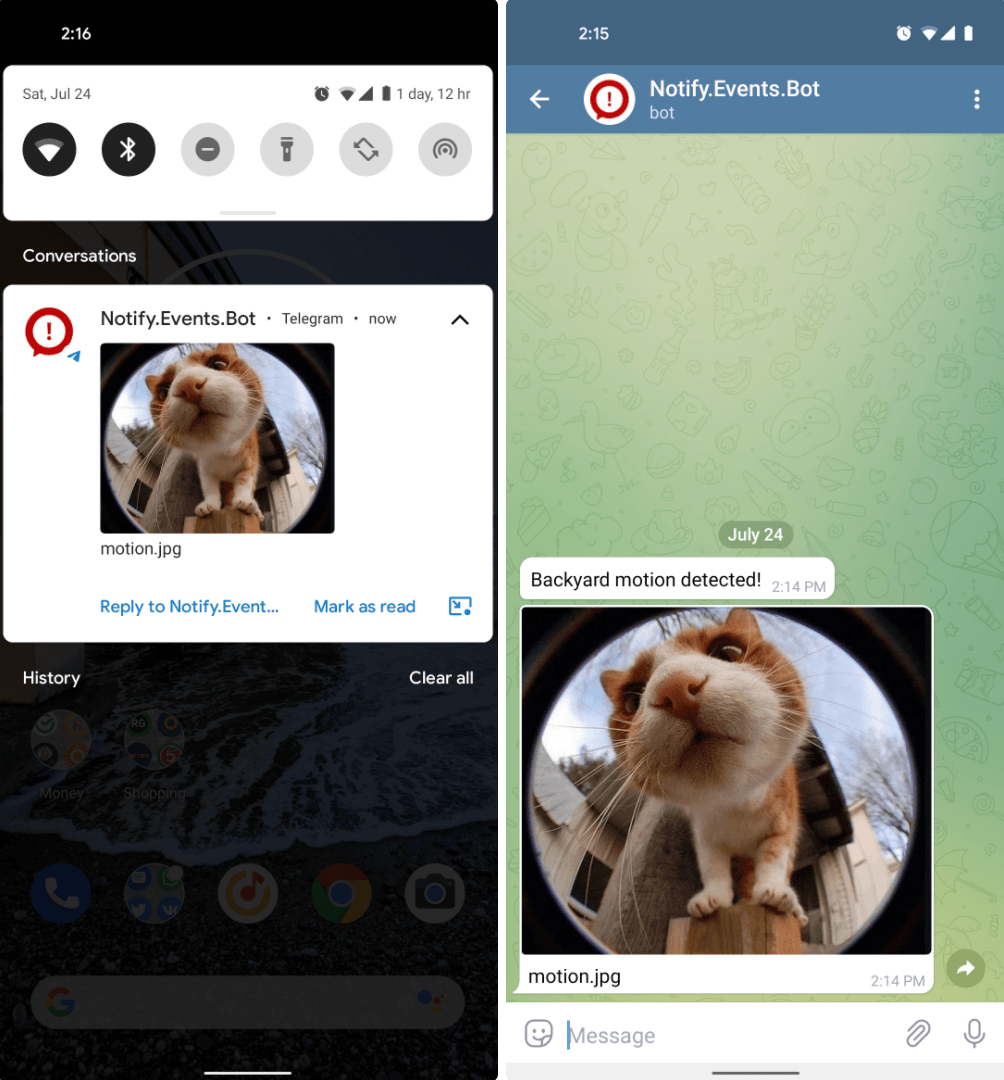 Read more about how to set up a Notify.Events account and get the first notification here.
---
---