Smart Home Beginner Guide
Smart Home Beginner Guide
If earlier we could see smart home technologies only in fantastic films and hope that someday it will not be something outrageous, now the Internet of Things is available to anyone. And more often, such an affair won't even cost you a pretty penny.
Many well-known companies produce entire lines of smart devices - speakers, light bulbs, robotic vacuum cleaners, detectors, security cameras and many others - or even develop their own smart home control systems. Google, Apple, Amazon, Samsung, Xiaomi are just some of the big names in the IoT market.
And if you decide to let the new technologies into your home in order to make everyday life a little or much more convenient, you need to clearly understand where to start and how to combine all devices into one ecosystem.
This article will help you figure out what devices you should get in the first place, what to focus on and how to manage everything from one place.
Read in this article:
What smart devices to buy?
The first question that comes to your mind after you decide to set up a Smart Home is which devices should be purchased first. And if you've really decided to build an entire IoT system in your home, and not just buy several different devices and use them separately, here's what you should buy:
The hub is the most important device in the IoT system. This is in fact the head that controls all smart home devices and lets them talk to each other. Therefore, it is extremely important to carefully approach the choice of this element. It can be a full-fledged hub, with / without a screen (e.g. Samsung Smart Hub or Google Nest Hub), or a smart speaker with a voice assistant (e.g. Amazon Echo with Alexa or Apple HomePod with Siri).
Smart Lock and Video Doorbell
Smart home is not only about convenience, but also about security. A smart lock and a video doorbell in combination will limit the circle of people who can enter your house, give you an overview of what is happening at your front door, and allow you to lock or unlock it remotely.
Security cameras inside and outside your home also allow you to feel safe and watch children or animals while you are away. Moreover, they are often equipped with a motion sensor and help track unplanned guests in real time via a special app.
Smart home lighting can include smart bulbs as well as smart plugs, and smart switches. With these devices, you can remotely control the lighting in your home and set the desired scenarios.
This device allows you to control the temperature throughout the house / flat. And you can also preset the conditions under which the temperature will automatically change. But don't forget to make sure the thermostat will work with your current HVAC systems before purchasing.
Here are the basic smart home devices that will definitely come in handy in everyday life and help automate home processes. Then you can already purchase whatever your heart desires: smart kettles, TVs, СO2 / smoke detectors, various sensors, etc.
But how to choose the devices and their brand right? Let's figure it out.
---
---
Which smart device brand to choose?
Unfortunately, at the moment, not all devices are compatible with each other. And since the goal of a smart home is to make our life easier, compatibility plays a big role. However, if you have already purchased or plan to purchase devices from different brands, there is a way out. We'll talk about this a little later.
Speaking of brands, if you don't want to bother with customization and are looking for the easiest system to use, you can opt for Apple HomeKit. If you want the best compatibility with as many devices as possible, this is where Amazon's Alexa comes into play. Google Home / Nest is somewhere in the middle.
In general, you should rely on your personal preferences and choose what suits you best for your needs and budget. As we already wrote above, the issue of combining all devices into one system can be solved.
How to unite and control all smart devices?
So, back to the situation when you still decided to use devices from different manufacturers. Firstly, now it becomes much easier with this, and, most likely, in the near future the problem will almost or completely disappear. For example, Google, Apple and Amazon have already announced their plans to implement support for the Matter standard, which will allow seamless integration of different smart home devices brands into one ecosystem.
Secondly, you can use a variety of programs that give users the opportunity not only to combine many smart devices into one system, but also to manage them from one place, and set different scenarios for their use.
Home Assistant is one of them. It is one of the most popular systems for organizing, automating and managing smart home and Internet of Things devices, which supports more than 1800 devices, including Amazon Alexa, Samsung SmartThings, ZHA (Zigbee Home Automation), and so many more.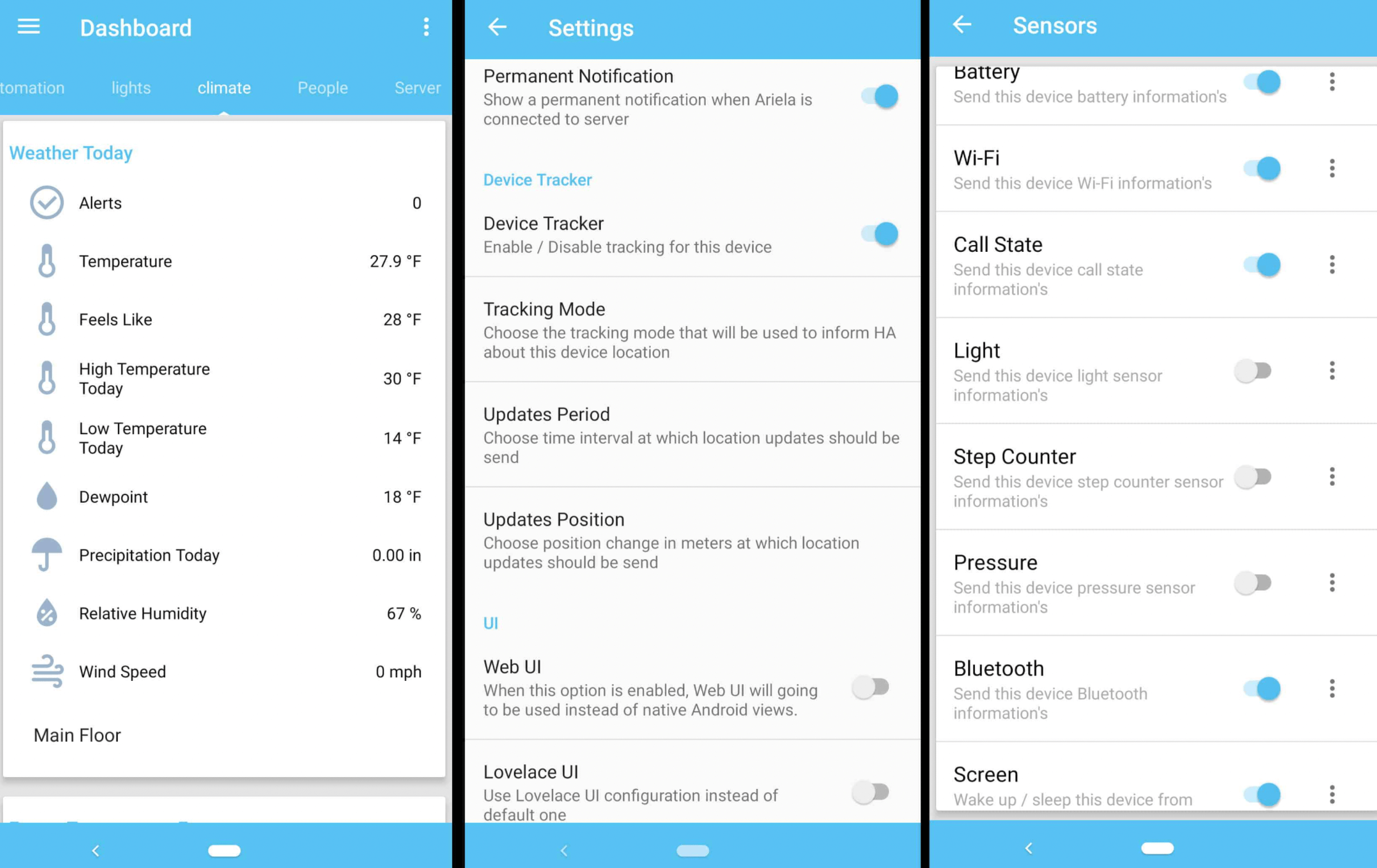 Another software for integrating different devices is Homebridge. The service acts as a link between Apple HomeKit and other IoT devices and allows you to integrate with thousands of popular smart home devices that do not natively support HomeKit.
If you go deeper, you can find dozens of such programs. Node-RED, OpenHAB, Domoticz, MajorDoMo are among them. Choose the one that supports your devices and which interface is more convenient for you.
Even if all the smart devices in your home are united by one brand and can easily connect with each other, you will still not be in the way of a single service for managing and automating them.
How to get instant notifications from smart devices?
After you have chosen and bought smart devices for your home, combined them within a certain system and learned how to manage them, there is one more important step. It's about setting up sending notifications from these devices to your smartphone, tablet or PC.
And, it turns out, this is also not difficult at all, because there is Notify.Events! With this service, you can combine notifications from all smart home devices in one place and receive them in a convenient way - for example, via a message to a chatting app (Signal, Telegram, Viber, Microsoft Teams, etc.), as SMS, push notifications or voice calls.
Notify.Events makes it easy to manage notifications from smart home and IoT devices. You just need to register in the N.E system and add the desired service to your channel - the event feed - as a source. After you complete a simple initial setup, you will receive notifications to the selected communication tool(-s).
For example, you can receive a message with a photo in Telegram every time the camera records movement in your house. Or you will get an alert in Signal when the robot vacuum cleaner finishes cleaning and the washing machine finishes washing. You will monitor all important events in the house in real time and can quickly respond to them if necessary. Convenient, right?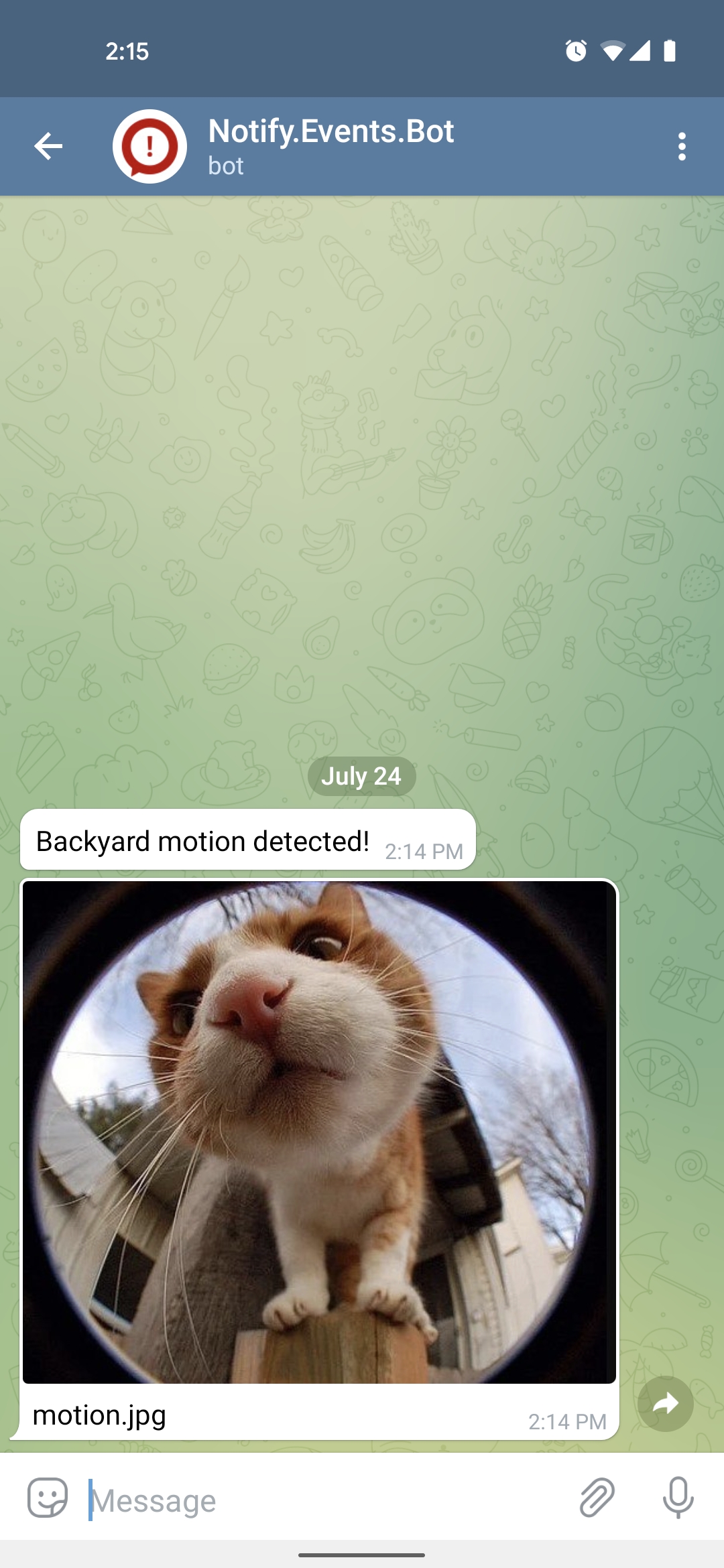 At the moment, "out of the box" integrations are available with 7 large smart home systems. These include Google Home / Nest, Homebridge, and Home Assistant.

Read more about how Notify.Events works in this article.