How to Unlock a Door With an iPhone: Apple Home Key Explained
How to Unlock a Door With an iPhone: Apple Home Key Explained
Back in 2021, when the long-awaited release of iOS 15 took place, Apple users learned about a new feature called Home Key. As planned by the developers, it was supposed to make life easier for smart home users by helping to quickly open door locks using an iPhone or Watch instead of a physical key.
However, at the time of release, it turned out that the door locks that support the technology simply do not yet exist. Therefore, most users have safely mentally shelved the feature.
But now finally, the first compatible devices began to appear on the market. This means that it's time to remember the Home Key!
In this article:
---
What Is Apple Home Key?
Home Key is in fact a digital security code that is stored in the Apple Wallet app. Its work is based on NFC technology. Simply put, it's almost the same as paying for purchases with Apple Pay. The only difference is that when you apply the device, instead of debiting money from the card, you get an open door lock.
---
---
How Does Apple Home Key Work?
Home Key requires 3 components to work successfully:
Home app installed on the iPhone,
iPhone or Apple Watch with Wallet,
Compatible smart lock.
After you set everything up, you just have to bring the desired device to the lock. After that, the lock will automatically unlock, and you can get inside.
Home Key involves 2 modes of operation:
Express Mode. To open door with your phone, just bring an iPhone or Apple Watch to the lock.
Open with Face ID or Passcode. To open the door, you must additionally use Face ID / Touch ID or enter a passcode.
Also, you can set up automation. For example, locking after closing the door or locking when leaving the house.
What Apple Devices Support Home Key?
Home Key is available to owners of Apple Watch Series 4 and later and the following iPhone devices:
iPhone SE (2nd generation and later),
iPhone XR,
iPhone XS,
iPhone XS Max,
iPhone 11,
iPhone 11 Pro,
iPhone 11 Pro Max,
iPhone 12 mini,
iPhone 12,
iPhone 12 Pro,
iPhone 12 Pro Max,
iPhone 13 mini,
iPhone 13,
iPhone 13 Pro,
iPhone 13 Pro Max.
---
---
What Smart Locks Offer Apple Home Key Support?
At the time of this writing, there are still no Home Key compatible smart locks on sale. This is due to the need for the lock to work with the NFC technology. Still, with the release of new models, the situation should improve. Here are the locks that are already announced to work with Apple Home Key:
This new smart lock by Schlage is to arrive in the upcoming months. It is said to support both Home Key and HomeKit. Thanks to the built-in WI-Fi the smart door lock can also be connected to Alexa, Siri, and Google Assistant. Another feature is the automatically appearing keyboard.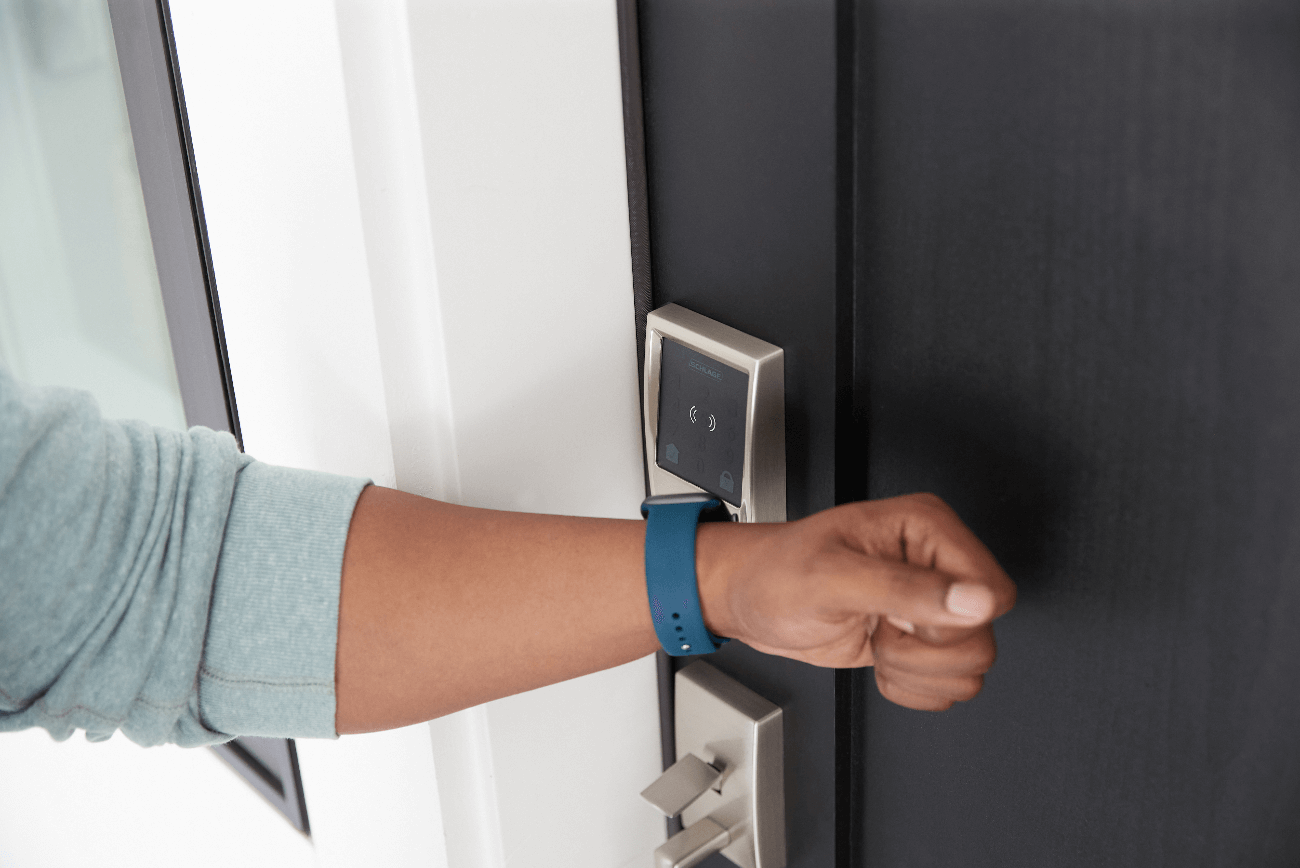 In addition to Home Key and HomeKit support, the Aqara A100 smart lock can also be activated with 8 more other ways. Those include fingerprint access, one-time passwords, and Google Assistant. The device will be available later this year.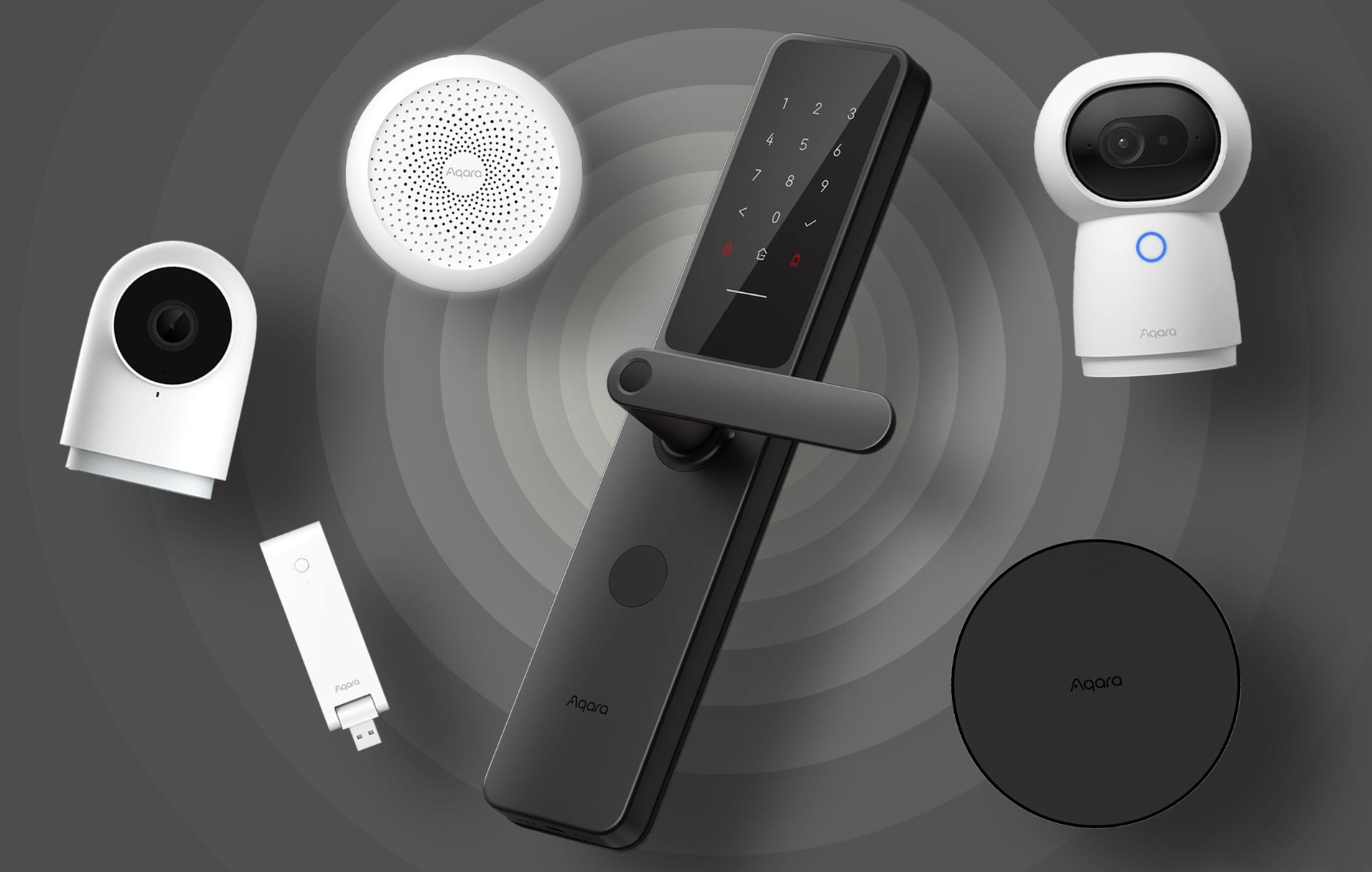 How to Set up Apple Home Key?
To set your iPhone/Watch to open your smart locks, you should add Apple home keys to Apple Wallet. For this, use the Home app on your iPhone:
Add a supported lock to the Home app.
Choose an unlocking option ('Express Mode' or 'Require Face ID or Passcode').
Set automations.
If the lock you add supports HomeKit, all residents of your household receive the home key automatically.
How to Let Guests In?
Alright, we've figured things out with your iPhone (or Watch). But what if you want your guests, such as a nanny or someone from close relatives, to be able to open the door themselves too? Apple has a solution for this case too - access codes for guests.
You simply add the desired person as a guest in the Home app and share a special access code with them. Access can be extended to one or more supported by Apple HomeKey locks.
---
By the way, Notify.Events offers a great solution to get instant notifications from smart devices to your iPhone, iPad, and Apple Watch. The service offers a ready-made out-of-the-box integration with Homebridge (Apple HomeKit). Just set up a bundle and stay up to date with what is happening in your home. An open Home Key lock, a leak in the bathroom, high CO levels, or suspicious movement in the backyard - you'll be the first to know about it and be able to react quickly.
In addition to HomeKit, integrations with other smart home services are also available: Google Home, Nest, Home Assistant, and others. A complete list can be found in the Source catalog in the IoT and Smart Home category.

Read more about how to set up a Notify.Events account and get the first notification here.