3 UptimeRobot Alternatives
3 UptimeRobot Alternatives
UptimeRobot is one of the leading free uptime monitoring software. The tool is really popular, especially because it allows you to install at least 50 monitors with a check every 5 minutes, all at no cost. However, this is certainly not the only such service.
In this article we review the best website uptime monitoring tools that may serve as a worthwhile alternative to UptimeRobot. Here goes!
If you are ready to pay attention to more than just free monitoring software, then SolarWinds Pingdom is a great choice. Just like UptimeRobot, this tool has established itself as one of the leaders in website monitoring and for sure sounds very familiar to you.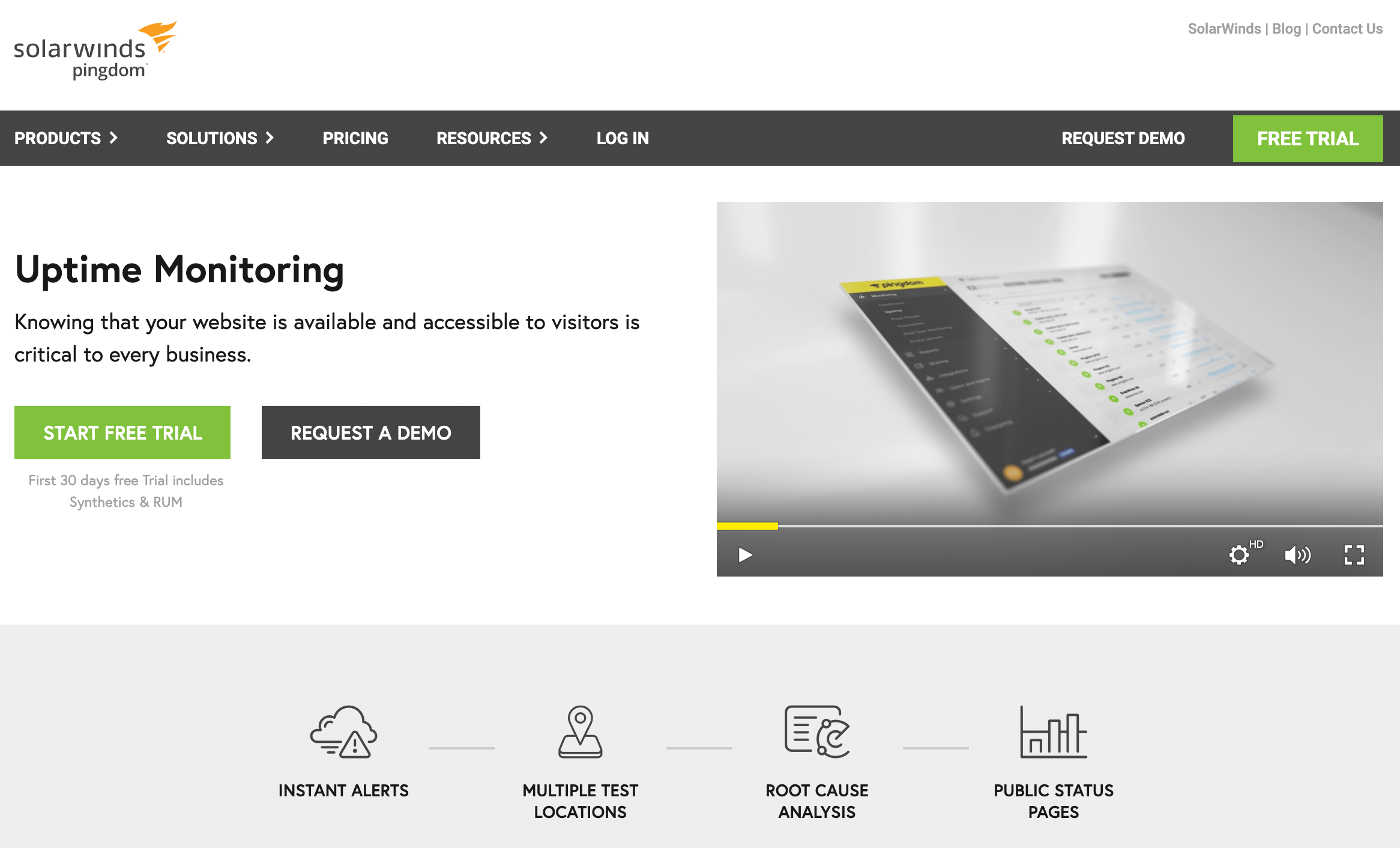 The site availability check is carried out from 70 locations around the globe and includes a re-check to filter out false alarms. In addition to uptime monitoring, it offers a wide range of solutions for monitoring websites' performance and interactions. Thus, you can receive notifications (SMS or email) not only when the site becomes unavailable, but also when performance dropped or certain functions stopped working.
The tool offers over 20 pricing options differing in the number of uptime / advanced checks and SMS included. The cheapest plan will cost you $10 per month and provide you with 10 Uptime Checks, 1 Advanced Check and 50 SMS.
Key Features:
Plans starting at $10 / month;
30-day free trial;
Synthetic monitoring, real user monitoring, infrastructure monitoring, application monitoring;
Monitoring from 100+ locations worldwide;
Alarms re-checking;
Incidents alerting via SMS, email or webhook.
Better Uptime is an infrastructure monitoring platform. The ready-made incident management system is the main service advantage over its competitors. And it is not limited to the standard alerting. Since you can also schedule on-call duties within your team and resolve incidents faster. The service will notify the right person if something goes wrong.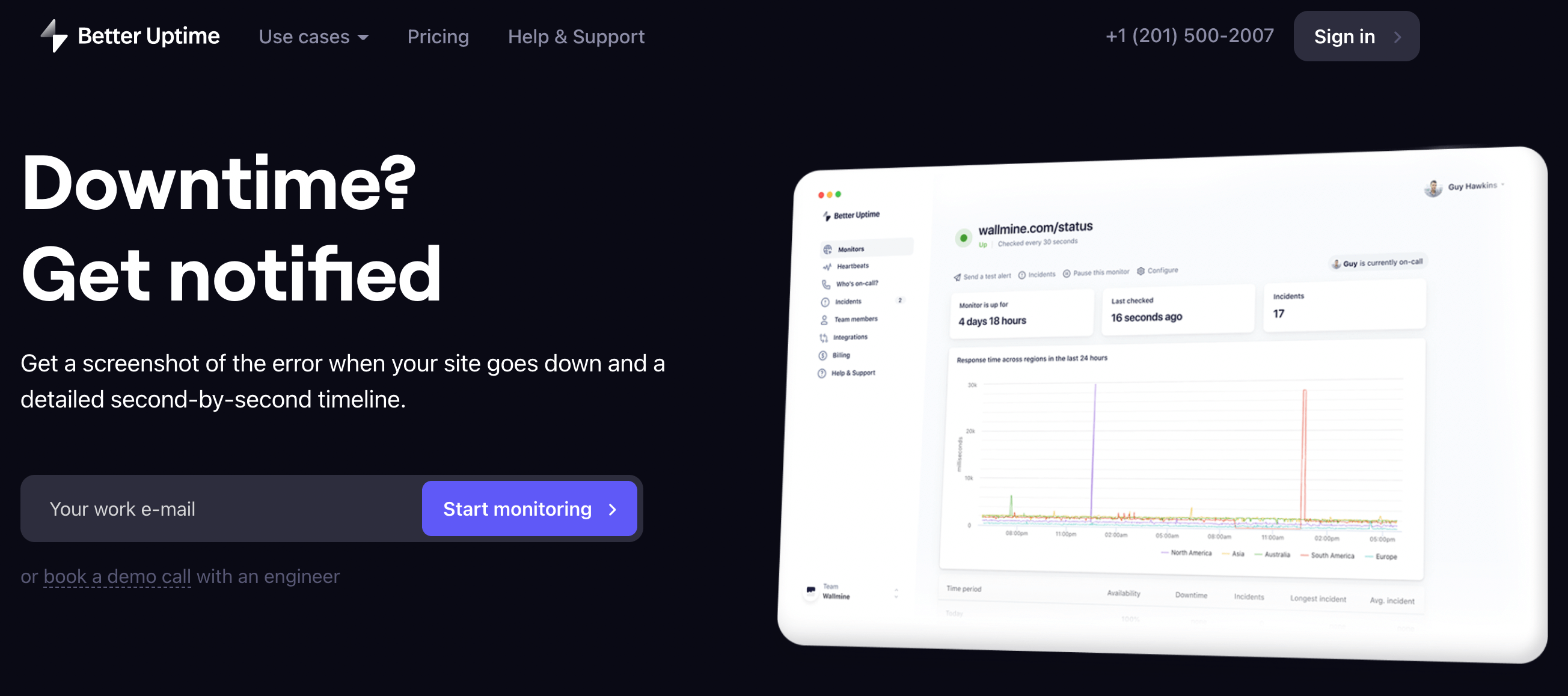 Calls, text messages, emails, Slack, Microsoft Teams, or push notifications - choose the method you want. In addition, the service will send you a screenshot of the error and a detailed second-by-second timeline, making such alerts more informative and wasting less of your time.
Similar to Pingdom, Better Uptime re-checks each HTTP and ping-based incident. And in this case even 3 times - the incident gets verified from at least 3 locations.
Another appealing feature is the ability to create a branded status page on your own sub-domain and plug in the services you already use (e.g. DataDog, Grafana, Prometheus, Zabbix, Microsoft Azure).
The service offers the free Basic plan with unlimited email alerts included, 3-minute checks, and 10 monitors. More monitors and the above-mentioned advanced options are available in paid plans starting at $24 per month.
Key Features:
Free plan;
30-second checks available;
Triple alarms re-checking;
Integration with 100+ services
Alerts via a call, text, email, Slack, Microsoft Teams, push notifications.
Another free website monitoring service. The tool checks the uptime of your websites from 43 locations in 30 different countries. In addition to uptime monitoring, StatusCake options include page speed monitoring, domain monitoring, server monitoring, and SSL monitoring.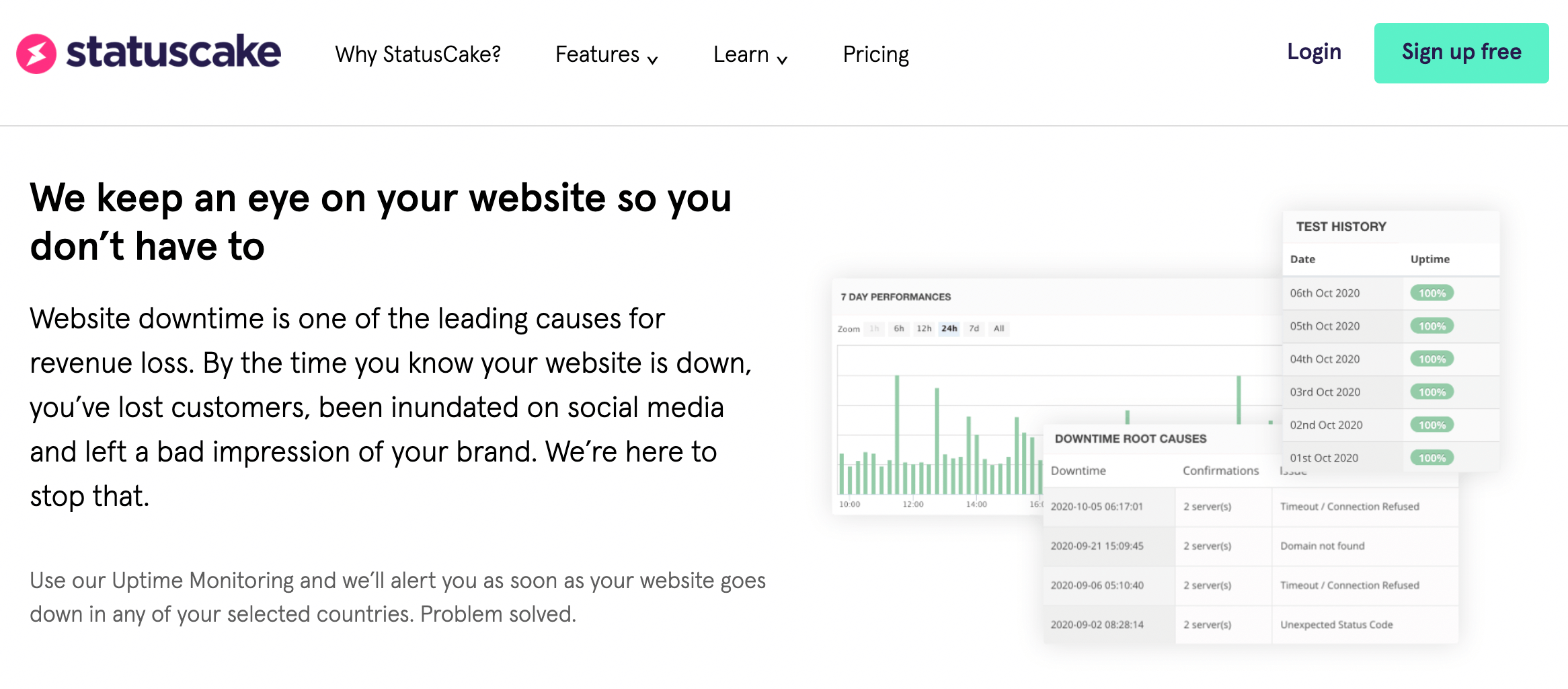 The tool supports integration with 14 services for sending real-time incident notifications. These include Microsoft Teams, Discord, Slack, and more. The position of the StatusCake team is that "knowing about the problem faster simply makes the resolution happen sooner". And you can't argue with that!
The free plan allows you to run up to 10 tests (and therefore track 10 different URLs) with a check every 5 minutes. This makes the service quite an interesting solution (however, the test location is random). Still, if that's not enough for you, you can choose one of the paid plans starting from $20.41 per month.
Key Features:
Free plan;
7-day free trial with paid plans;
Page speed monitoring, domain monitoring, server monitoring, SSL monitoring;
Monitoring from 40+ locations worldwide;
Alerts via 14 platforms.
---
So, in this article we have presented a selection of three UptimeRobot alternatives. Hopefully, you will find among those a tool that is right for you.
By the way, do you know that Notify.Events supports out-of-the-box integration with UptimeRobot, Pingdom and other site monitoring tools (e.g. Zabbix, Prometheus Alertmanager, Nagios and others)? You can easily get Uptimerobot Slack notifications. Or combine several different services you use by connecting them to your channel and then receive notifications in Signal, Discord, Facebook Messenger, or other popular messenger. For example, create a bundle from Grafana, Pingdom, Jenkins, and WordPress. See the full list of available sources in the Catalog.
In addition, you can connect your team members to the channel and send them notifications on a schedule. Their registration in the system is not required! Read more about setting up your subscription in this Help article.