UptimeRobot Notify-Only Users VS. Notify.Events
UptimeRobot Notify-Only Users VS. Notify.Events
This month, UptimeRobot released a new feature called "notifications-only sub-users". It is intended for those who want to connect colleagues or clients to alerts without granting access to the UptimeRobot account, dashboard and monitors.
In fact, Notify.Events does the same job. That's why we decided to compare the native UptimeRobot notify-only users with Notify.Events (when connecting UptimeRobot as a source) and find out which option gives you more value.
In this article:
What are the similarities?
Events can be selected

Both the UptimeRobot feature and Notify.Events allow you to select the events that users will be notified about. So, one subscriber can receive up and down alerts, and another - uptime reports.
Subscribers don't have access to the account

In both cases, subscribers can't log in to your account and get access to the UptimeRobot dashboard or any other information. They will only get notifications about chosen events.
What are the differences?
Although the options at first glance may seem pretty similar, they have far less in common than they do different.
UptimeRobot
Only 3 notification channels

UptimeRobot provides only 3 ways for such users to receive notifications: email, SMS and voice calls.
Subscribers don't choose how to get notified

Moreover, notify-only users can't themselves choose a notification method. The account owner assigns a receiving method in the dashboard, where subscribers do not have access.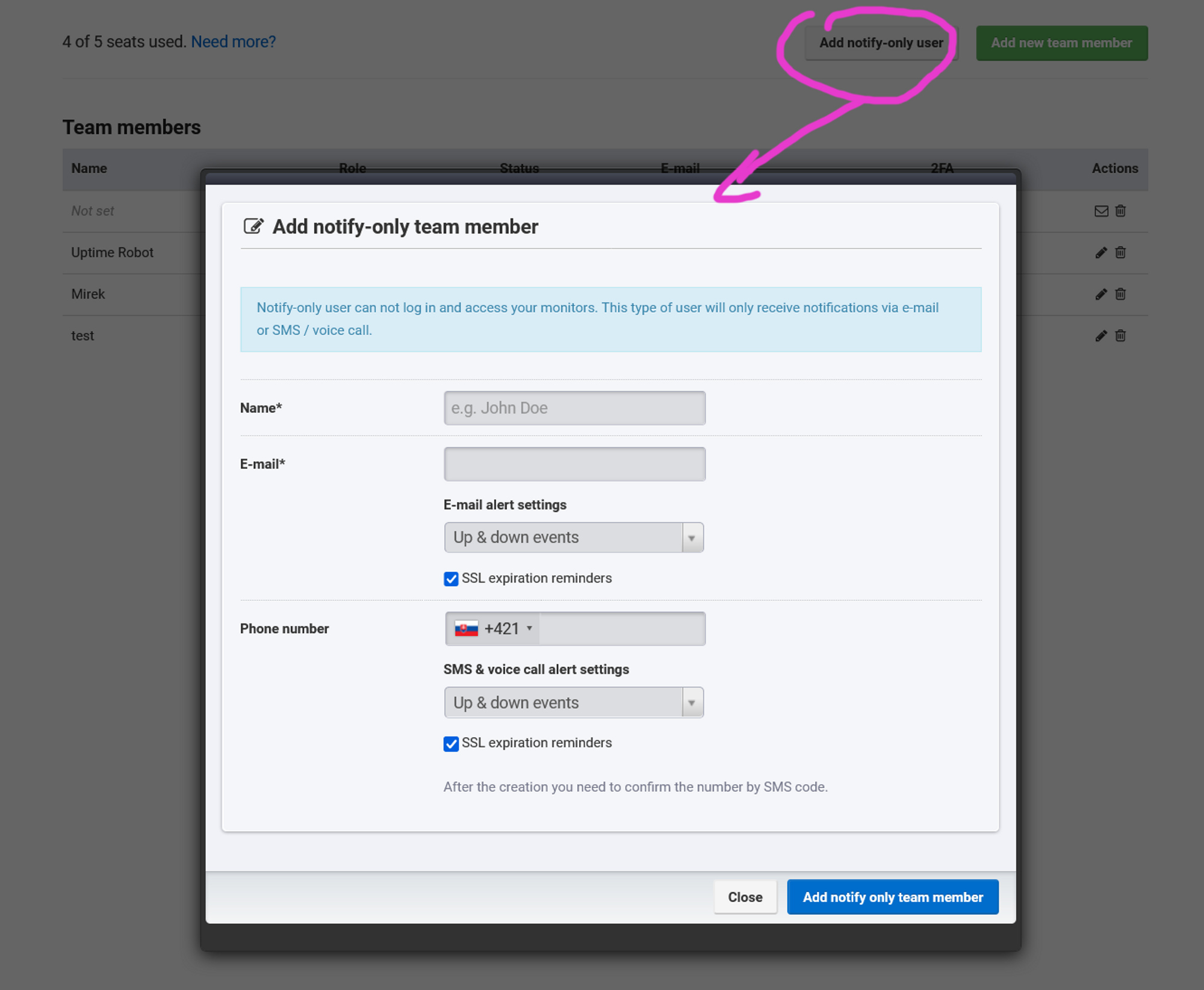 Built-in feature

Since the feature is native, it is fully configured on the UptimeRobot side and does not require switching to other sites.
Notify.Events
50+ notification channels

Notify.Events has a much wider list of available recipients. There are more than 50 ways, including not only email, SMS and voice calls, but also popular instant messengers and push notifications.
Group chat notifications

Many recipients allow sending to group chats. This way you can connect even more subscribers and send important notifications to several people at the same time.
Subscribers can choose how to get notified

In addition, subscribers can independently choose how to get alerts, since you share a special channel subscription link with them. Thus, it's up to them to decide whether to receive Uptime Robot Discord alerts, get notifications via Telegram, Slack, SMS, or some other tool.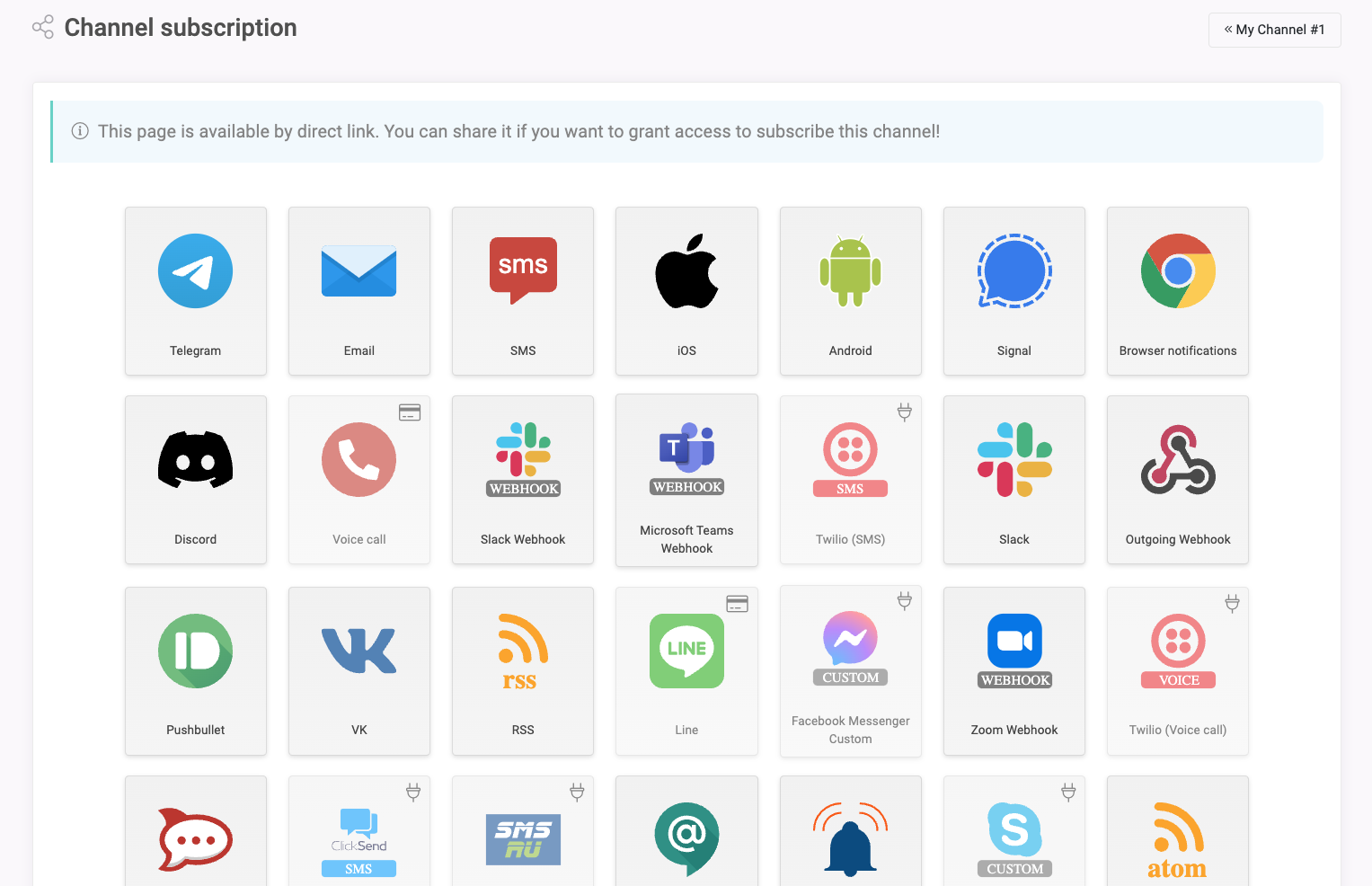 Setting via Notify.Events

To set up notifications, you will need to register a Notify.Events account. However, the configuration is quick and easy. And you won't have to share your UptimeRobot or recipient services login credentials.
Duty schedules and escalations

At Notify.Events, you can also set time periods for sending notifications. For example, you can turn off notifications at night or while the subscriber is on their vacation. It is also possible to forward notifications to another recipient if the original one doesn't respond within the specified timeframe.
Notifications from other sources

In addition to Uptime Robot, Notify.Events offers more than 40 other tools that you can connect as notification sources: Zabbix, Grafana, Microsoft Azure and more. This allows you to combine notifications from multiple services into a single flow.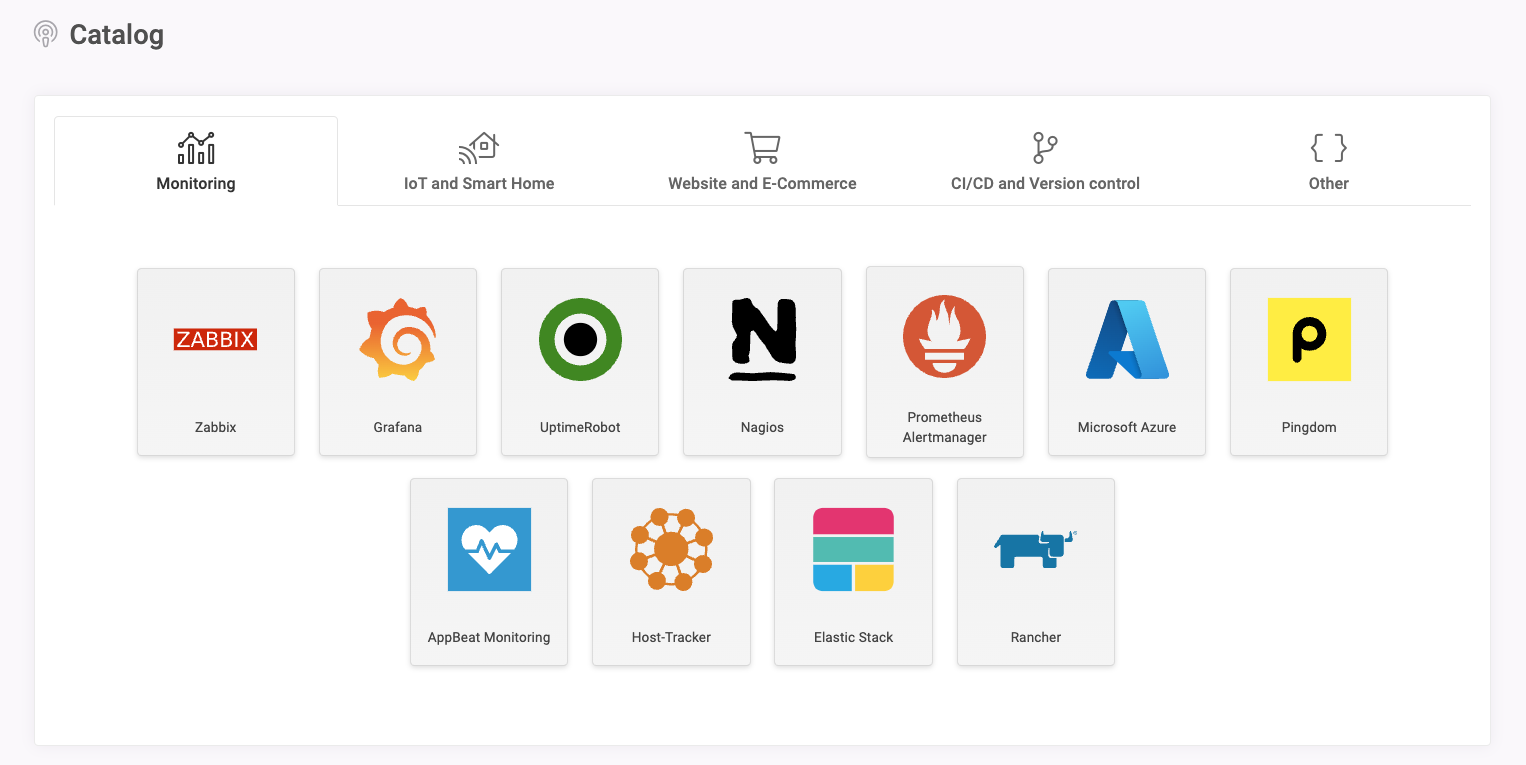 What is the price?
UptimeRobot
Notifications-only sub-users are available on paid UptimeRobot plans. Therefore, if you're using the Free subscription, you won't be able to take advantage of the feature. Stll, not all paid plans include free notify-only seats.
The Enterprise plan offers 5 seats for free, while the Team plan comes with 3 free seats. Solo plan includes 0 seats by default but you can buy them. Extra seats cost from $1.5/month or $12/year each. The maximum number is 100.

Notify.Events
Notify.Events makes it possible to connect subscribers for free at any plan, including the free account. Each package offers a certain number of channels (notification flows) and recipient services that you can connect.
---
HELPFUL TIP: connect group chats to increase the number of alerted users several times for free.
---
Paid plans start at as little as $1 or even less if you choose an annual subscription. Upon registration, you will automatically get a 30-day free trial with basic paid functionality. No bank card needed.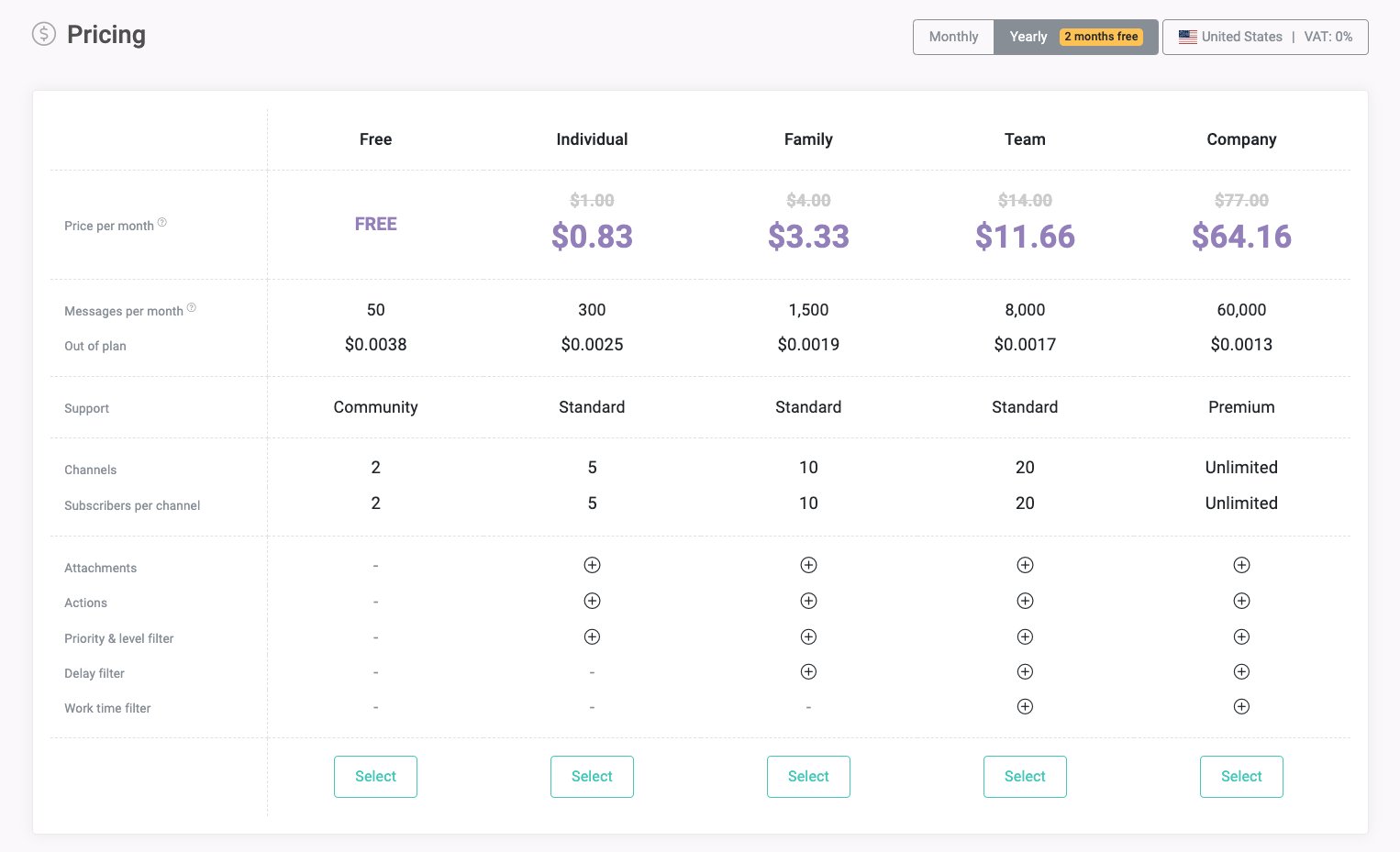 Bottom line
In the comparison table below, we have summarized all the important features of the two options:
UptimeRobot
Notify.Events
Notification channels
3
email, SMS, voice calls
50+
messengers (Discord, Slack, Telegram, etc.), push, email, SMS, voice calls
Group chat notifications
No
Yes
Subscribers can independently choose a notification channel
No
Yes
Events can be selected
Yes
Yes
Subscribers have access to account
No
No
Built-in feature
Yes
No
Notify-only users in the Free plan
No
Yes
Duty schedules and escalations
No
Yes
Notifications from other sources
No
Yes
Sure, a built-in feature is what you would consider first of all. But if you dare to direct your gaze a little further, it is possible that you will stumble upon something splendid.
Notify.Events gives more opportunities and does a good job of notifying colleagues and clients of important events. And this applies not only to UptimeRobot alerts, but also to many other services that you use on a daily basis.
To get started, simply sign up for Notify.Events or sign in to your account, add UptimeRobot as a source to your channel, and get subscribers connected.