WordPress 6.0 "Arturo": New Features Overview
WordPress 6.0 "Arturo": New Features Overview
WordPress 6.0 "Arturo" has been available to users for two weeks now. BTW, it arrived right before WordPress' 19th birthday. This is the second major release of 2022 after WordPress 5.9. It includes over 1000 new features and improvements.
Why Arturo?
The WordPress team itself explains that the new release is dedicated to the Grammy-winning Latin American jazz musician Arturo O'Farrill. It is not just words. In the new version, you can hear the sounds written by the maestro.
In addition, the analogy with a musician is also explained by the focus of "Arturo" on users' creative potential disclosure. For example, WordPress has received a set of features for efficient creation of content and design.
What's new on WordPress 6.0?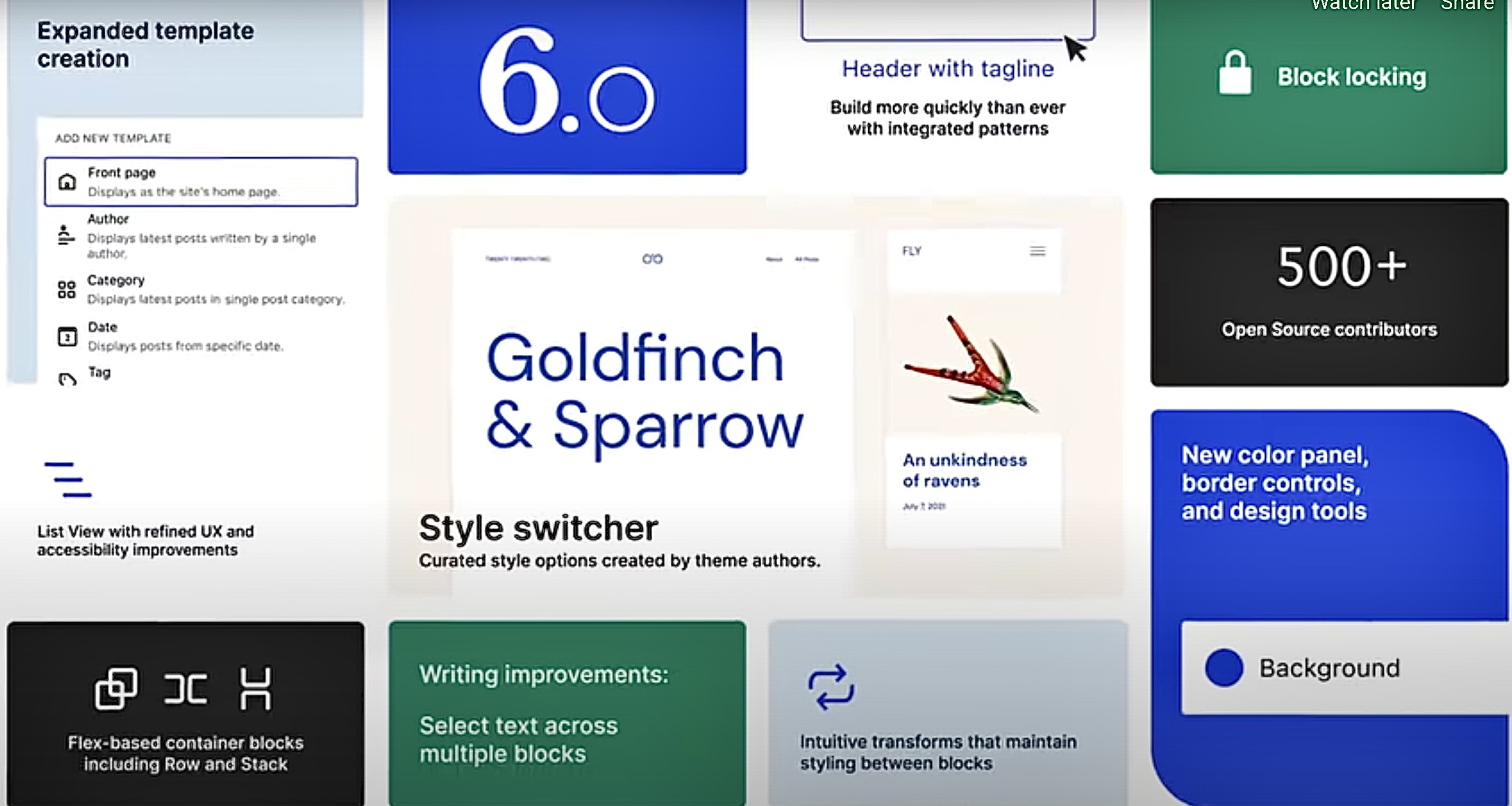 The developers did a good job on this block in order to simplify and speed up the process of creating or editing content as much as possible. For example, now you can simultaneously select text in different blocks for copy-paste.
Simplify the work and functions of quick access to styles and formats. "Arturo" allows you to save multiple styles within each block for quick switching. And after entering '[[' you will immediately see a list of recent posts and pages.
There are new text block and button styles that can also be saved and instantly applied when needed.
Working with the design of WordPress site pages will also become easier. The color panel is now more compact, but no less convenient. Added styles for tag clouds and social media icons and transparency levels for colors.
Featured images can now be used in the cover block. And new features will help you manage borders and spacing more easily.
In order not to accidentally move anything, ready-made blocks can be blocked - disable the ability to move and / or delete.
The changes affected not only the design elements themselves, but also the templates in general. There are five new parameters for block themes: author, date, categories, tag, and taxonomy.
And it will take fewer steps to see the patterns - they will appear in even more places.
Performance and Availability
Performance improvement in WordPress is handled by a dedicated team. Their work is not always noticeable, but this time you can see that the page and post-load speed has increased, while the execution time of various types of queries has decreased.
Accessibility is another important detail for a site to work well for users in different locations. That's why WordPress 6.0 includes over 50 updates specifically aimed at making the platform more accessible.
How to install WordPress 6.0 "Arturo"?
Active WordPress users just need to quickly update from the Dashboard > Updates menu in their site's admin area.
In case it's your first installation, download the ZIP archive from the WordPress website.
---
Did you know that you can receive instant notifications in popular messengers about events happening on your WordPress site? Like new orders in your WooCommerce online store or comments on a blog.
The free Notify.Events plugin for WordPress and WooCommerce is designed just for this. Choose a convenient way to receive from 50+ tools - Telegram, Slack, MS Teams, Viber, SMS, etc. Increase your work efficiency by distributing notifications among your team members according to a schedule. Process incoming orders at the speed of light and get more sales.