How to Receive Message Notifications from Various Services Wherever It Is Convenient?
How to Receive Message Notifications from Various Services Wherever It Is Convenient?
Notify.Events: From Anywhere to Anyone
It's hard to imagine the modern world without IT — whether it is business or everyday life. We use many tools and applications to solve both work and personal tasks: from ensuring the smooth operation of the hardware and software elements of the system to smart home devices management. Often events occurring in these services, messages coming from the system or colleagues, incidents, and failures require constant monitoring and prompt response.
But how not to miss out on anything important among all this variety of services and messages and still not go crazy? Is there a way to set it up with no hassle? Let's figure it out.
---
What's in this article?
Why do you need an extra service for collecting notifications?
You may say that many products already have built-in tools for monitoring processes and sending notifications. And you'll be right. However, there is a catch. Most of them work according to a standard scenario, which does not allow you to fully customize the settings for receiving notifications. Thus, you may face some difficulties:
Notifications and alerts are sent primarily to email, where they can be easily missed. In rare cases, it is possible to receive notifications in instant messengers, but this usually requires writing a script or creating a chatbot.
When it comes to working groups, most often notifications are received by the entire team. Even when employees have a day off, vacation, or sick leave. The lack of targeted notification of the required specialists can not only irritate others but also lead to a decrease in the speed of response to important events and incidents.
It is difficult or impossible to configure the way of receiving notifications depending on the time of day and the message or event priority level. For example, in the daytime to read messages in an instant messenger or SMS, and at night - to receive information about critical events and issues requiring prompt response through a phone call.
It can take a lot of time and effort to get around all the hardships. But there's a much simpler solution for combining messages from all the services you use and configuring their receipt in the most convenient way for you — Notify.Events.
What is Notify.Events?
Notify.Events is a convenient service for managing notifications from different sources in several categories:
Monitoring (Zabbix, Uptime Robot, Grafana, Rancher, Microsoft Azure, etc.)
IoT and Smart Home (Home Assistant, Node-RED, MajorDoMo)
Website and eCommerce (WordPress + WooCommerce, Shopify)
CI/CD and Version control (Jenkins, GitLab, BitBucket Cloud, etc.)
Other (Incoming Webhook, Email, Python, etc.)
Thanks to flexible settings, the service allows you to integrate message notifications, choose channels for receiving them, create thematic feeds through a notification center, adjust the priority of messages, connect additional subscribers (e.g. colleagues or family members), and distribute messages between them according to working hours. No additional utilities, no hassles — just you and your notifications.
Who is Notify.Events for?
For development teams and DevOps — to manage projects and collaborate while building, testing, and debugging a release.
For IT departments and system administrators — to monitor the stable operation of equipment and high-load systems and to respond quickly in case of failures.
For smart home and IoT users — to react in a timely manner to notifications from IoT devices: a doorbell, indoor CO2 level exceeding, alarms from video surveillance systems, or other events.
For eCommerce teams — to track user activity on the site, orders in the online store or marketplace, and stocks of goods.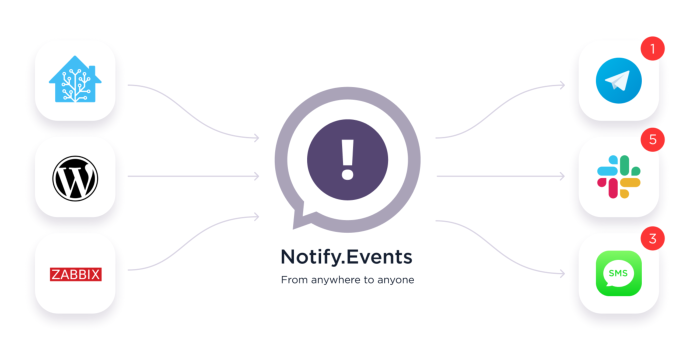 What are the advantages of Notify.Events?
Notifications from different sources in one feed
Quickly add messages from several sources to thematic channels to track events in any number of services simultaneously. You no longer need to waste time switching between multiple message flows on different systems. Notify.Events takes care of everything — you will get a real-time notification once a new message appears.
Multiple subscribers in one channel
Subscribe both individual users and entire teams to thematic feeds via a direct link. Each subscriber can choose the most convenient way of receiving notifications — from Telegram, Kik, and Slack to SMS, push notifications, and voice calls — and connect it on their own in one click.
Notifications on a schedule
Distribute notifications among team members according to the importance of a particular event, message types, and working hours so that not to miss the most significant things. If you need round-the-clock monitoring, customer and technical support, Notify.Events will help you promptly notify the necessary specialists (even at night) so that they can quickly respond to events requiring attention or eliminate emerging failures.
Support for existing systems
Upgrade legacy systems and expand the capabilities of previously configured solutions by adding new channels for sending notifications. Nither you have to create bots or write code for this, nor additional system configuration is required — you just need to add a new email address to the mailing list.

How to set up Notify.Events?
Register in the Notify.Events system and create your channel.
Add sources to the channel — services from which you would like to receive messages.
Choose a convenient way to receive notifications — instant messengers, push notifications, SMS, phone calls, etc. You can send a link to the channel to your team members - other users do not obligatorily need to register in the Notify.Events system to subscribe to notifications in the created channel.
Get notifications sent from anywhere to anyone.