Release Notes April 2021
Release Notes April 2021
What's new?
New Feature: Delayed Sending
The most important and long-awaited update of April is the delayed sending feature. Now it will be even harder to miss important messages. Set scheduled messages and calls to other subscribers in case the original notification does not catch the recipient. In which cases will delayed calls and messages come in handy?
When you want to be absolutely sure that all important messages will be received and responded to as soon as possible. For example, set up an online store order message to be sent to another manager or head of sales if the assigned employee does not respond within 10 minutes.
Or when not only the speed of receiving notifications is important to you, but also savings. Notify.Events delayed sending will help you find a compromise between speed of delivery and saving the budget. For example, set to send a call with a 5-minute delay, and the employee will receive it only if they don't notice the message in the instant messenger during this time. So you don't have to turn on paid voice calls or SMS right away.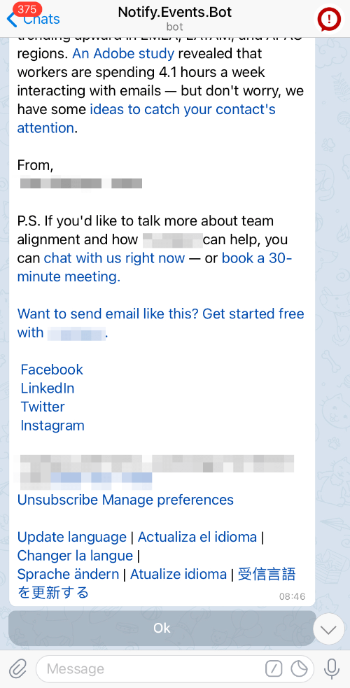 To set up delayed sending, add a new subscription to the channel or select from the existing ones and go to the settings screen - where you usually configure filtering. At the bottom of the page, in the Send if there is no action box, select the desired delay period from the drop-down list. Sending a delayed message or call is possible in 1, 5, 10 or 15 minutes (by default, all recipients have the option to Send immediately). If during this time the recipient does not press the action button in the messenger, the notification will be sent to the selected recipient.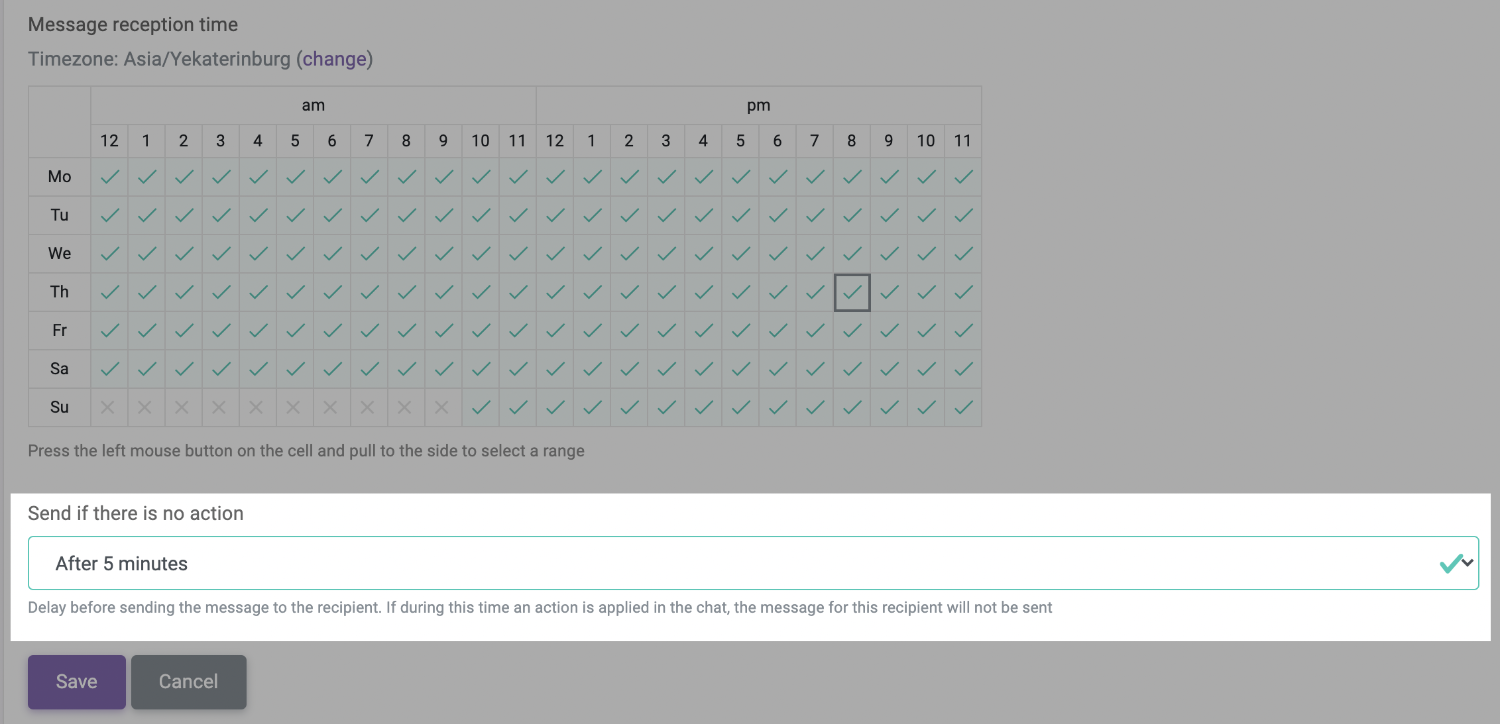 New Recipient: Signal Messenger
Signal is a free messenger that is rapidly gaining popularity (especially after Elon Musk called on Twitter to "use Signal"). This is all because the main feature of this messenger is the "focus on privacy". It is often called the world's most secure messaging app. Edward Snowden said a few years ago that he uses Signal every day (and he certainly should be trusted in such matters). But how does it work?
Signal uses state-of-the-art end-to-end open source protocol encryption. Thanks to this, messages and calls always remain personal - no one but you and your interlocutor will be able to read or listen to them. In Signal you can share text, voice messages, photos, videos and even encrypted stickers. There is also a function of group chats, voice and video calls. But what is not in the application, so it's advertising.
To start receiving notifications from services in Signal, simply add it as a recipient to your Notify.Events channel in the usual way.
Jenkins Plugin: File Attachment Feature
In April, we continued to work on upgrading the integration with Jenkins. This time, we added the ability to attach files - "artifacts" to the sent notification. On the Jenkins side, it is now possible to set an Ant pattern to flexibly specify the list of transferred files. For example, use the *.txt, data.zip pattern to add all text files and the data.zip file to the message.
Home Assistant Integration: Override Token
Improvements have also been made to Home Assistant, a service for managing smart home devices. Home Assistant integration with Notify.Events allows you to receive instant notifications on your phone about important events in your home, as well as control devices using chat actions. For example, find out when the dishwasher finishes, view CCTV camera snapshots, react to the activation of the motion sensor.
Previously, all notifications generated on the Home Assist side could only be sent to one predefined channel. The token for this channel was written in the configuration file. The update adds the ability to redefine the channel token to which the message will be sent, at the stage of generating this message. This will allow you to distribute messages even at the Home Assistant level.
New Recipient: Threema
Threema is one more messenger that is positioned as "secure". Not only does it not collect user data and allows encrypted voice and video calls, but it also does not require a phone number or email when registering. Instead, users are assigned a random Threema ID. As for the functionality, like most messengers, Threema allows you to exchange text and voice messages, multimedia, locations and files. However, unlike Signal, this application is paid.
To configure receiving notifications through Notify.Events in Threema, add the integration first and enable subscription through it in the properties of the channel you need.
---
Read the new Release Notes in a month. Until then, follow us on Facebook and Twitter. If you have something to ask or suggest (maybe a new integration?), contact us at support@notify.events. And we are still ready to grant you 10,000+ bonus points if you share your experience of using the service in social networks, forums and other platforms.