Release Notes May 2021
Release Notes May 2021
What's new?
Jenkins Plugin: Version 1.6.0
In April, we already worked on updating the integration with Jenkins, and then we implemented the function of attaching "artifacts" to notifications. In May, we added the ability to attach a file with the build log, which you can now also receive in the notification as an attachment.
By the way, some changes have also been made to the attachments. Details are further in the article.
WordPress Plugin: Version 1.3.0
Our WordPress plugin has also been updated this month. In version 1.3.0, we added support for a custom post type. This update makes it possible to create bundles with any plugins that allow registration of public post types. This means that you will be able to receive notifications about events in your favorite WordPress plugins that have not yet been integrated out-of-the-box.
To set up a new custom event, first of all, update the plugin with the latest version. After that go to the Notify.Events plugin Settings and on the Events tab, click the Add event button. In the window that opens, in the Post section, select Post Custom Event.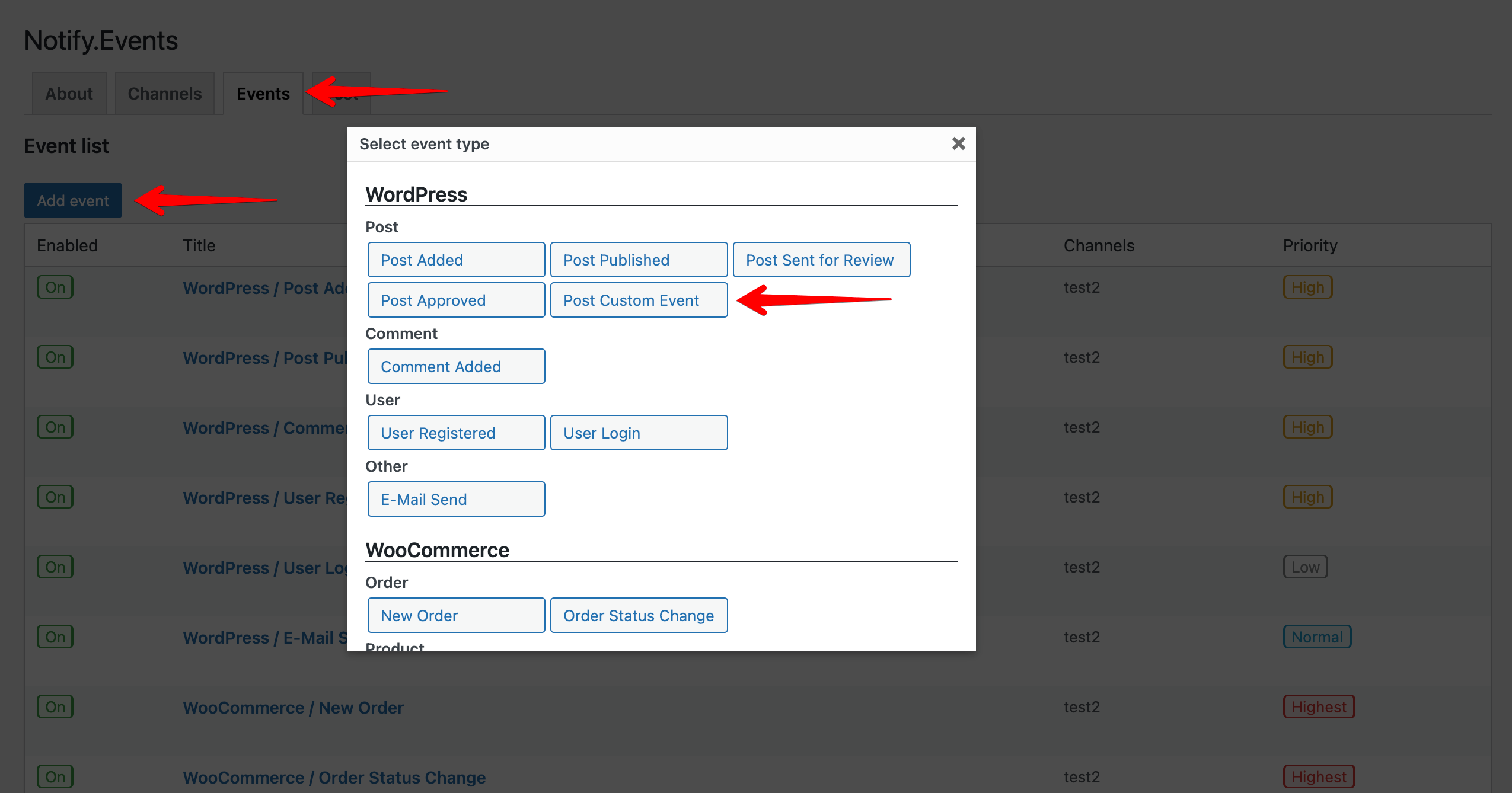 You will see a screen for creating a custom event. Here, in addition to the standard fields, you will see the Post Type and Post Status. The positions in these fields depend on the list of public posts and events available in your WordPress.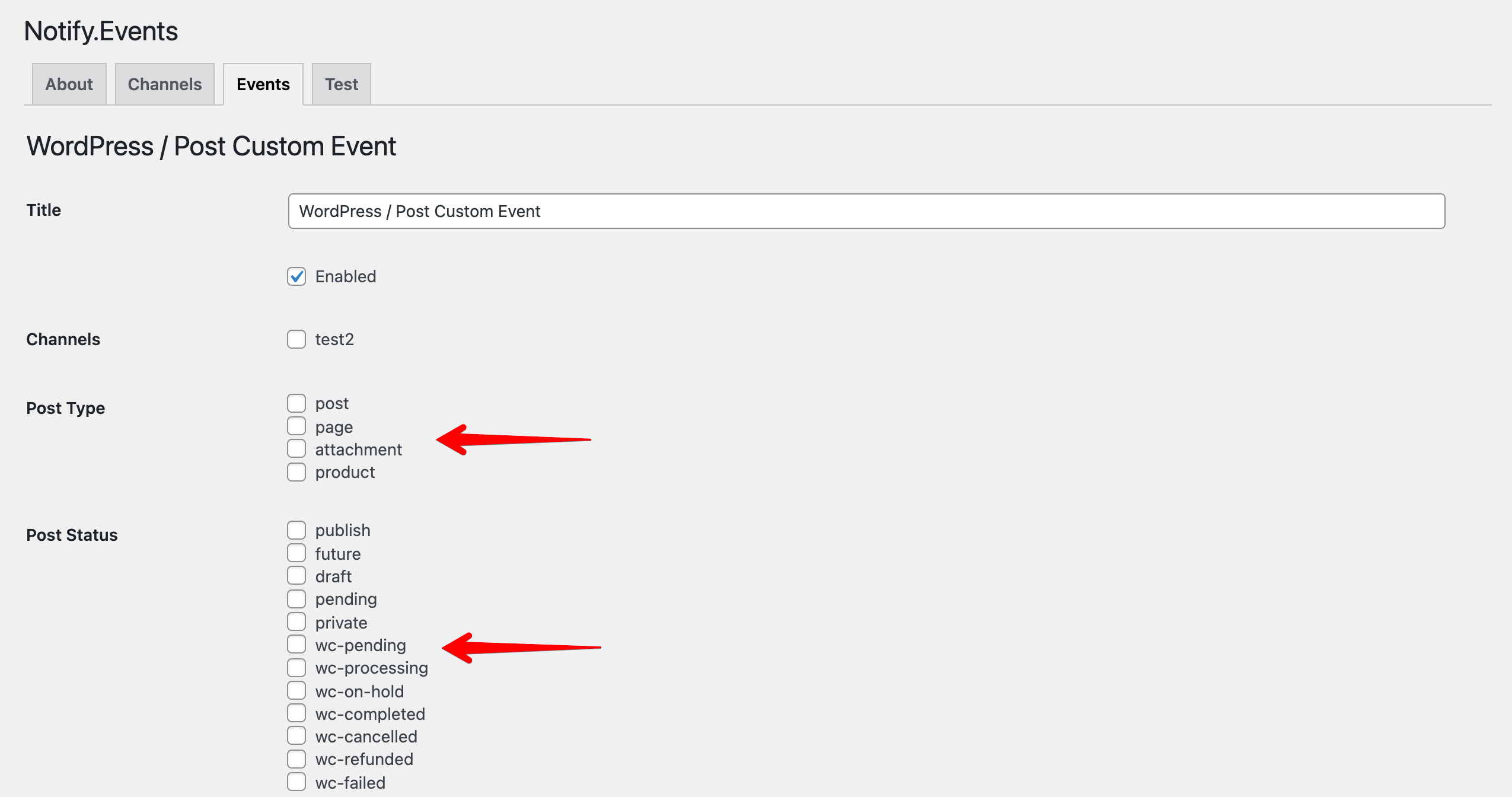 After you set up your event, it will appear in the list of added events, and you will begin to receive notifications to the preselected recipient.
Attachment Size Increase
Good news for account holders connected to paid plans! From now on, you will be able to receive larger attachments than before. We have increased the maximum attachment size from 5 MiB to 20 MiB for all paid plans. The number of attached files remains the same. No further update is required.
If you use the free Basic plan, nothing has changed for you - you will be able to receive up to 5 files of up to 5 MiB each in instant messengers. However, now, when switching to paid plans, you will have an advantage in the form of the increased attachment size.
On the Pricing page, as well as on the home page, you will now see a new line Attachments per message in the rate table: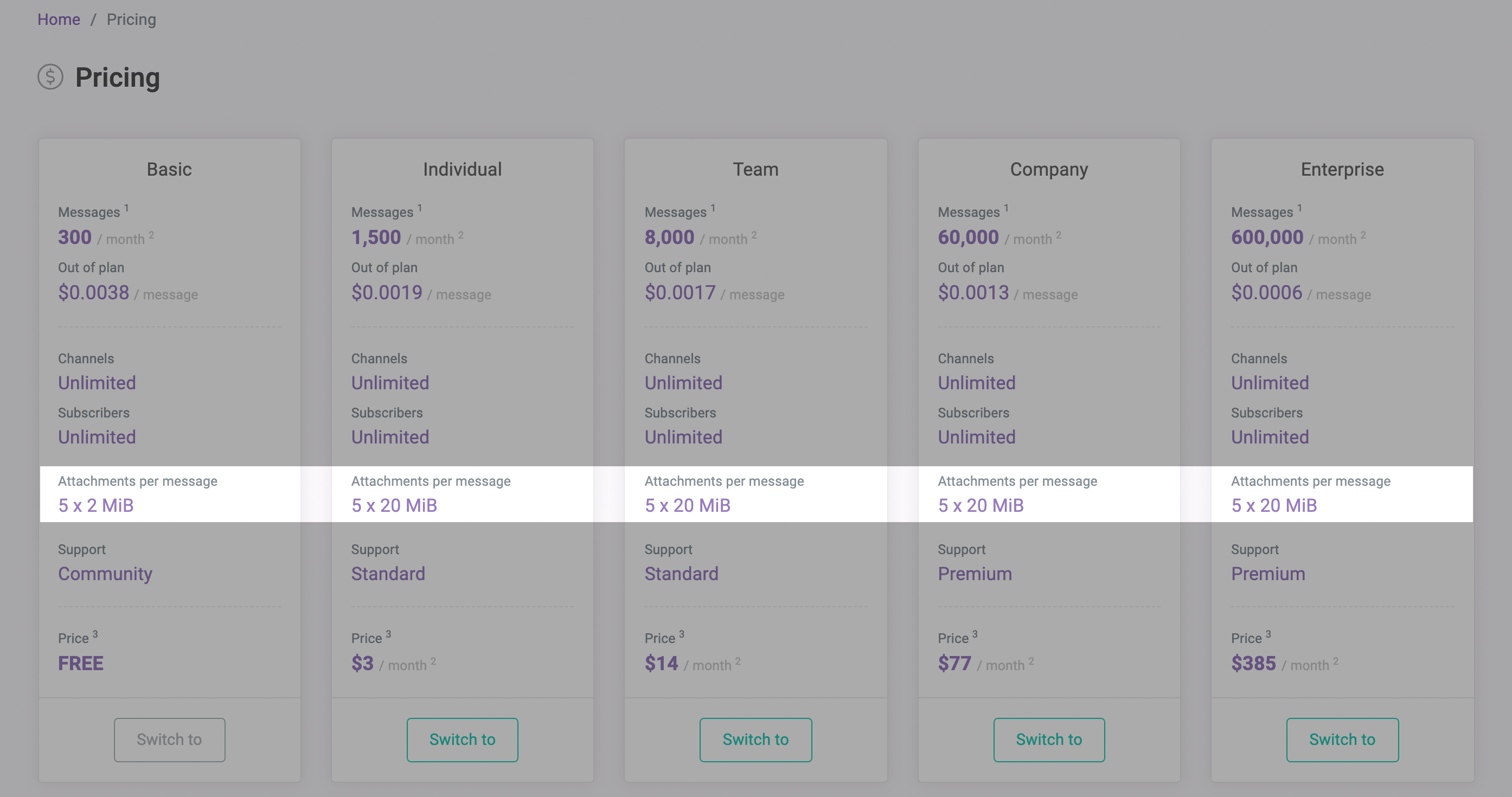 And if you still haven't decided which subscription plan to choose, read the article "How to choose a plan?" in the Help section. And do not forget to pay attention to the new option when choosing.
Facebook Messenger: Important Changes
Unfortunately, the news about Facebook is not so rosy. The social network is becoming more demanding and tightening the policy of using chatbots. Several times recently, we have received notifications that messages sent by the Notify.Events bot violate company policy, as they contain advertising content. For a long time we tried to avoid the introduction of restrictions, but in order not to get a lifetime ban, this time we were forced to make concessions.
Now, instead of the original text of the notification, you will receive a brief information about the event, containing a short title, priority and level of the notification, as well as a link to the full text view page.

And when you add Facebook Messenger as a recipient to your channel, you will see the following warning: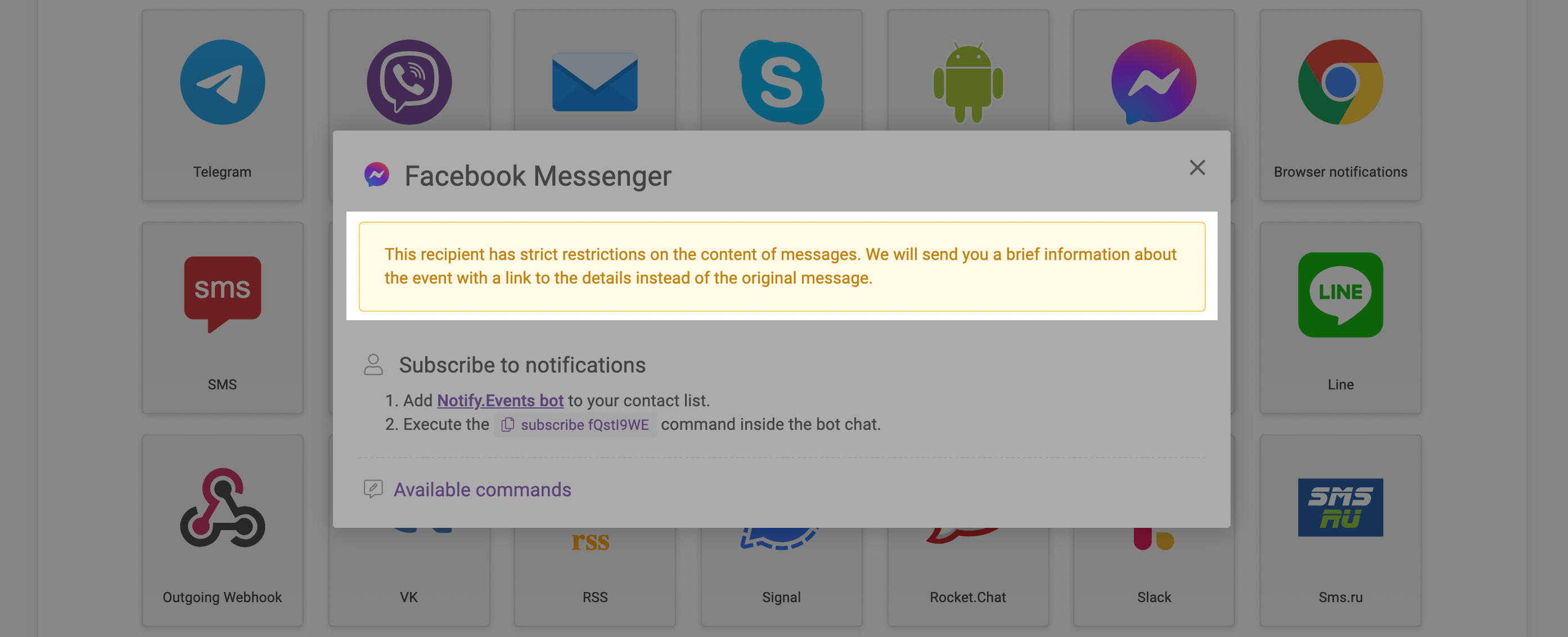 ---
Check out a new batch of Notify.Events Release Notes each month. Until then, follow us on Facebook, Twitter, and Telegram. If you have something to ask or suggest (maybe a new integration?), contact us at support@notify.events.