Wix Payment Options: Complete Guide
Wix Payment Options: Complete Guide
Wix allows businesses worldwide to accept online payments using 70+ payment gateways. Still, the list of options varies greatly depending on the business' location. Here are the main Wix payment options:
This article will tell you more about all these payment methods and will make it clear for you how to connect Wix payment gateways and how to manage Wix payments.
Wix Payments
Wix Payments is Wix's native payment provider. This free feature allows merchants to manage orders, payments, payouts, refunds and chargebacks from one dashboard, while offering seamless checkout experience.

Wix Payments dashboard. Source -
Wix.com
This solution is designed to facilitate the process of Wix payment processing. The list of available payment methods is not so large, but it may well be sufficient to avoid applying to third-party providers:
The feature is available to all users having an active Wix Business plan. However, the big disadvantage of Wix Payments is that it works in a very limited number of regions so far. Here are these 15 countries:
Austria;
Belgium;
Brazil;
Canada;
Finland;
Germany;
Ireland;
Italy;
Lithuania;
Netherlands;
Portugal;
Spain;
Switzerland;
United Kingdom;
United States.
As for Wix Payment fees, the site builder charges a processing fee for every payment you receive plus a fixed amount. Fees vary by payment method and region. For example, a fee for bank card payments through Wix Payments is 1.9% of the transaction amount + 0.30 EUR in the EU and 2.9% of the transaction amount + 0.30 USD in the US and Canada. You can always check the current fees on the Wix website. Remember to also find out the minimum amount for each transaction for your country.
Wix third-party provider partners
Considering third-party payment providers may be a good way to expand WIx online payment options for your products and services and get more sales. Wix partners with more than 70 providers including such popular solutions as Stripe, Square, Klarna, and Rapyd.
Look at the payment methods providers offer:
Debit/credit card payments from all major brands, including Visa, Mastercard and AMEX;
Regular payments (for the subscription service);
Bank transfers;
Cryptocurrency payments;
etc.
For some countries and regions, Wix can automatically connect you to the most suitable payment provider available, based on your preferences and location. But it is best to add multiple ways for customers to pay so that they have options to choose from. Even Wix itself recommends to select one provider for debit/credit card payments plus add several alternative payment methods.
Just like Wix Payments, third-party payment gateways may work only in certain regions. Luckily, there are plenty to choose from. You can see the full list of available payment providers in your country here.
In addition to countries and payment methods, each provider sets accepted currencies, transaction processing fees, and minimum fees. Be sure to find out all the details before connecting. Wix itself does not charge any additional transaction fees for using third-party payment gateways.
Wix manual payments
Manual payments are in person or offline payments accepted outside of your site. It may be cash on delivery, bank transfer, check, payment via an app, or some other option. To make the process easy, you can add detailed payment instructions for customers.
Note that if you select this method, you will need to manually mark the service as paid each time the customer makes a payment.
How to connect Wix payment gateways?
To connect any Wix payment provider, go to your Wix dashboard > Accept Payments. Choose your preferred payment gateway and follow the instructions.
If you decide to change the chosen Wix payment provider, you can do so at any time.
How to manage Wix payments?
Regardless of which payment system you use, you can track and view all your payments in the Wix dashboard. Just go to Finances > Payments.
There you will see an overview of your payment activity showing gross income, net income and number of payments received, as well as a list of all your payments with detailed information about each. You can also filter transactions by payment method, status and time period and download the CVS payment report.
Wix manual payments will appear as soon as you mark them as paid.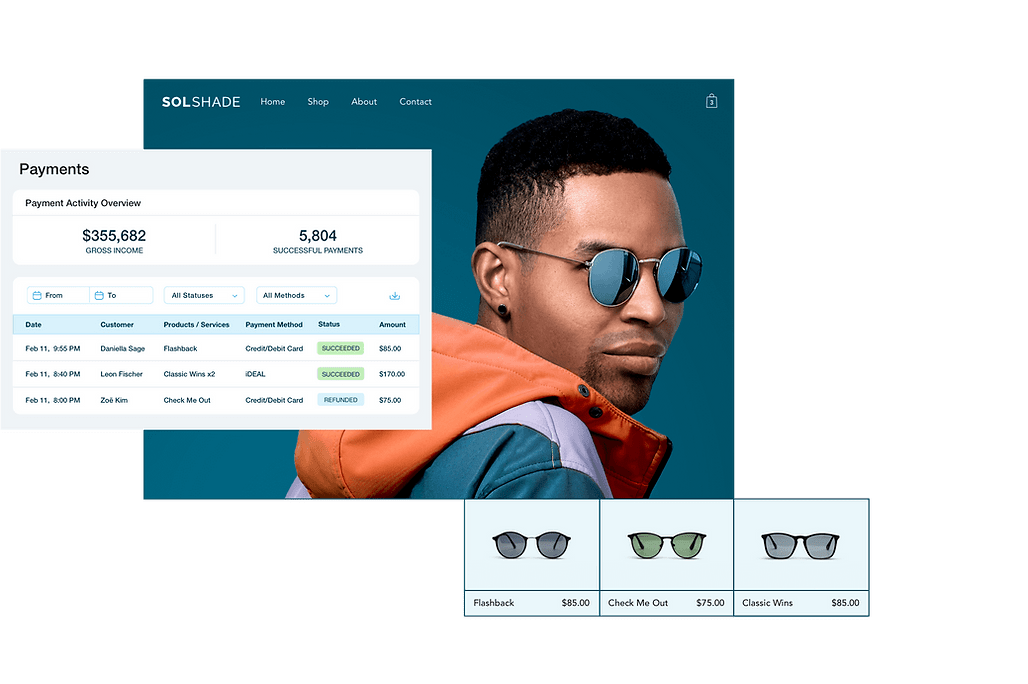 Wix Payments overview. Source -
Wix.com
By the way, Wix has a free tool to create custom invoices. You simply enter your business and client info, invoice and product details on the dedicated page and the Invoice Generator, automatically issues an invoice. You can then download a PDF file or email it to your client right away.
---
And to make the work of your Wix store and your team even more productive, take care of notifications. The free Notify.Events service offers out-of-the-box integration with Wix. It will let you get instant notifications of new orders, payment receipts, and other events in Slack, Telegram, Messenger, Microsoft Teams, or 50+ other recipients.