Google Brings Major Updates to Workspace
Google Brings Major Updates to Workspace
Launched in 2020, Google Workspace (formerly known as G Suite) is "an integrated solution that provides everything you need to get anything done, all in one place" (as per Google). In fact, it is a package of cloud services such as Gmail, Meet, Chat, Calendar, Drive, Docs, and more.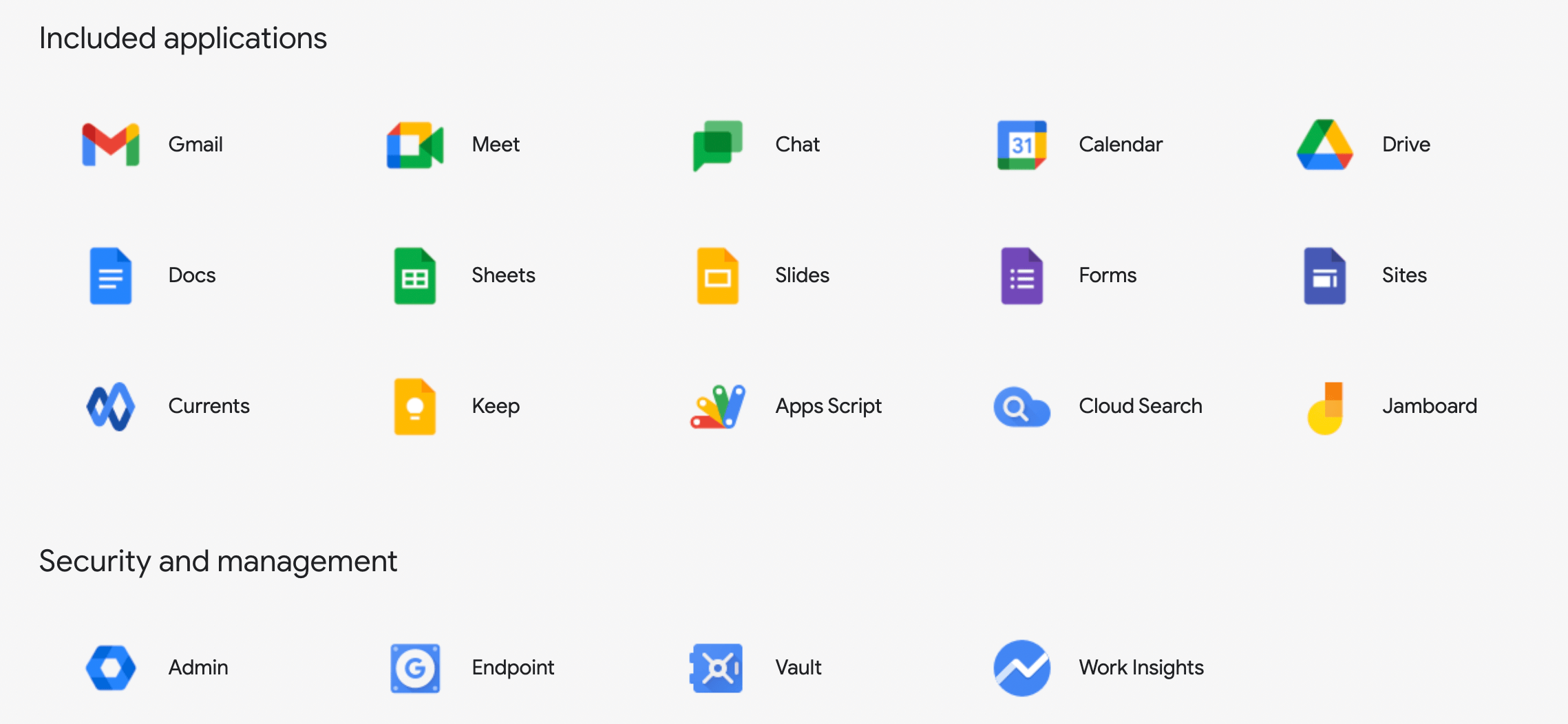 And this week Google made public a number of major changes that have already happened or are expected to happen to Workspace in the near future.
The basis for the innovations was the new normal conditions, in which we all found ourselves due to the pandemic, and under which we have to adapt every day. Remote work and floating work schedules, i.e. hybrid work, have become a part of the life of many companies.
Anyway, despite different locations and working hours, it is still very important for team members to interact with each other. Therefore, Google considers it crucial to create a single space for communication and teamwork.
Here are the products that will undergo changes:
Google Spaces
Back in June, Google announced that Rooms in Google Chat would become Spaces. Now it has officially entered into force. The change takes effect automatically and does not require any action on the part of the user.
Spaces are actually dashboards for collaborating on projects in real time. They bring together such tools as Google Calendar, Drive, Docs, Sheets, Slides, Meets, and Tasks, giving users the ability to participate in topic discussions, manage common tasks from one place, collaborate on documents, while having full access to the history of actions and conversations.
Spaces will get a number of new features in the coming months. For example, in-line topic threading (shown on the picture below), streamlined navigation, discoverable Spaces, enhanced search, and more.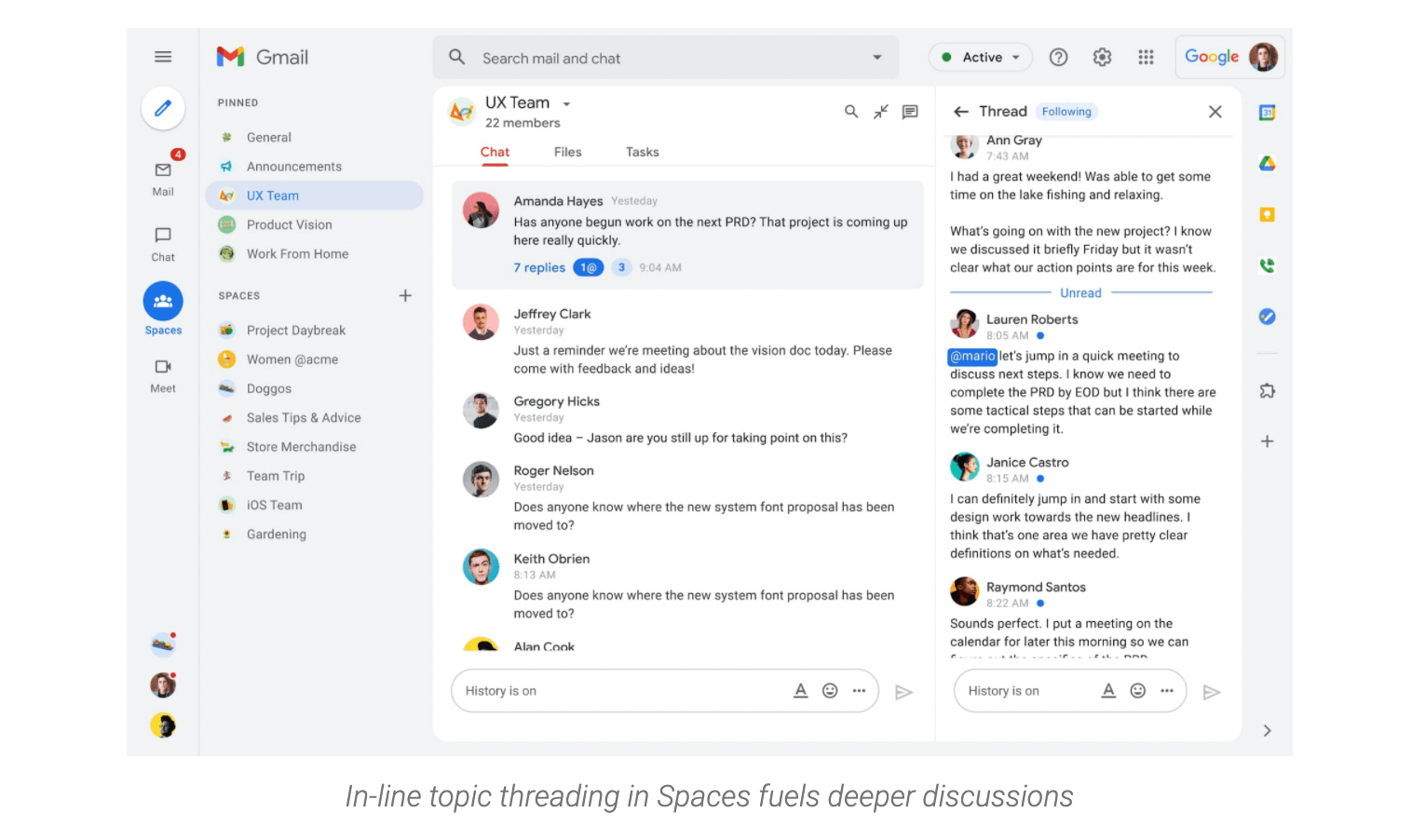 Google Calendar
Returning to the topic of hybrid work, the following innovation will be especially relevant. Employees will now be able to set their location for each working day in the Calendar. This will help leads and employees to plan appointments and correctly set expectations from the work of a particular employee and the whole team.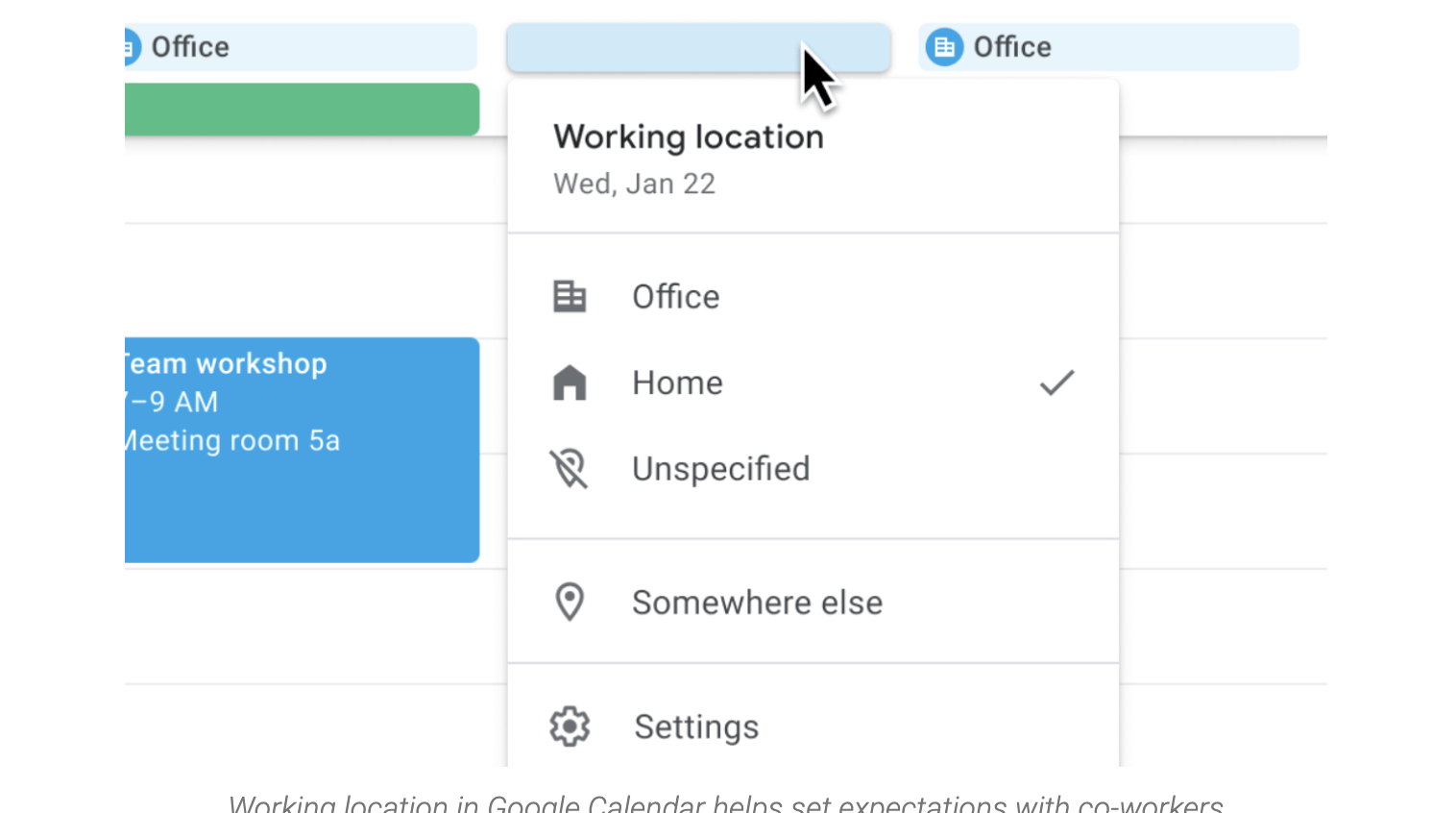 Google Meet
First of all, Google is bringing Meet calling to both mobile and desktop devices. Gmail users will be the first to be able to call another Google user using Google Meet. They will be able to make calls directly from the mobile application. Meet app itself is slated to have the same functionality soon.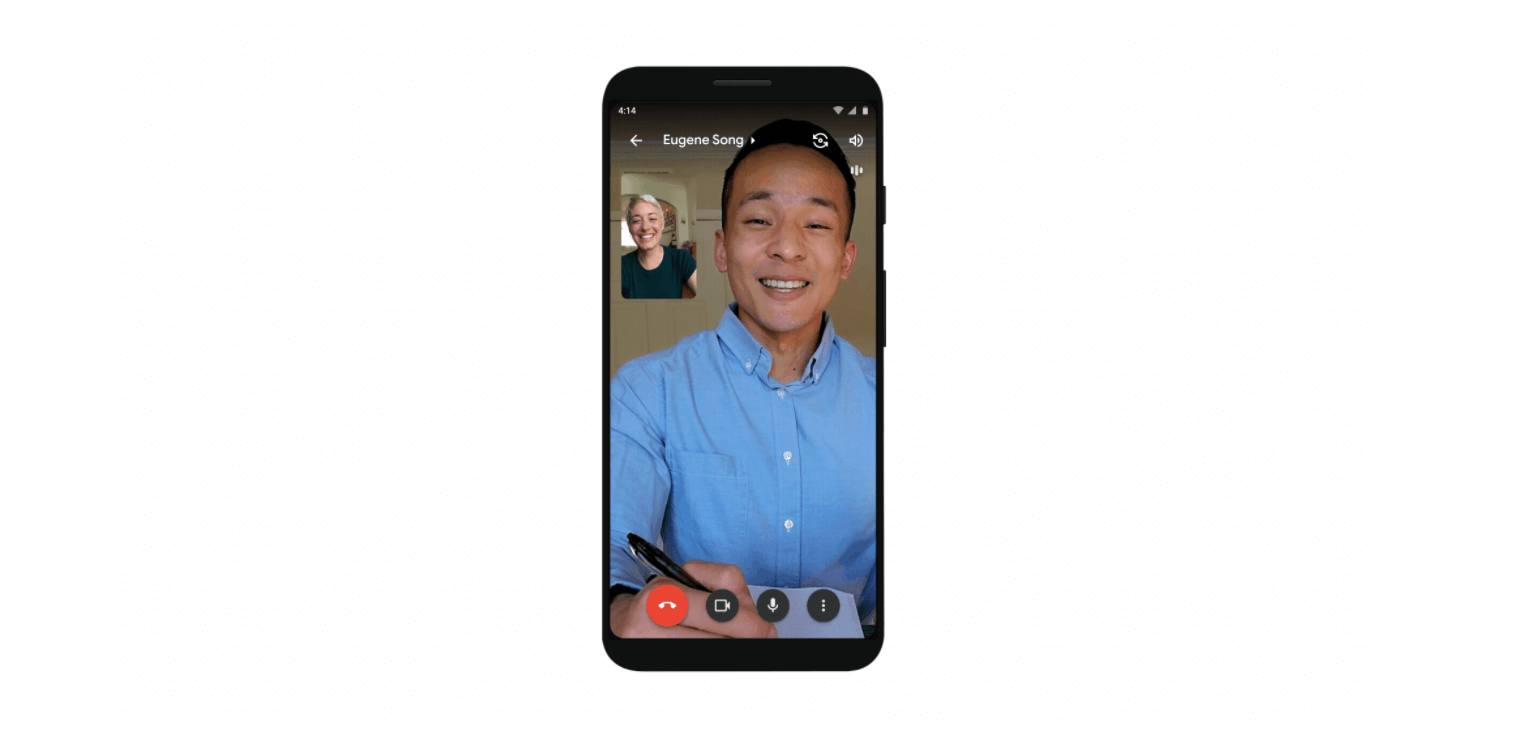 Next, Meet should get a new Companion mode. It will allow users to use their device as a screen for video conferences. Thus, users can share content or view presentations on their devices without audio reverb, while accessing meeting chat and whiteboard, voting on polls, and posting questions in the Q&A section.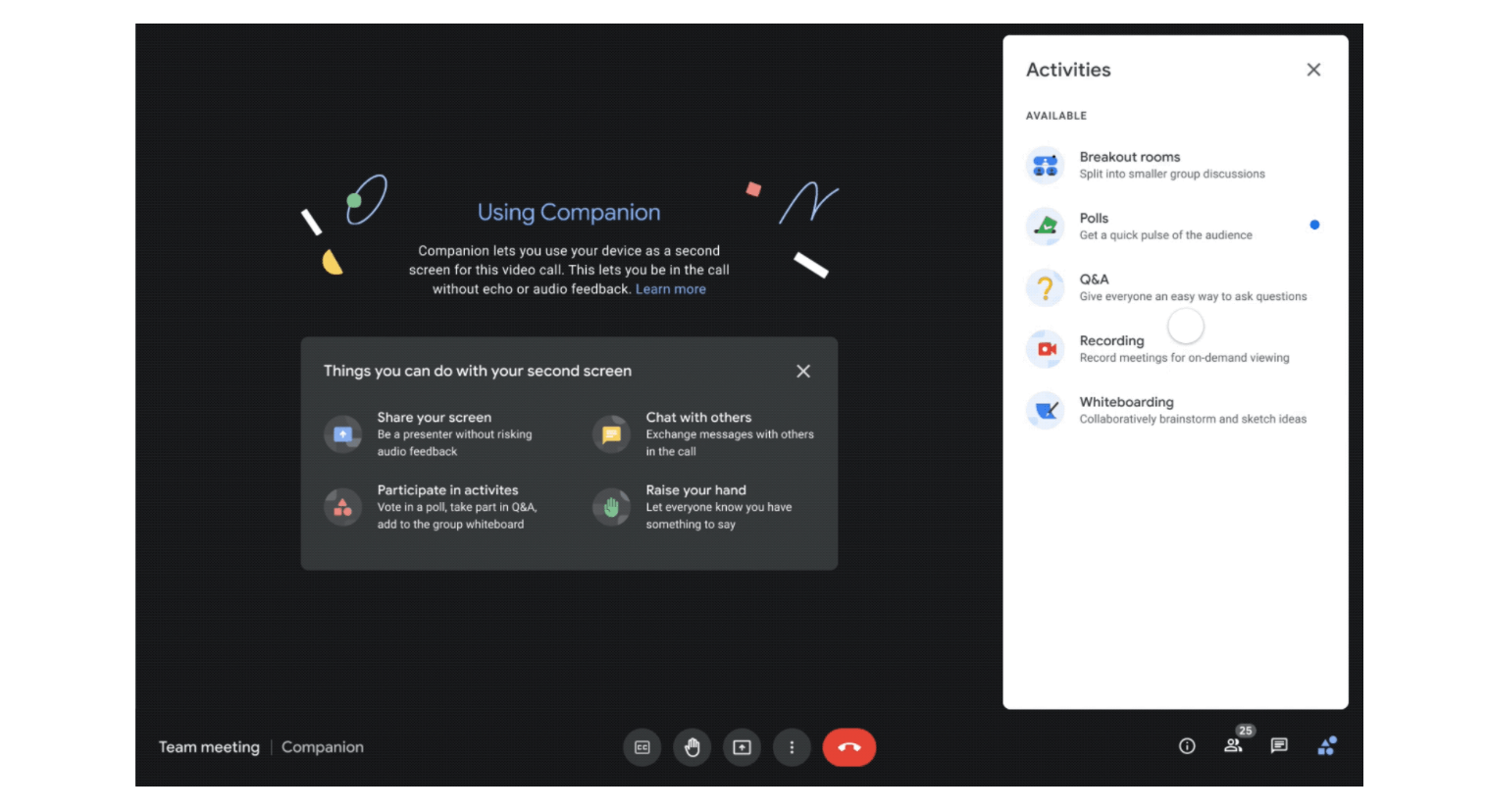 A live-translated captions mode will also appear this year.
Google Meet Hardware
Besides adding new functionality to its services, Google also took care of the equipment for comfortable holding of online meetings. For example, there are now two new universal video conferencing devices: Series One Desk 27 (27 "device) and Series One Board 65 (65" device with 4K resolution). Both devices provide high-quality HD audio and video and can be used as an external display.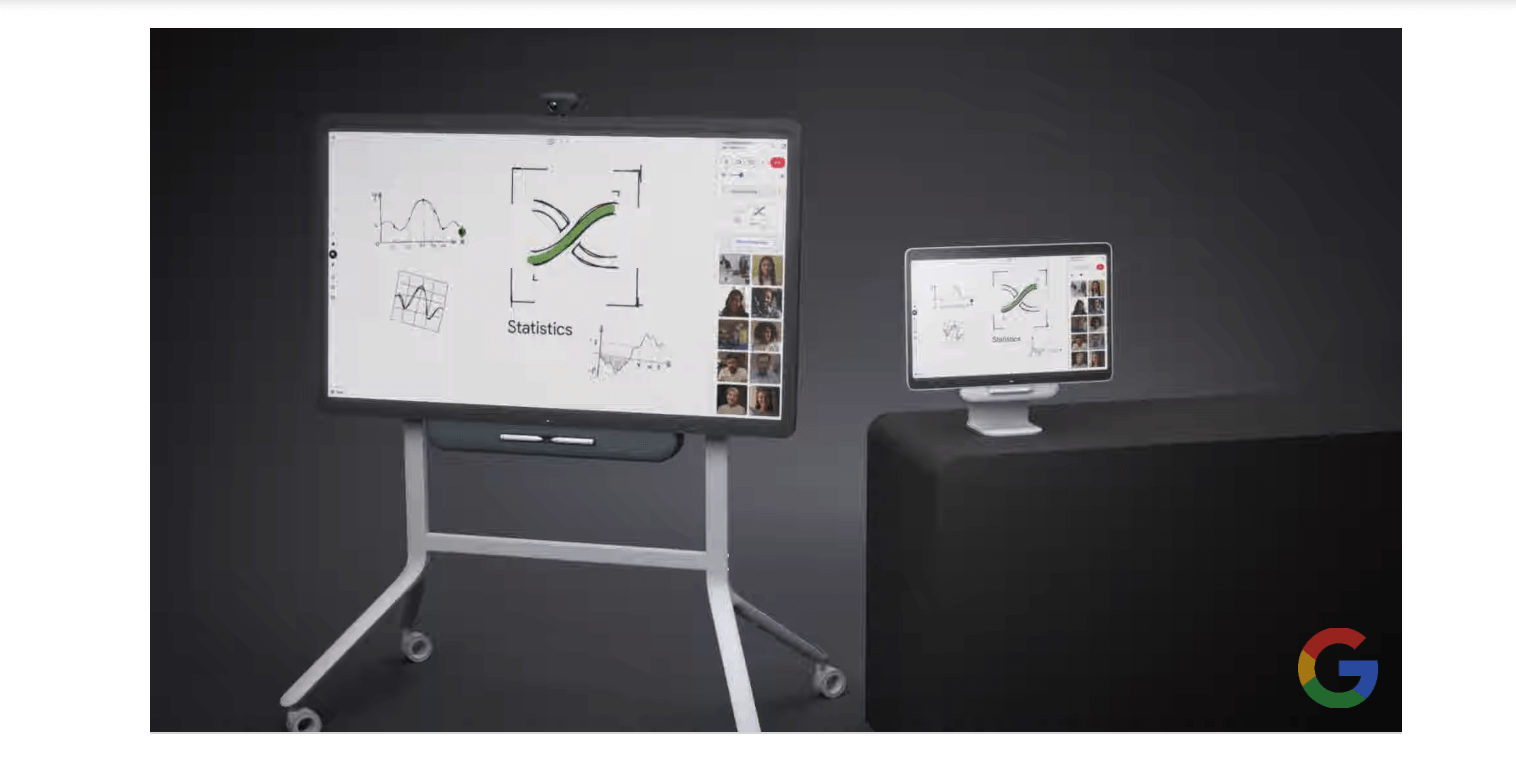 Google is also expanding its Google Meet-supported product line with third-party vendors. Pexip for Google Meet and Cisco Webex are now certified.
Moreover, from now on, users can seamlessly join Google Meet meetings from third-party video conferencing solutions such as Pexip for Google Meet and Cisco Webex.
---
By the way, integrations with Google Chat and Cisco Webex are already available in Notify.Events. Just add them to your channel as a recipient and receive notifications there about important events in the selected source services.
In addition, you can designate your Gmail both as a recipient and as a source of notifications by setting up email integration.