This website uses "cookies" to improve browsing and provide additional features. This data will not be used to identify or contact you.

Shopify Notifications Setup Guide
Shopify Notifications Setup Guide
In this article:
Notify.Events + Shopify
Last month, we finally launched the free Shopify plugin. Now another popular service appeared on the list of sources in the field of eСommerce in addition to WordPress and WooCommerce.
Shopify is one of the leading and largest eCommerce platforms. With the help of a ready-made builder, business owners can quickly and easily create their store or marketplace. Setting up takes a minimum of time and effort - you don't need to have programming or design skills or involve additional specialists. And built-in tools allow managing all important processes, from marketing and payments to secure checkout and delivery, in one place.
Notify.Events Use Cases
The Notify.Events app for Shopify enables online store teams to track important events (for example, new orders) in real time, receiving notifications in a convenient and familiar way - via messengers (Telegram, Microsoft Teams, Viber, Slack, etc.), SMS, push notification, or 50+ more communication tools.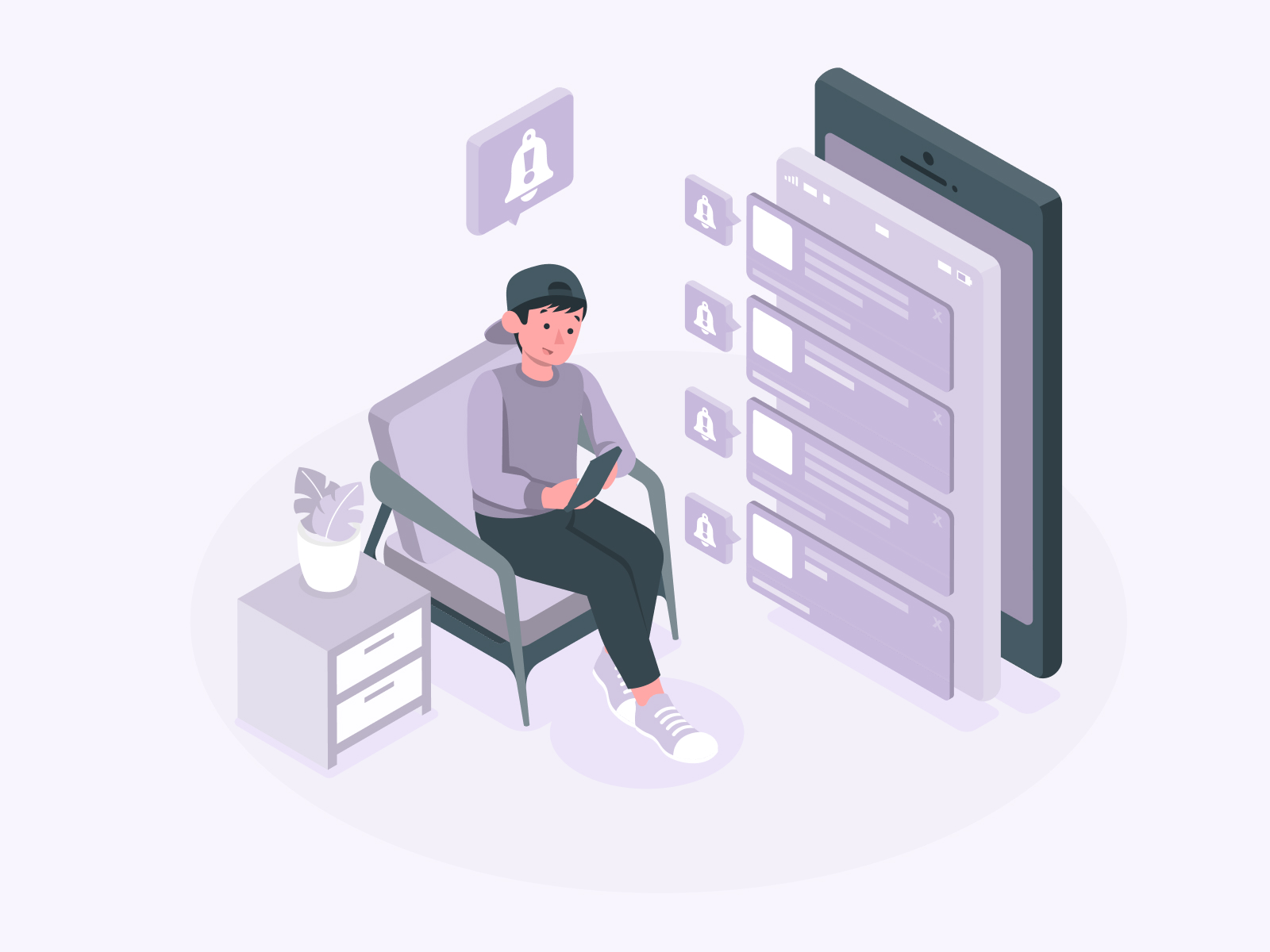 Thus, due to the instant delivery of information about new events, the work of managers, as well as other employees and the entire store as a whole, is optimized, becomes clearer and well-coordinated.
With Notify.Events, you will start processing incoming orders at the speed of light! And customers can count on faster feedback and receipt of goods. All of this ultimately helps the business to improve the quality of customer service and increase conversions.
Shopify Integration Features
We've figured out why an online store running on Shopify should use the Notify.Events service. But how exactly do Notify.Events and the Shopify plugin itself work? Let's see in more detail.
Notify.Events collects all the event messages you have selected and forwards them in real time to the specified recipient. To make it happen, you first need to securely link your store to the service using the plugin, that is, connect it to the Notify.Events channel as a source (while setting up the integration, you will not have to share confidential data like your Shopify account login and password). And then subscribe to the channel through a convenient recipient. For example, Signal or Viber.
Ready! Now when a customer, for example, places an order or pays for it, Notify.Events will send you an instant notification in the selected messenger.
In addition, you can subscribe colleagues to the channel in no time. They don't even have to register with the system. You just share a personal link with them, and they, in turn, choose any of the 50+ available recipients (in the same way you did it). The number of subscribers is unlimited.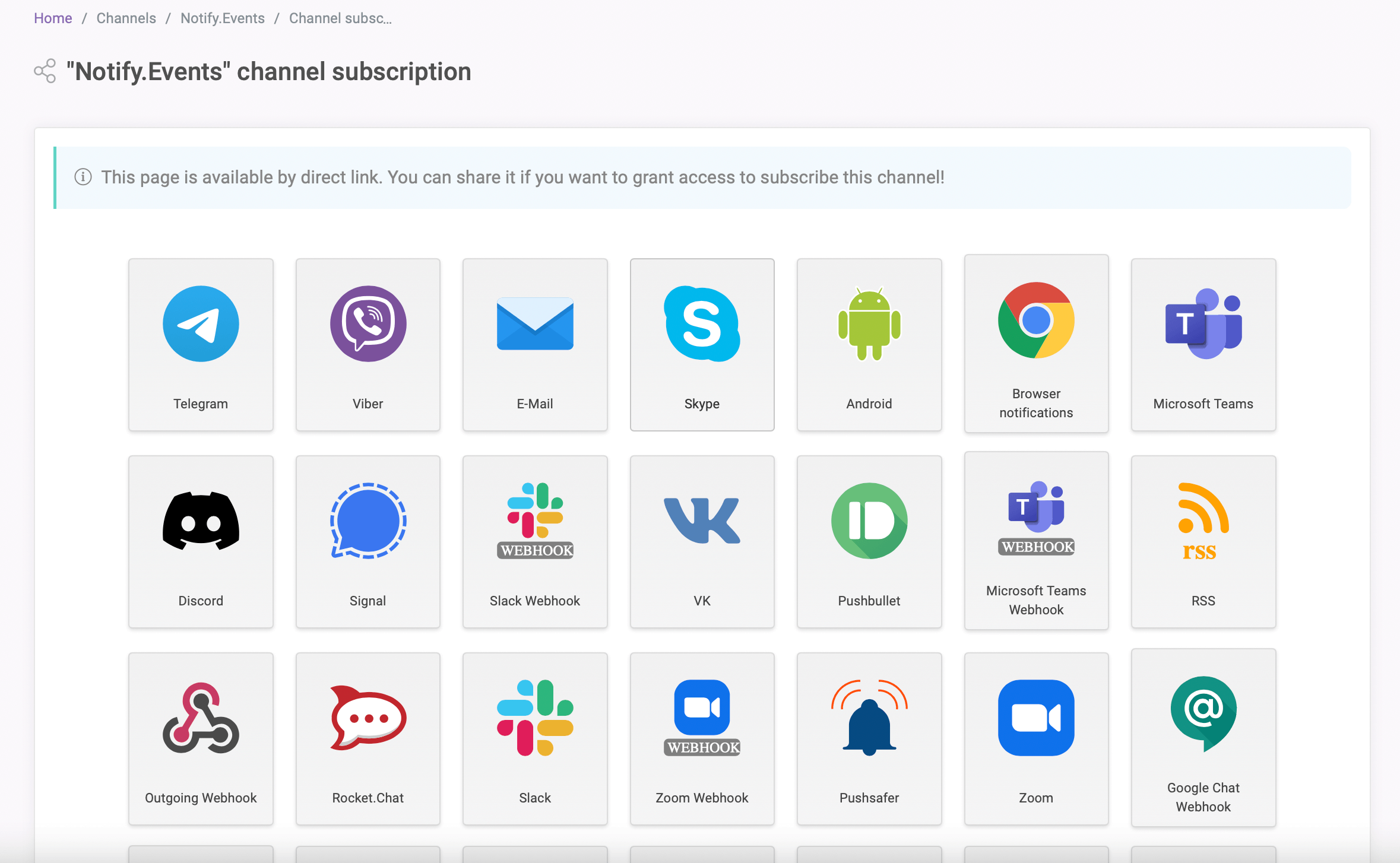 And the ability to distribute messages between recipients by type and priority will help avoid confusion and increase sales. For example, you can configure the sending of messages about a new order to the customer service manager, and about the receipt of payment to the warehouse employee, so that they begin to form the parcel.
In addition, the setting of sending notifications according to the work schedule is available. For example, you can send messages about new orders on weekdays to one manager and on weekends to another one. Or temporarily turn off notifications while an employee is on vacation.
Another way to connect your team to notifications is to set up receiving notifications in messenger group chats.
Let's see what other features Notify.Events offers:
Customization of the message template.

Create message templates using predefined variables related to order, billing, shipping, customer, etc. For example, if you add [order-total] [order-currency] variables to the message body, as soon as the customer places a new order, you will receive a notification containing its total price in the selected currency.

Formatting the message.

The plugin allows simple text formatting. Use <b>, <i>, <a> HTML tags to highlight important information in Shopify text notifications.

Delayed sending of messages.

In cases where the speed of reaction is important, a safety net will not hurt. Arrange for additional sending of messages to another subscriber or to another communication tool if the original recipient is unresponsive. For example, set up sending messages to the head of the sales department if the manager has not confirmed receipt within 10 minutes. Or "wake up" the manager by calling their phone 15 minutes after the unread notification in the messenger.
Shopify Events
Notify.Events allows customizing notifications about a number of important events occurring in the Shopify online store. Currently, notifications about the following events are supported:
New order;
Order updated;
Order paid;
Order fulfilled;
Order partially fulfilled;
Order canceled.
In the future, we plan to expand this list.
Shopify Plugin Setup
The principle of working with the Shopify plugin is not at all complicated. Let's consider each step in detail:
Install the Notify.Events app from the Shopify App Store.

To add the plugin to your Shopify store, go to the plugin page in the Shopify App Store and click on the Add App button. Installation is free.

Set up your Notify.Events account.

Register or log in to the Notify.Events website and add the Shopify source to a new or existing channel via the Add source button in the Sources section.

Copy the token shown on the Instruction screen.

Add recipients to the channel that will receive notifications from your online store using the Subscribe button in the Recipients section.

Configure the Shopify plugin.

In Shopify, on the plugin screen, go to the Channels tab, click on the Add channel button to create a new channel.

Enter a channel name that is identical to the channel name in Notify.Events and paste the token you copied in the previous step.

Add events to receive notifications.

On the Events tab, click on the Add event button and select from the list the events about which you want to be notified.

Customize the message template.

If necessary, you can customize the template to receive more informative / personalized notifications. A wide range of ready-made variables will help.

Get your first notification.

That's all! Now, as soon as a given event occurs in your Shopify store, you will receive a message to the selected recipient. Not a single event will be missed anymore!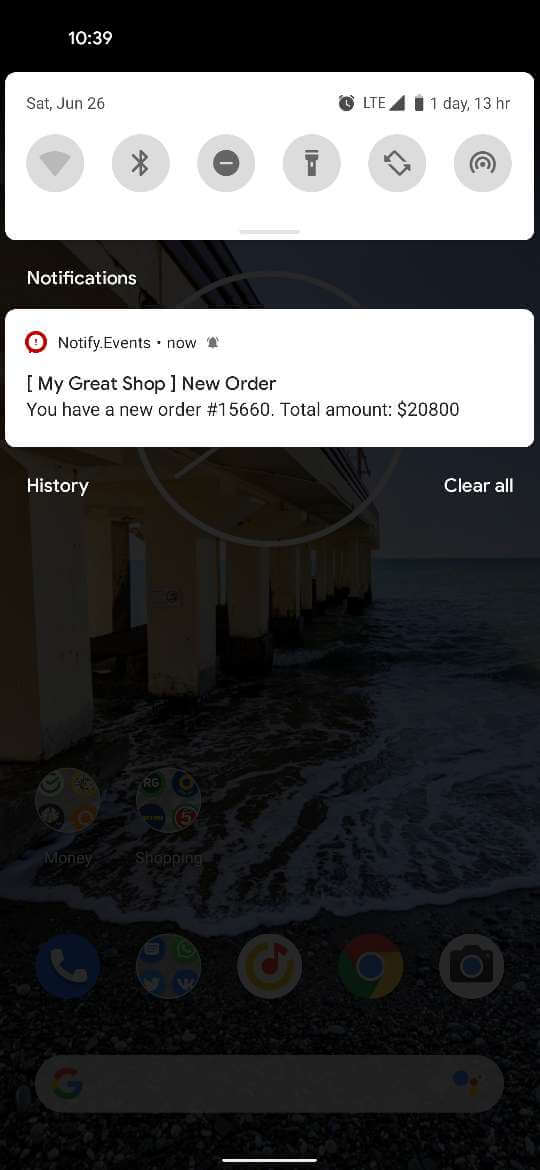 ---
More than 1.7 million companies around the world have already created an online store through Shopify. Shopify's advantage over other builders is its simplicity of interface and customization - it doesn't take a lot of time to make and launch an online store.
Therefore, if you are still hesitant to launch your store or marketplace based on Shopify, now is the time. Moreover, order management has never been so convenient and easy! Install the Notify.Events app for Shopify and process customer requests as soon as possible.
Stay up to date with Notify.Events. Receive notifications and don't miss anything important.