OpenCart Notifications Setup Guide
OpenCart Notifications Setup Guide
OpenCart is a free open-source ecommerce platform. It helps you create and effectively manage multiple online stores. The platform has been operating for 25 years since 1998 and now has more than 350,000 active stores.
Almost all the necessary functionality is available in the basic version: an analytics system and SEO tools, shopping cart, payment gateway and delivery options, discounts and promotional codes, newsletter, and more. For everything else, there is OpenCart Extension Store with 13,000+ extensions and themes, both paid and free.
One of such extensions will let you receive OpenCart website alerts in a convenient way - in your favorite messenger, via SMS, push notifications or voice calls. In this article, we will explain in detail how it works and how to set everything up.
In this article:
---
How to get OpenCart notifications?
By default OpenCart offers only email notifications. This is not the best option if you want to quickly get alerted about new orders or other events in the store. Emails can often be missed or completely lost in spam or among other mailings. Not only the client, but also the business itself can suffer from this.
It is much more convenient to receive notifications via SMS or chatting apps that you use daily. They are always at hand and will not make a potential buyer wait a long time for a response.
Notify.Events notification management service will help you set up instant message delivery from OpenCart. The tool allows OpenCart-based store teams to track important events in real time (new orders, returns, stock, etc.), receiving notifications in a convenient and familiar way. 50+ recipient tools are available; messengers (Telegram, Slack, Microsoft Teams, etc.), SMS, push notifications, voice calls and more.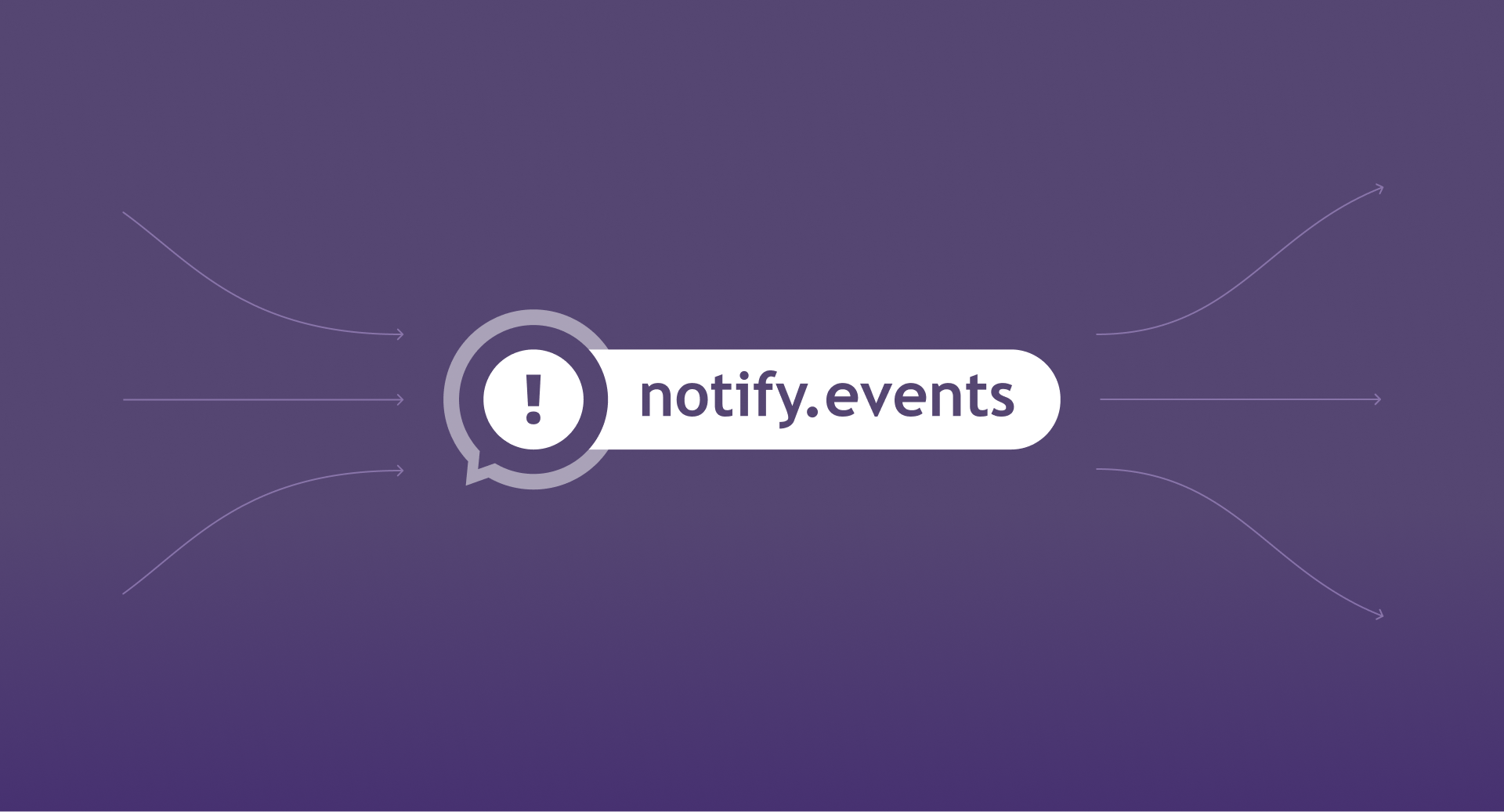 Due to instant delivery, the work of managers and the entire store as a whole is optimized, becomingmore coordinated. Your team will start processing applications much faster! This ultimately helps businesses improve customer experience and increase conversions.
What OpenCart events are supported?
Here are the OpenCart store events that you can set up notifications about using Notify.Events:
New User;
New Order;
Order Status Change;
New Return;
Return Status Change;
Product Out Of Stock.
How does Notify.Events for OpenCart work?
Notify.Events collects all the event messages you select and forwards them in real time to the specified recipient. Simply put, when a given action occurs on your site, Notify.Events will immediately send a notification to a messenger or other chosen tool.
To make it all work, you will need a Notify.Events account, the Notify.Events - Ultimate notifications OpenCart extension installed, and the recipient service itself or an active phone number for SMS and voice calls. You will find detailed step-by-step instructions for setting up below in the article.
Still, the service features are not limited to simply sending notifications to a messenger. Here's what else you can do with Notify.Events:
Sign up team members for notifications.
Just share a personal link with the right colleagues, so that they, just like you, can choose any of the 50+ available recipients. And none of them need to register in the service. The number of subscribers depends on the plan you choose.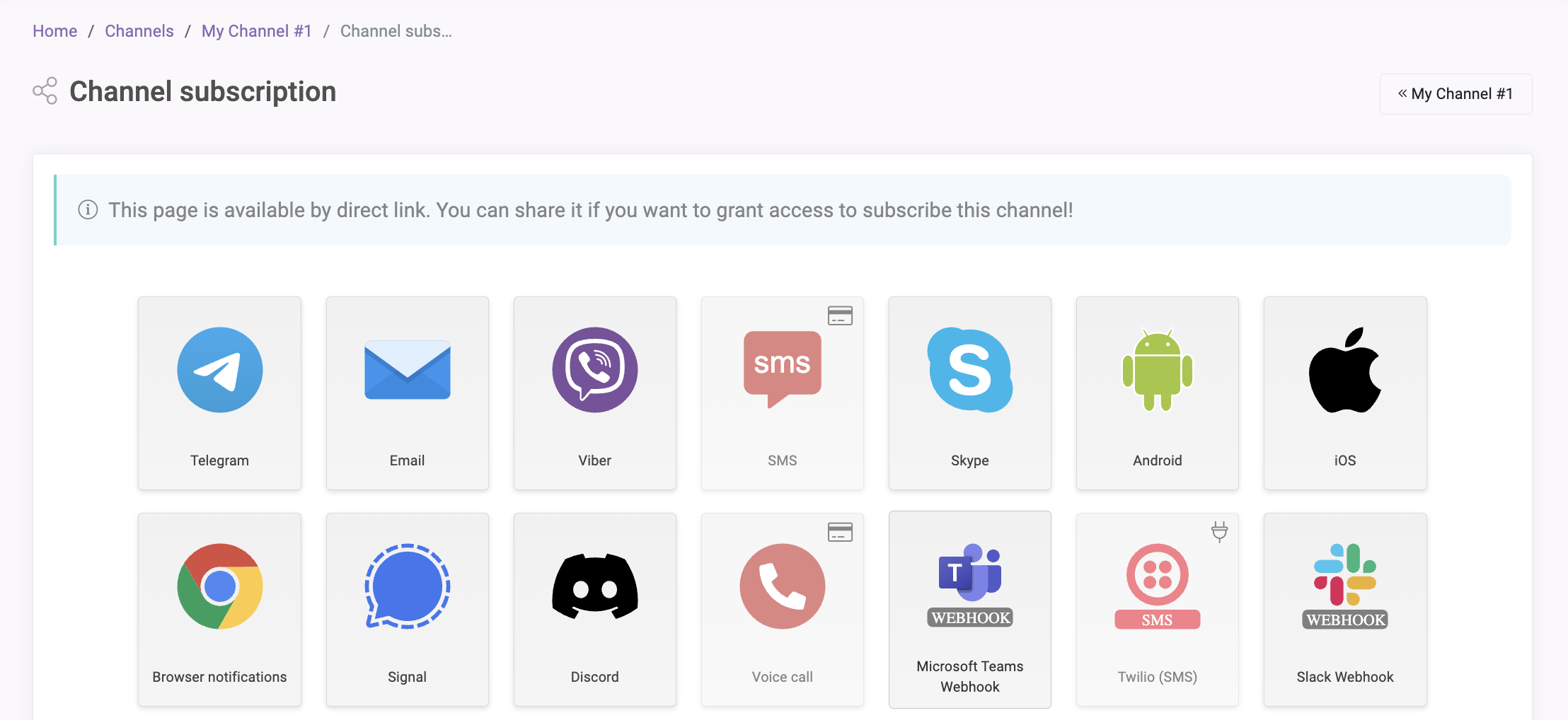 Set up group chat notifications.
Another way to subscribe your team for notifications. Select an existing chat in the messenger or create a new one/ This way, all responsible employees can see the messages.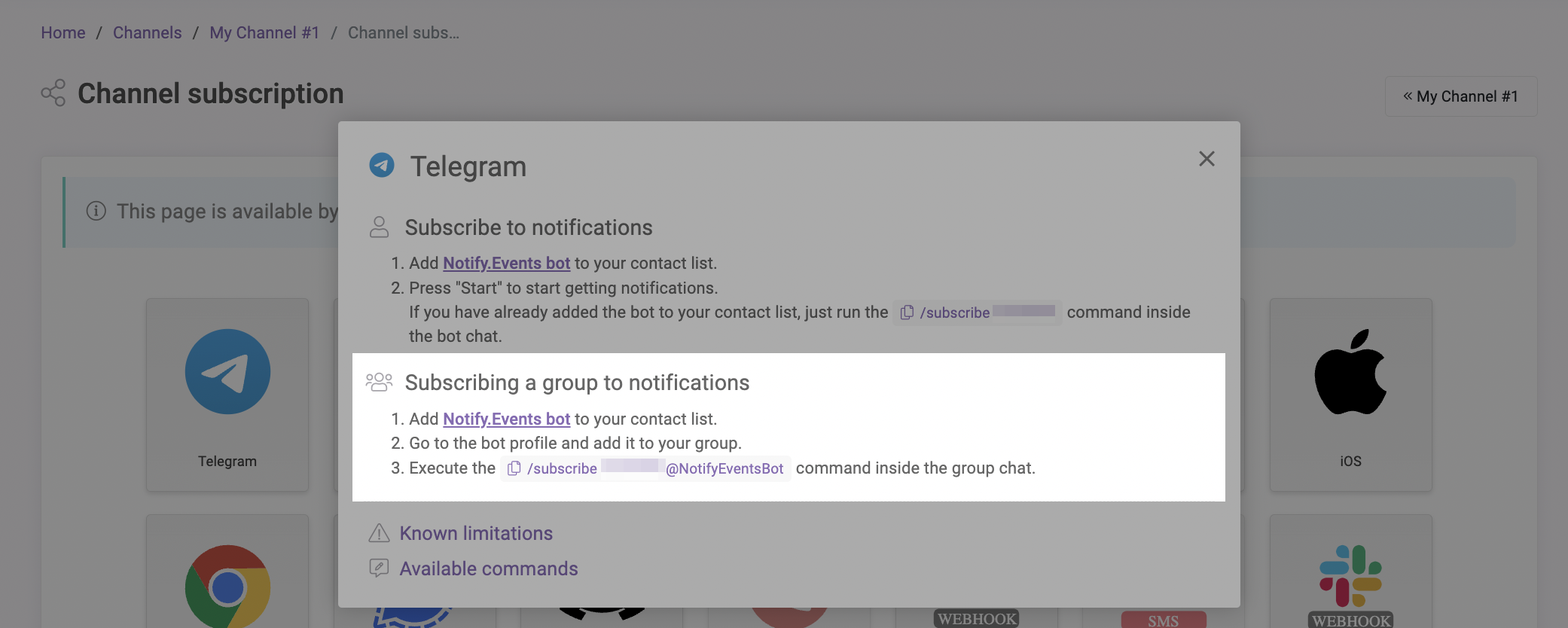 Distribute messages among recipients by type, priority and work schedule.
This option will help avoid confusion and increase sales. For example, you can set up sending new order notifications to manager #1, and submitted contact form notifications - to manager #2. Or send notifications on weekdays to one employee, and on weekends to another. Or even temporarily turn off notifications while the person is on vacation or on sick leave.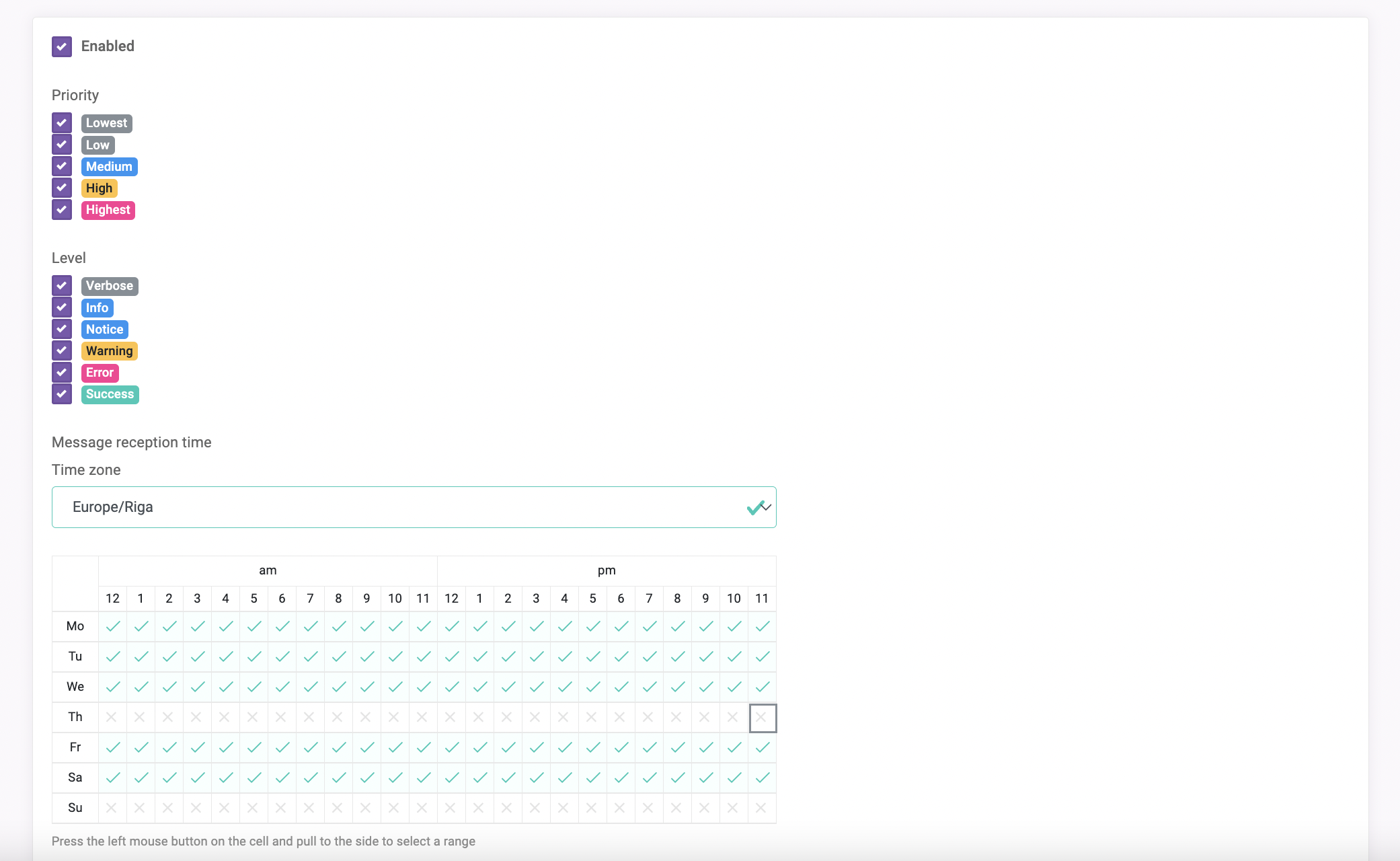 Organize escalation of messages.
For this, Notify.Events has a "Delayed Send" function. If the original recipient does not respond within the specified time, the message will be sent to the next recipient in line. For example, you can set up sending messages to the head of the sales department if the manager does not confirm receipt by pressing a special button within 10 minutes. Or "wake up" the manager with a voice call 15 minutes after the unread Telegram notification.

Notify.Events offers 5 pricing plans, including Free. And to test all the advanced features, you will automatically receive a 30-day free trial after signing up.
How to set up OpenCart notifications?
Setting up OpenCart + Notify.Events to receive notifications is simple. Let's consider all the steps in detail:
Register or log in to the Notify.Events website and create a channel. If you are already registered, you can use an existing channel.
Add OpenCart as a source to your new or existing channel. Use the Add Source button in the Sources section.
Switch to the Websites & E-Commerce tab and click on the OpenCart card.
Customize the source name, if necessary, and click Next.
You will see a screen with instructions. Copy your personal token. It will be needed in the next step.
Go to the admin panel of your OpenCart site > Extensions > Notify.Events. On the Channels tab, create a new channel and paste the token obtained in the previous step.
Make sure the plugin is activated in the Extensions > Reports section of your admin panel.
Go to the Events tab and add the necessary events from the list.
Set the event properties and message text and save the changes. Do not forget to select the desired channel and check the box next to Enabled.

To add more events, repeat the previous steps.

In the Notify.Events interface, on the instruction screen, click Done. OpenCart will now appear in the list of recipients on the Channel screen.
Add a notification recipient to the channel using the Subscribe button in the Recipients section. Follow the instructions to set everything up.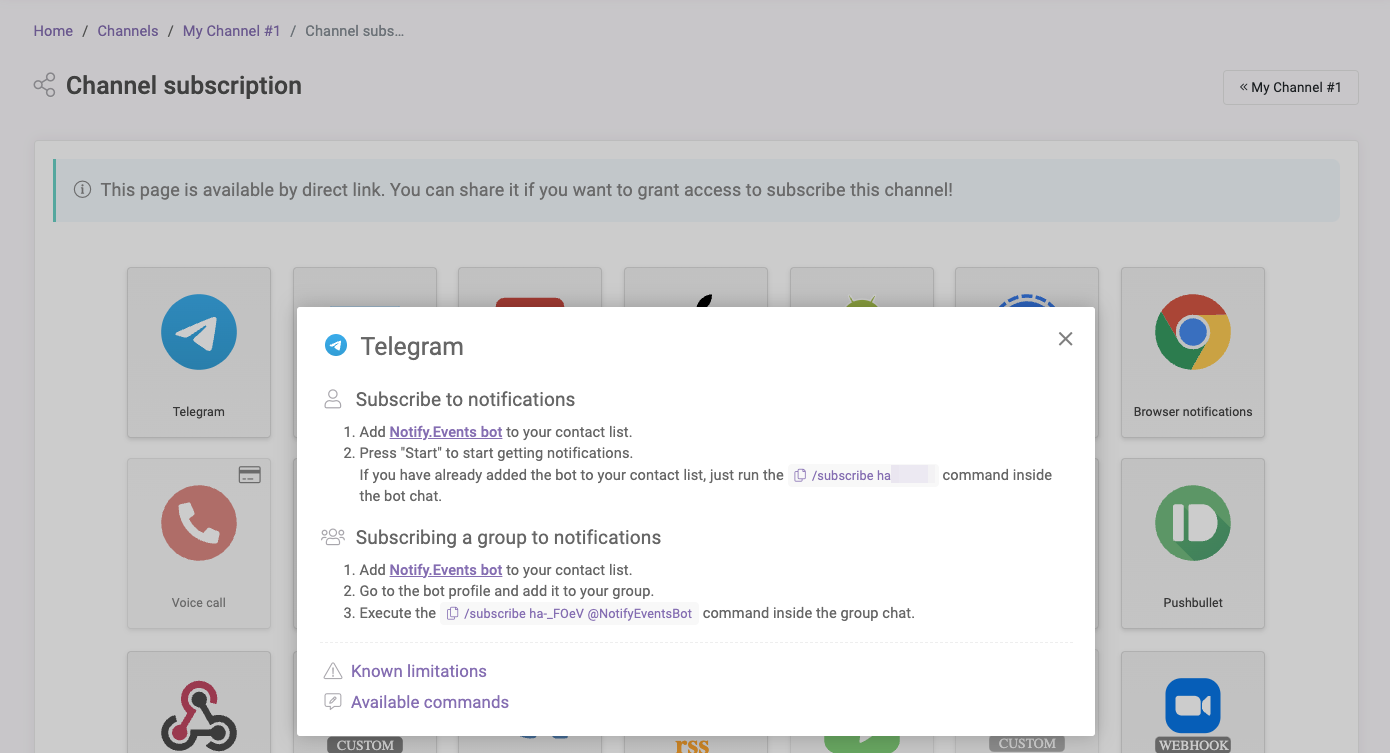 ---
That's it! You will now receive messages to the selected recipient as soon as the specified event occurs in your OpenCart store.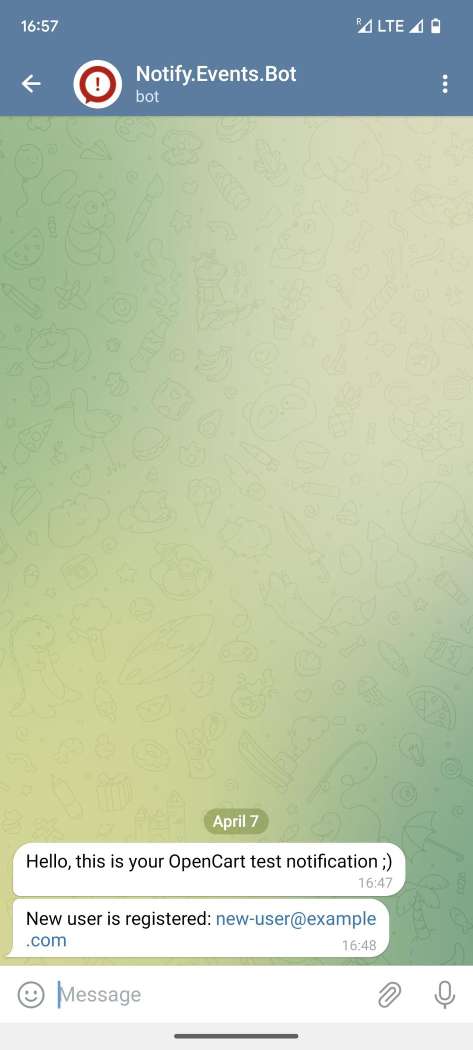 Notify.Events helps improve the performance of your online store. Managing orders, returns, stock of goods becomes more convenient and simpler. Set up the integration and receive instant notifications, e.g. OpenCart Telegram notification or OpenCart push notification, and don't miss anything important!