New Way to Sell: Social Commerce
New Way to Sell: Social Commerce
In this article:
---
It seems that quite recently, the first platforms began to implement the functions of social commerce, and all this looked like another digital novelty. However, social commerce had already taken a full-fledged place in the e-commerce niche, becoming a new step in its development and providing new sales opportunities for businesses.
If you're still out of the loop, read this article to learn what social commerce is, how it works, and how it can boost your business.
What is social commerce?
Social commerce is the sale of goods or services through social media. In fact, this is one of the types of e-commerce.
The surge in interest in social commerce is not at all surprising, especially during the pandemic when the demand for online shopping has skyrocketed. Of course, the concept of social commerce is not new, many businesses have long been offering goods through social networks. However, in most cases, the final sale was made through the company's website anyway.
But with the new built-in functionality, the entire purchase process - from the presentation of the product/service to a potential buyer to the final payment - began to take place directly on the social network. New tools have significantly shortened the customer journey to purchase, thereby easing many business processes and the burden on the seller as a whole.
How does social commerce work?
For an ordinary user, social commerce means that when they see a "wonderful pillow with a corgi" in the Instagram feed, which by all means should take a king's place on the sofa in their living room, they can immediately click the "Buy Now" button and make a purchase without even folding the app.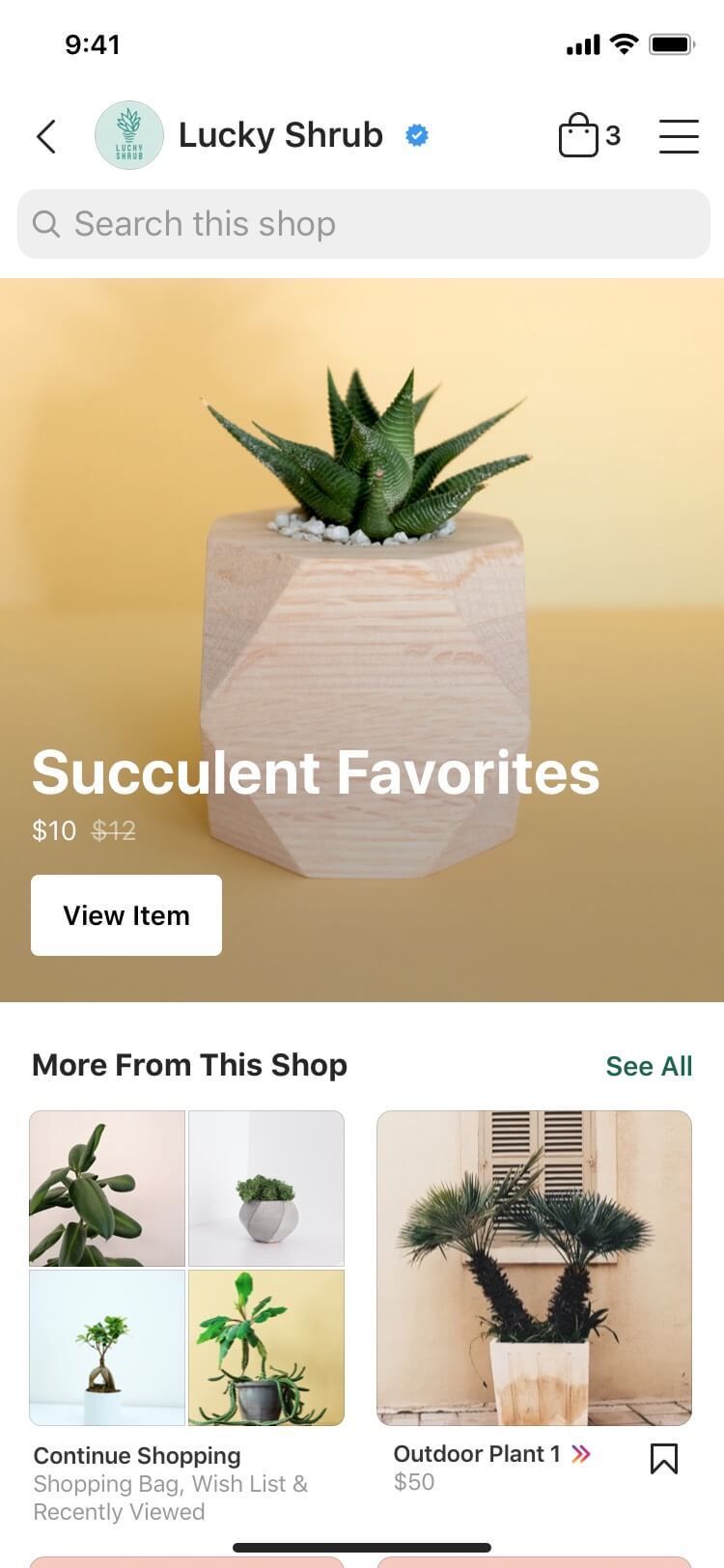 Instagram Shopping
And sellers, in turn, can create digital storefronts, tag products in their posts and stories, set up ads on them, and view statistics.
What are the best social commerce platforms?
The first social platforms to launch social commerce tools were Facebook, Instagram, and Pinterest. Today, the list of social networks that are trying to implement e-commerce features has significantly expanded. Built-in social commerce tools (often identical though) are now offered by Youtube, TikTok, Snapchat, WeChat, and others.
However, the most popular are the same pioneers. Let's take a look at what they offer:
Facebook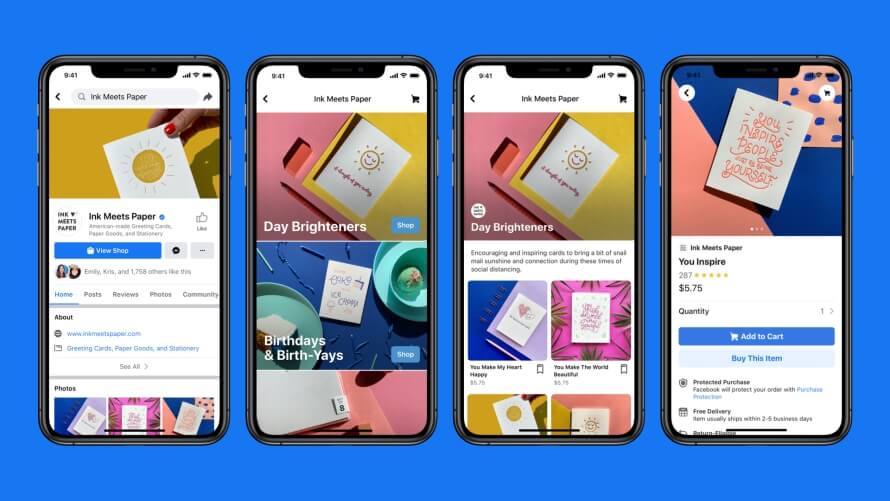 Facebook Shops is one of the best ways to implement social commerce and increase sales. In addition to a huge audience, Facebook offers easy and free store creation, as well as targeting data.
Products are posted on your Facebook business profile. Product card information can be downloaded via a spreadsheet or automatically synced from the existing on your e-commerce platform list if supported.
---
---
Users see products based on their preferences in the Facebook Shops tab. They can ask questions about the product right there - in Messenger and make a purchase both in the application itself (for this, users are prompted to save payment information for quick payment or to enter the card number manually) or by going to your website using the link.
Instagram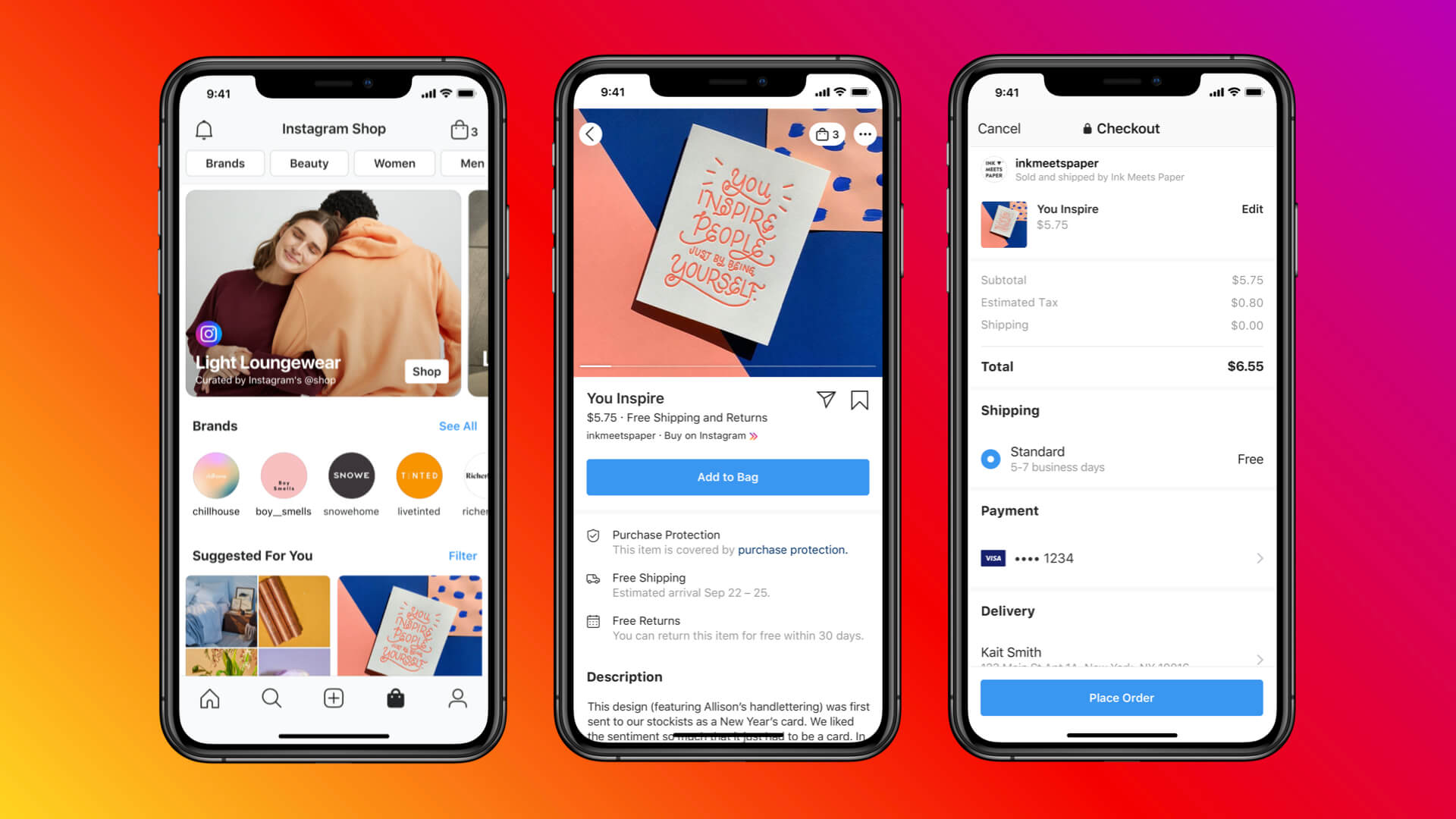 Instagram Shopping is another tool in the Meta for Business family (formerly Facebook for Business) and is directly linked to your Facebook Shops. Therefore, in order to create a store, users must link their Instagram business account to their Facebook business profile. After that, they can upload an existing product catalog or create a new one.
The nature of the platform offers an incredible amount of opportunities for creative promotion of products and services. For example, brands can maximize their imagination and stimulate interest through posts and stories, tagging their products with links, and making product selections.
Just like with Facebook, purchases are processed in the app (currently only available to US creators and companies) or your company's website.
Pinterest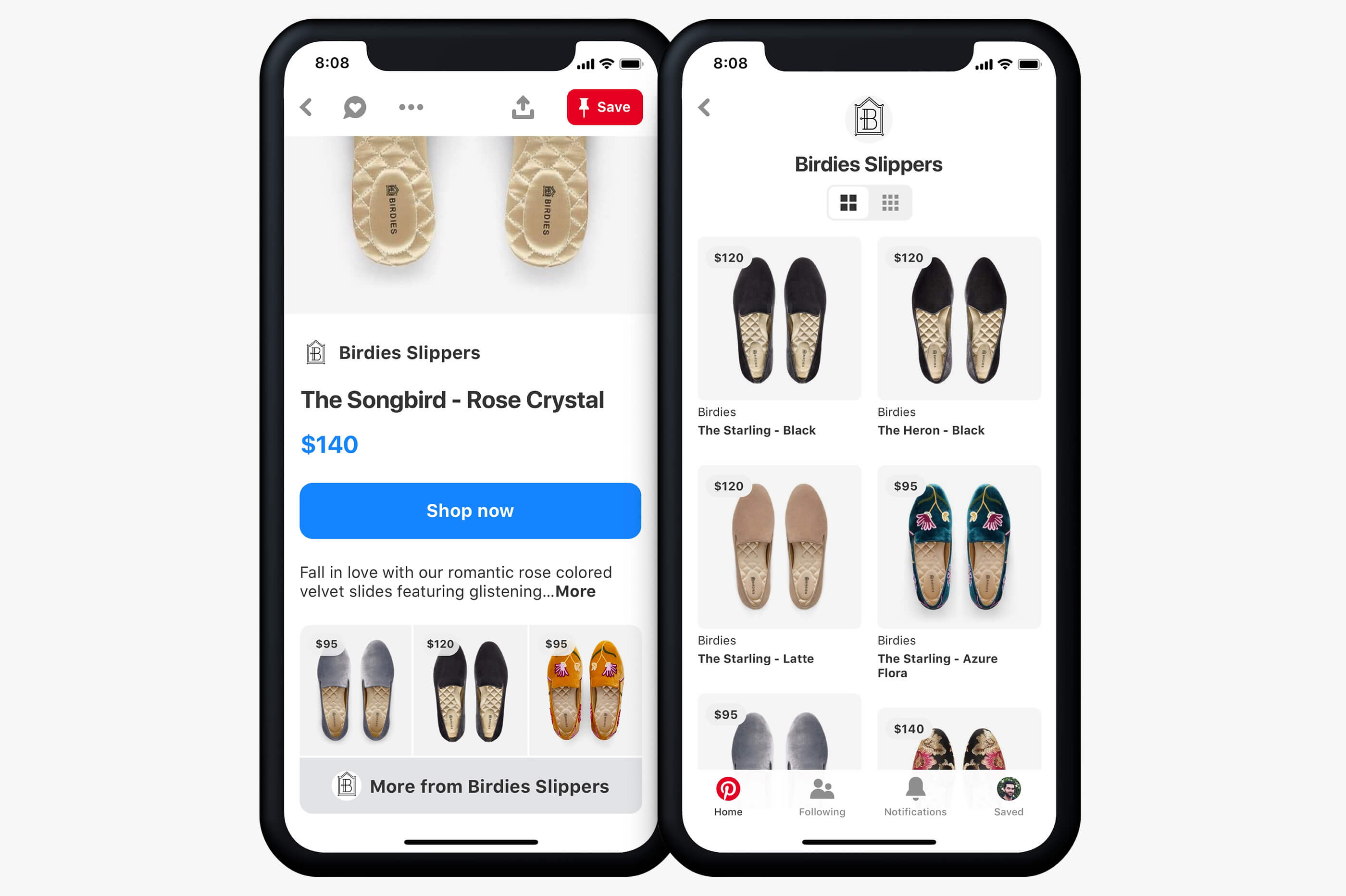 The main social commerce tools on Pinterest are Product Pins and Buyable Pins. Product Pins are ordinary pins with additional fields for information about prices and availability of goods, and they cannot be called a full-fledged social commerce tool, because the user still has to go to the brand's website. Buyable Pins are special buttons that, on the contrary, allow users to buy products that they see on Pinterest without leaving the app.
A great selling point for Pinterest is that businesses can show multiple products in a single ad, tagging up to 25 items in each image. Sometimes, Pinterest can automatically add 'Best seller' and 'Popular' tags to your Pins if, for example, they represent the best-selling products compared to other sellers in their category.
To add a product catalog to their Pinterest business page and then automatically turn their products into shopping icons, brands can mark up the product page with Graph, Schema.org, or oEmbed. Businesses using Shopify can make it even easier with the Pinterest for Shopify app by automatically uploading an existing catalog.
After you set up Buyable Pins, each of your products can be purchased directly from Pinterest. To do this, the user needs to click on the "Add to cart" button and then make a payment in their Pinterest cart. Payments are accepted through Pinterest, either by credit card or Apple Pay.
Why is social commerce worth considering?
According to Statista, global social media sales were $560 billion in 2020, and are projected to reach about $2.9 trillion by 2026. And the experience of many companies that successfully use social commerce tools confirms this.
For example, NBCUniversal is planning to launch Livestream Shopping on Instagram and other social networks over the Christmas season. Viewers will be able to purchase through these platforms all the goods that they see on the screens of their smartphones and tablets (clothes, home decor items, etc.).
So, if you still doubt whether you should use the store's functions in social media, you definitely SHOULD! It is on social networks that we spend the most time. So why not take advantage of a great opportunity to increase sales with the apps your audience uses the most?
---
By the way, did you know that Notify.Events offers out-of-the-box integrations with e-commerce platforms like Shopify, WordPress + WooCommerce, OpenCart, and Wix?

If you use one of these services, you have a great opportunity to optimize your online store by receiving instant notifications of new orders, payment receipts, and other events in Slack, Telegram, Messenger, Microsoft Teams, or 40+ other messengers, via push-notifications, SMS or phone calls.
Due to the instant delivery of information about new events, the work of managers and the entire store as a whole becomes more harmonious. And buyers get feedback and their order faster.
To take advantage of these benefits, register with Notify.Events, install the plugin from the app store of the platform you use and make the necessary settings. Read more about how to set up a Notify.Events account and get the first notification here.