Using Notify.Events
Unsubscribing from a Notify.Events channel (disabling recipients)
Unsubscribing from a Notify.Events channel (disabling recipients)
After you subscribe to the channel yourself, add colleagues, customers and / or family members, you may need to disable or remove some recipients.
There are 2 options for unsubscribing: always - from the side of the registered user who manages the channels, and sometimes - from the side of subscribers.
Registered User
Method 1 - Temporary Disabling
If you want to temporarily disable sending messages to the selected recipient, you can do this in 2 clicks on the subscription configuration screen.
To get to this screen, on the channel management screen in the Recipients section, click on the title of the desired recipient or on the Edit button next to the title.
Uncheck the box next to the Enabled line and click the Save button at the bottom of the screen.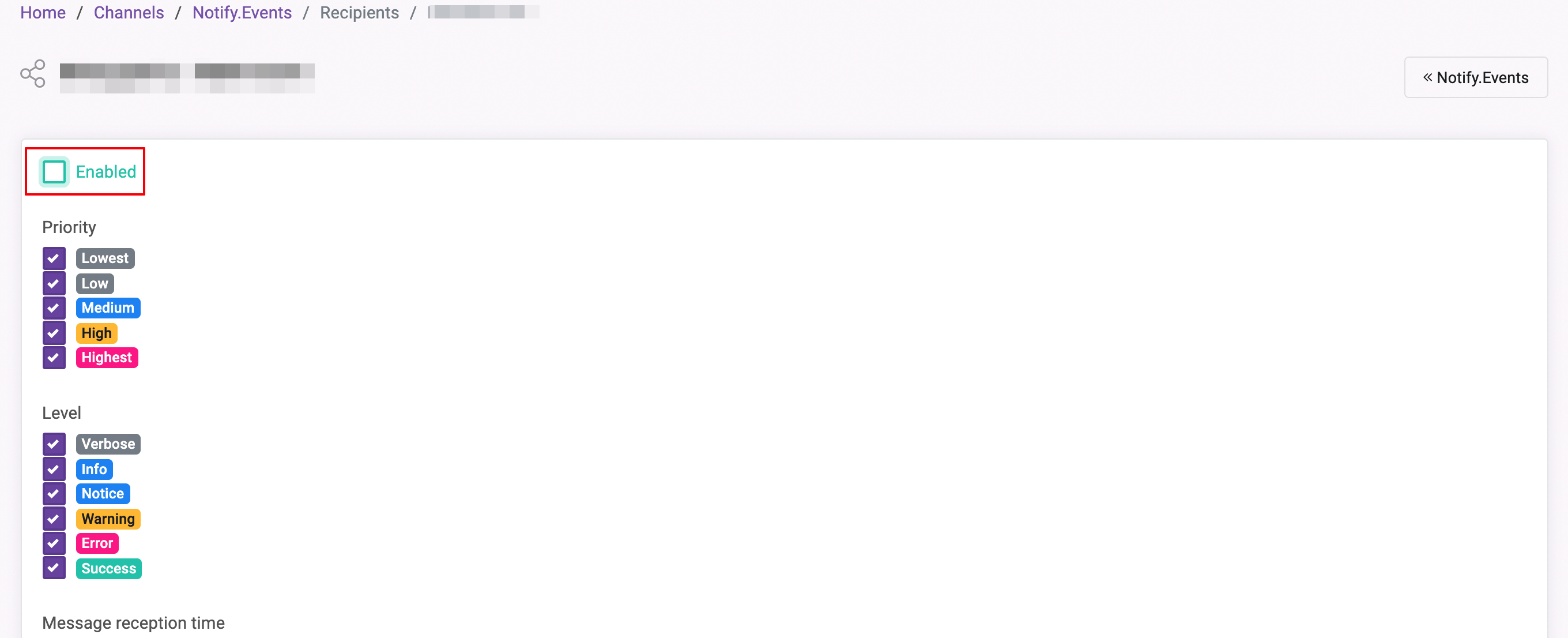 That's it! This recipient is now excluded and will be crossed out in the recipient list on the channel management screen. But at any time you can resume receiving messages by returning the checkmark to its place.

Method 2 - Complete Removal
If you want to disconnect the recipient completely without the possibility of quick resumption, in the Recipients section of the channel management screen, click on the Delete button next to the desired recipient and confirm the action.

Here we go! The recipient is now completely disconnected from the channel. In the future, you can connect it again by going through all the stages of subscribing to the channel again.
Subscriber
In some cases, subscribers can unsubscribe from notifications on their own. This works if a messenger where notifications are sent via a chat bot (and where internal commands are available) is selected as the recipient. For example, this applies to Telegram, Viber, MS Teams, Discord, VK, Zoom and some other applications.
To disable notifications, a subscriber needs to enter a command containing "unsubscribe" and the token in the dialog with the bot. You can find out the correct command in the card of the desired recipient on the Channel subscription screen by expanding the Available commands line.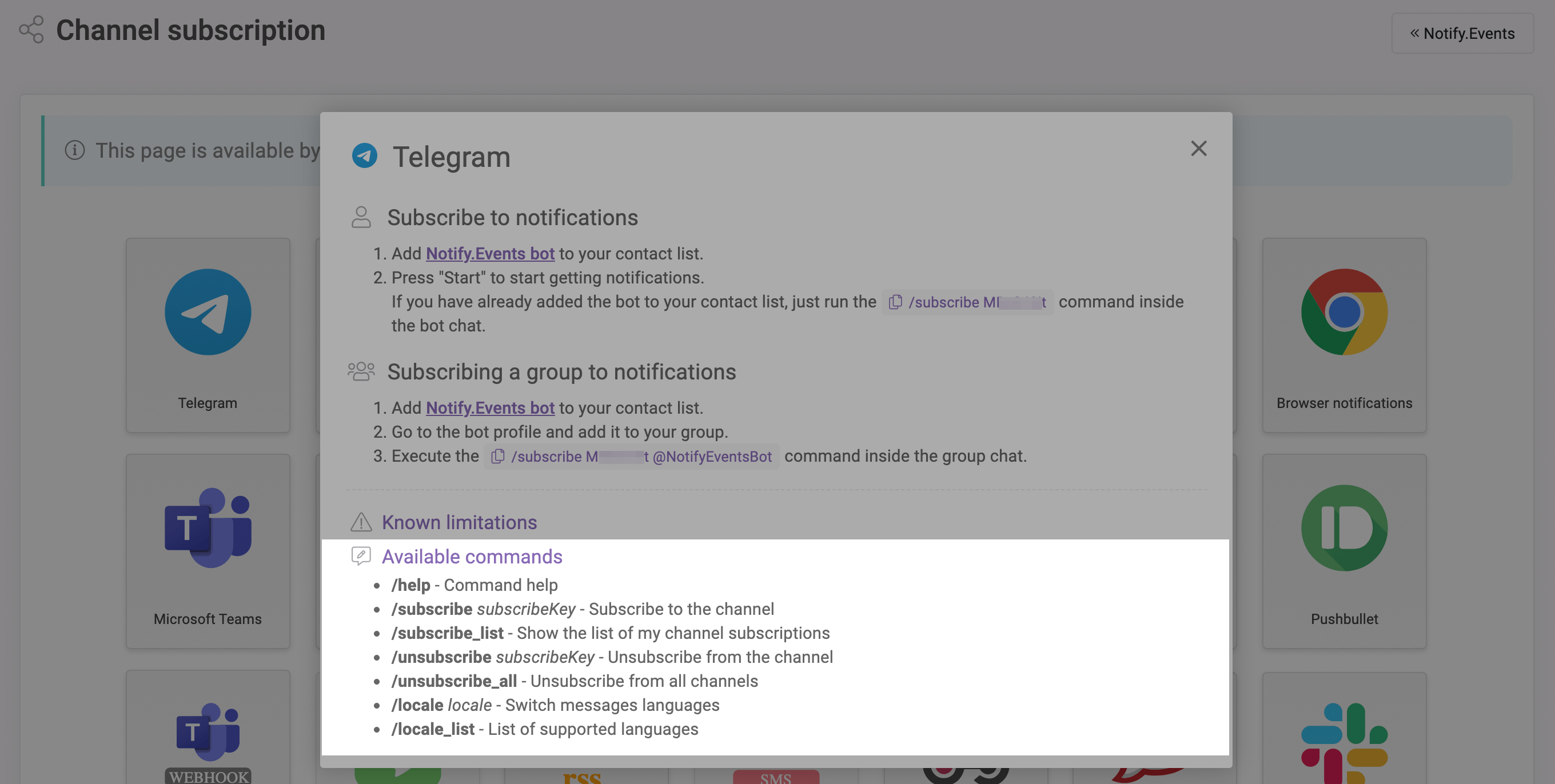 After entering the command, the user will receive a message confirming the unsubscribe from the channel. The subscriber can also independently renew the subscription by executing a command containing "subscribe" and a token in the chat. This is how it works in Telegram: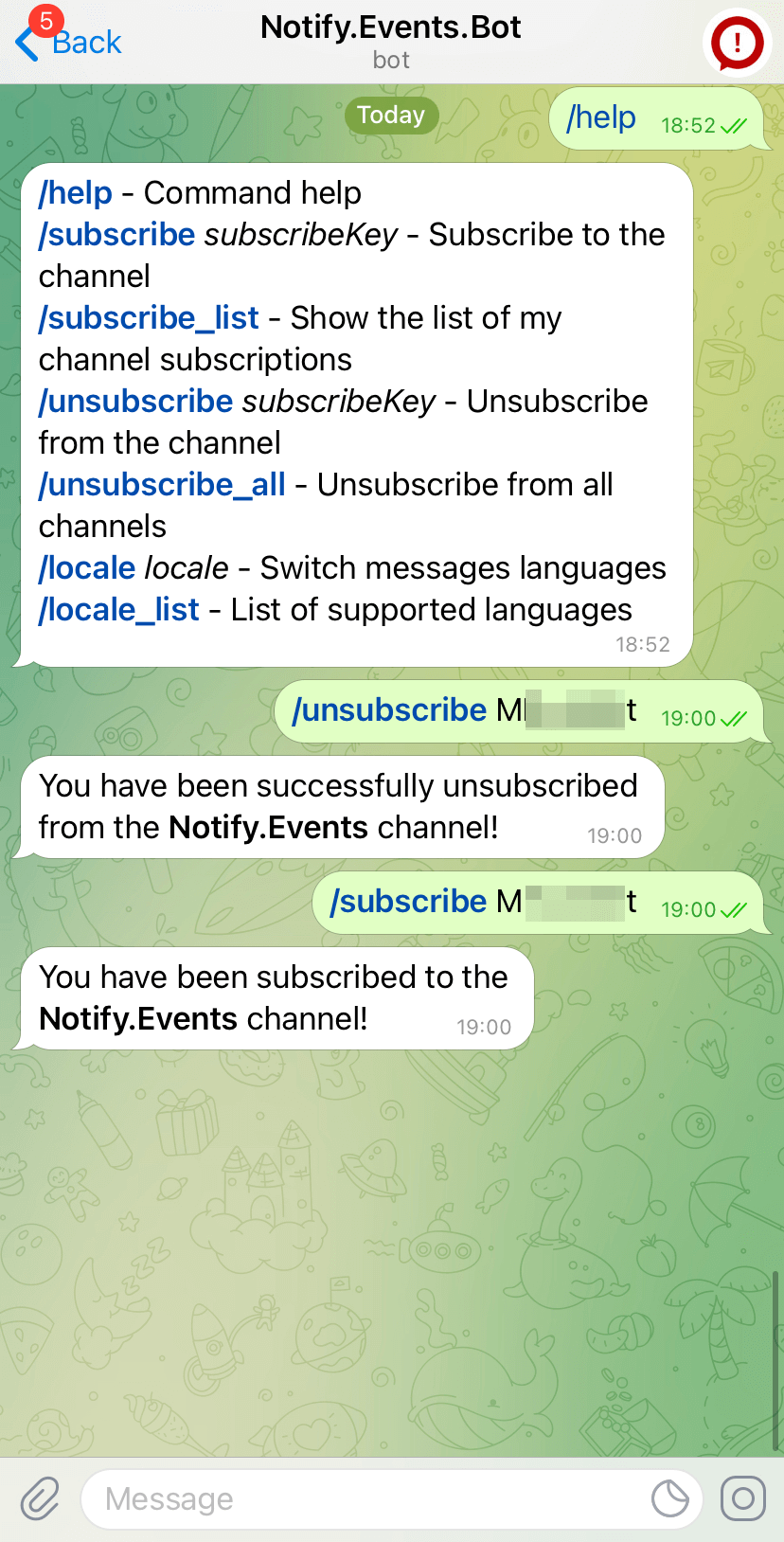 Getting started
Using Notify.Events
Your account
Advanced options